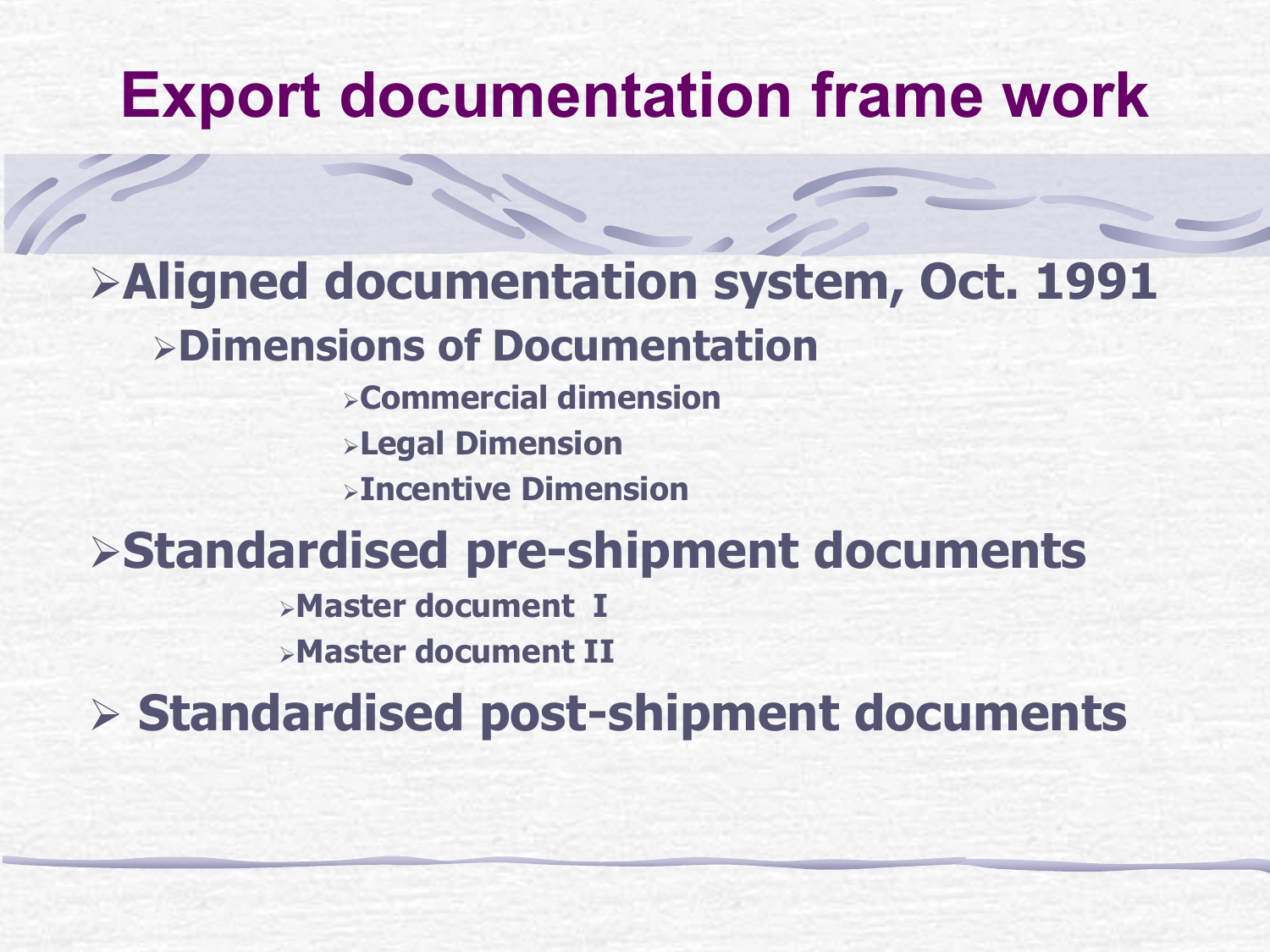 Export documentation frame work
Aligned documentation system, Oct. 1991
Dimensions of Documentation
Commercial
dimension
Legal Dimension
Incentive Dimension
Standardised pre-shipment documents
Master
document I
Master document II
 Standardised post-shipment documents
Documents and Significance
I.E.C
R.C.M.C
G.R form
Form H
Shipping Bill
G.S.P / G.S.T.P
Health certificate
Phyto sanitary
Certificate of
measurement
Purchase contract
Letter of credit
Commercial Invoice
Packing List
Insurance Policy
Inspection certificate
Bill of lading
Bill of Exchange
Certificate of origin
Documentation process
Procedures
Dimensins of documents
CommercialDimension
Regulatory Dimension
Incentive Dimension
Trade Documents
For commercial purpose
Prescribed by
Governments of
Expoter & Importer
Documents to claim
Duty draw back
Exemptions & licences
Commercial documents
Principal -- Auxiliary
Certificates (RBI)
I.E.C / R.C.M.C Etc.
Advance lincence
DEPB, EPCG
Duty Drawback
Export Procedures and documentation
At Glance
Step 1 : Scrutinise the order with reference to
the terms of the contract.
Step 2 : Prepare for processing
(manufacture/merchant)
Step 3 : Dispatch the goods to the port
Step 4 : Check : Insurance covers / ECGC
Step 5 : Send : L/c, Com.Invoice, GR form,
AR-4 form, Q.Cert., Shipping bill – 3 types :
Dutee tree, Dutiable, Drawback bills
Step 7 : Mate's receipt replaced by Bill of
lading: Negotiation through bank with
original documents
Documentation without discrepancies makes
you receive payments in time.