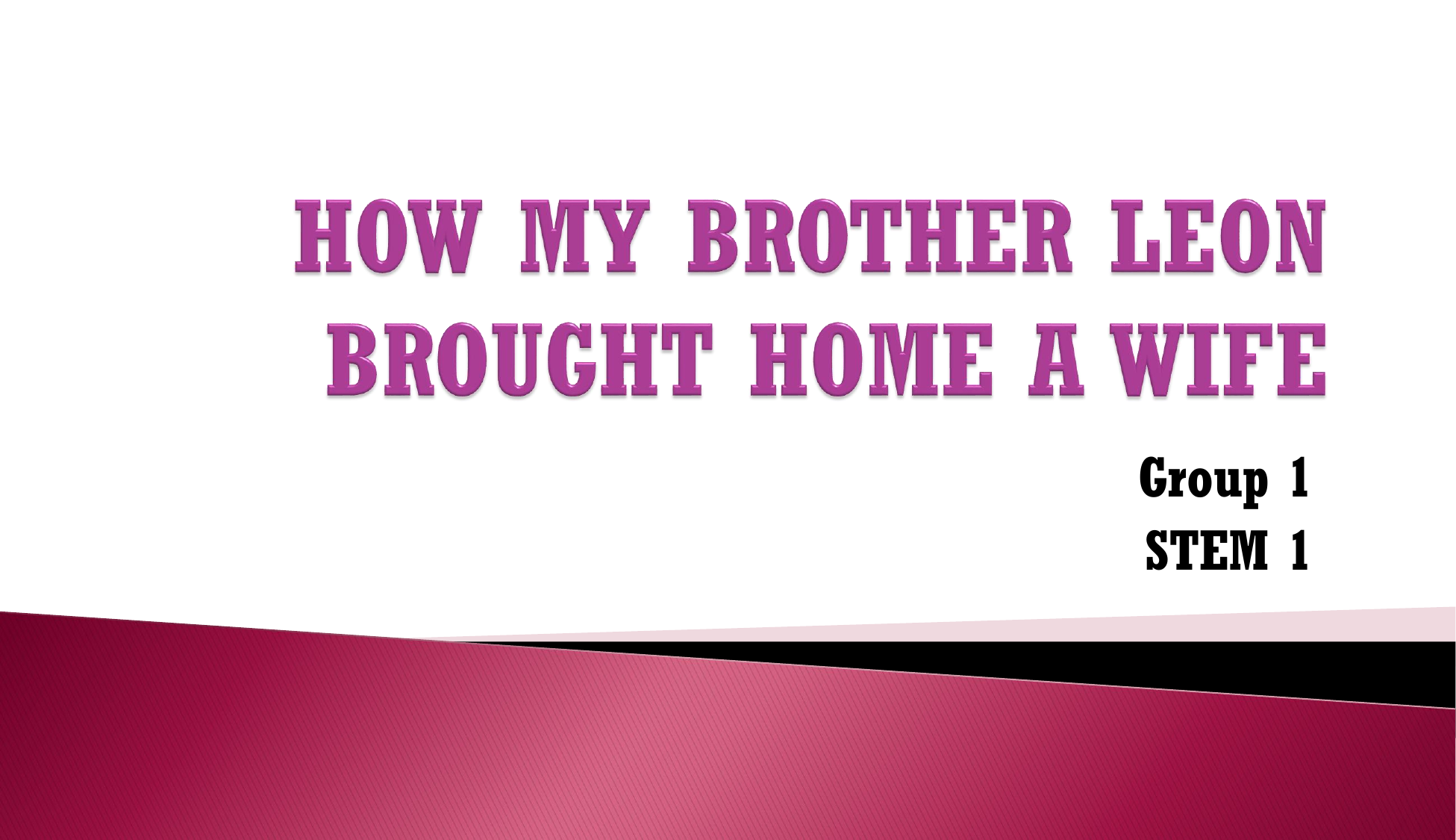 Group 1
STEM 1
Leon, also known as Noel, is the main character in the story. He is the
older brother of Baldo who brought home a wife named Maria.
Maria was the wife of Leon. She was born and grew up in a big city. Her
nails are long but not painted. She was fragrant like a morning when
papayas are in bloom. And a small dimple appeared in her cheek.
Based on how Baldo described Maria in the story, we can conclude
that Baldo likes her.
He is Baldo, the brother of Leon.
The story was held in the Barrio Nagrebcan, Bauang,
La Union.
If Maria is afraid of Labang
 If Maria can pass in the Waig at night
If I would be Maria, for sure I will survive the challenge because if you're really
determined to prove your love to someone you'll do everything despite how hard
the challenge is.

Maria didn't know it was a test but then she was able to surpass the
challenge. She was able to tap the head of Labang, and even sing a
song entitled "Sky Sown with Stars" in the middle of the night.
The reason is to test the love of Maria if she can withstand the
life in a barrio.
The father is a smart person because he instructed Baldo to test Maria
if she is worthy to live in a rural place. He reacted in a way that he's
quite amazed because a girl who grew up in a city is willing to
experience hardships in life.
Yes, this is out of love and love can change a person's character because
your wealth doesn't define the love that you can give and the love that
someone deserves.
The Filipino tradition shown in the story is introducing the person you love to your
family despite of your position in the society. Also, passing the trials that are used
to test your love are shown in the story.
Yes, aside from it's a part of our culture, we still have to introduce the
person we love to our parents because we have to get their
blessings for the formality of the relationship.
Local color is a type of writing that brings to life the language that
appeals to the surrounding of a particular place and time and uses
the sights and sounds of a particular people.