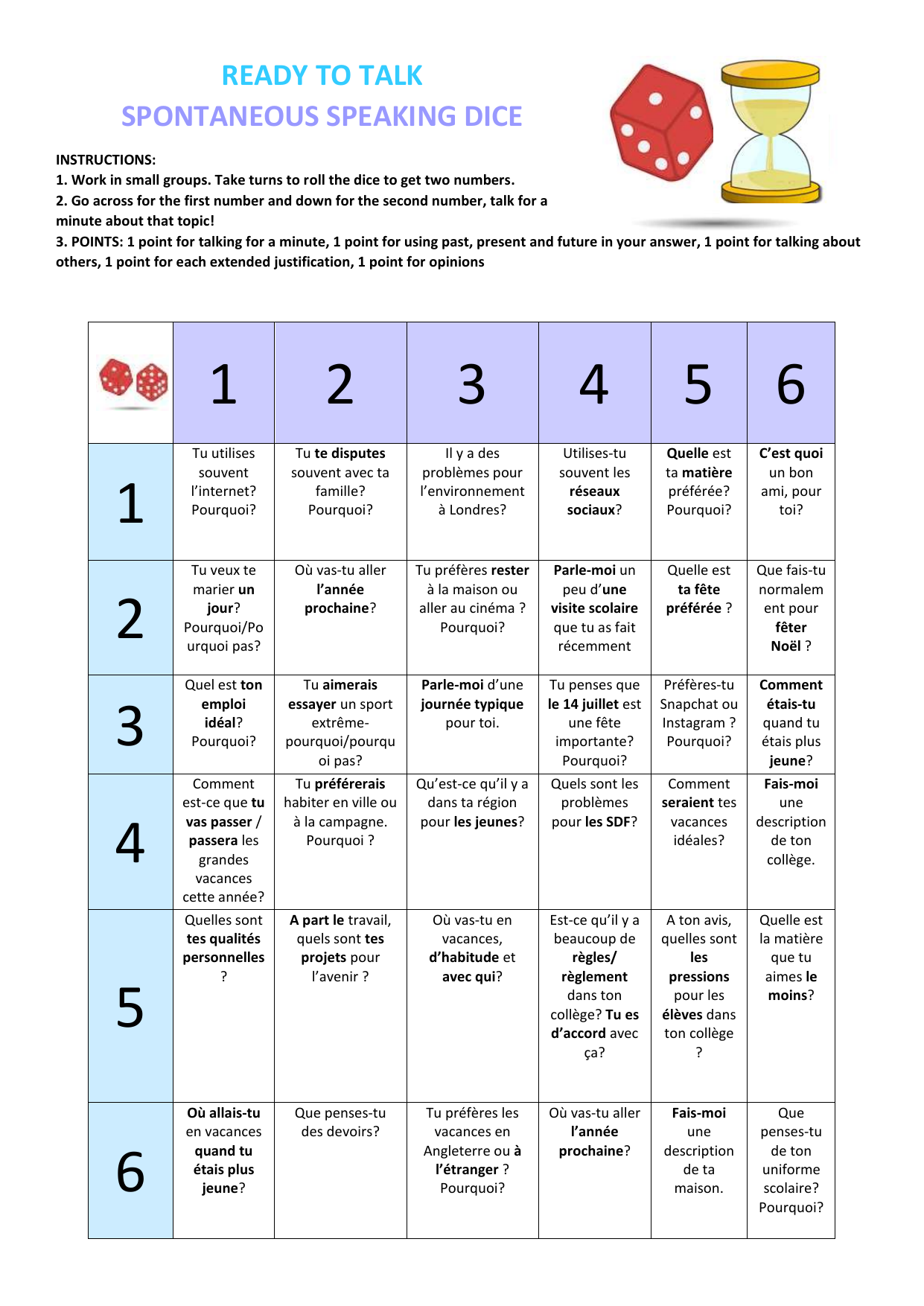 READY TO TALK
SPONTANEOUS SPEAKING DICE
INSTRUCTIONS:
1. Work in small groups. Take turns to roll the dice to get two numbers.
2. Go across for the first number and down for the second number, talk for a
minute about that topic!
3. POINTS: 1 point for talking for a minute, 1 point for using past, present and future in your answer, 1 point for talking about
others, 1 point for each extended justification, 1 point for opinions
1
2
3
4
5
6
1
2
3
4
Tu utilises
souvent
l'internet?
Pourquoi?
Tu te disputes
souvent avec ta
famille?
Pourquoi?
Il y a des
problèmes pour
l'environnement
à Londres?
Utilises-tu
souvent les
réseaux
sociaux?
Quelle est
ta matière
préférée?
Pourquoi?
C'est quoi
un bon
ami, pour
toi?
Tu veux te
marier un
jour?
Pourquoi/Po
urquoi pas?
Où vas-tu aller
l'année
prochaine?
Tu préfères rester
à la maison ou
aller au cinéma ?
Pourquoi?
Parle-moi un
peu d'une
visite scolaire
que tu as fait
récemment
Quelle est
ta fête
préférée ?
Que fais-tu
normalem
ent pour
fêter
Noël ?
Quel est ton
emploi
idéal?
Pourquoi?
Tu aimerais
essayer un sport
extrêmepourquoi/pourqu
oi pas?
Tu préférerais
habiter en ville ou
à la campagne.
Pourquoi ?
Parle-moi d'une
journée typique
pour toi.
Tu penses que
le 14 juillet est
une fête
importante?
Pourquoi?
Quels sont les
problèmes
pour les SDF?
Préfères-tu
Snapchat ou
Instagram ?
Pourquoi?
Comment
étais-tu
quand tu
étais plus
jeune?
Fais-moi
une
description
de ton
collège.
Comment
est-ce que tu
vas passer /
passera les
grandes
vacances
cette année?
Quelles sont
tes qualités
personnelles
?
Où allais-tu
en vacances
quand tu
étais plus
jeune?
Qu'est-ce qu'il y a
dans ta région
pour les jeunes?
5 6
Comment
seraient tes
vacances
idéales?
A part le travail,
quels sont tes
projets pour
l'avenir ?
Où vas-tu en
vacances,
d'habitude et
avec qui?
Est-ce qu'il y a
beaucoup de
règles/
règlement
dans ton
collège? Tu es
d'accord avec
ça?
A ton avis,
quelles sont
les
pressions
pour les
élèves dans
ton collège
?
Quelle est
la matière
que tu
aimes le
moins?
Que penses-tu
des devoirs?
Tu préfères les
vacances en
Angleterre ou à
l'étranger ?
Pourquoi?
Où vas-tu aller
l'année
prochaine?
Fais-moi
une
description
de ta
maison.
Que
penses-tu
de ton
uniforme
scolaire?
Pourquoi?