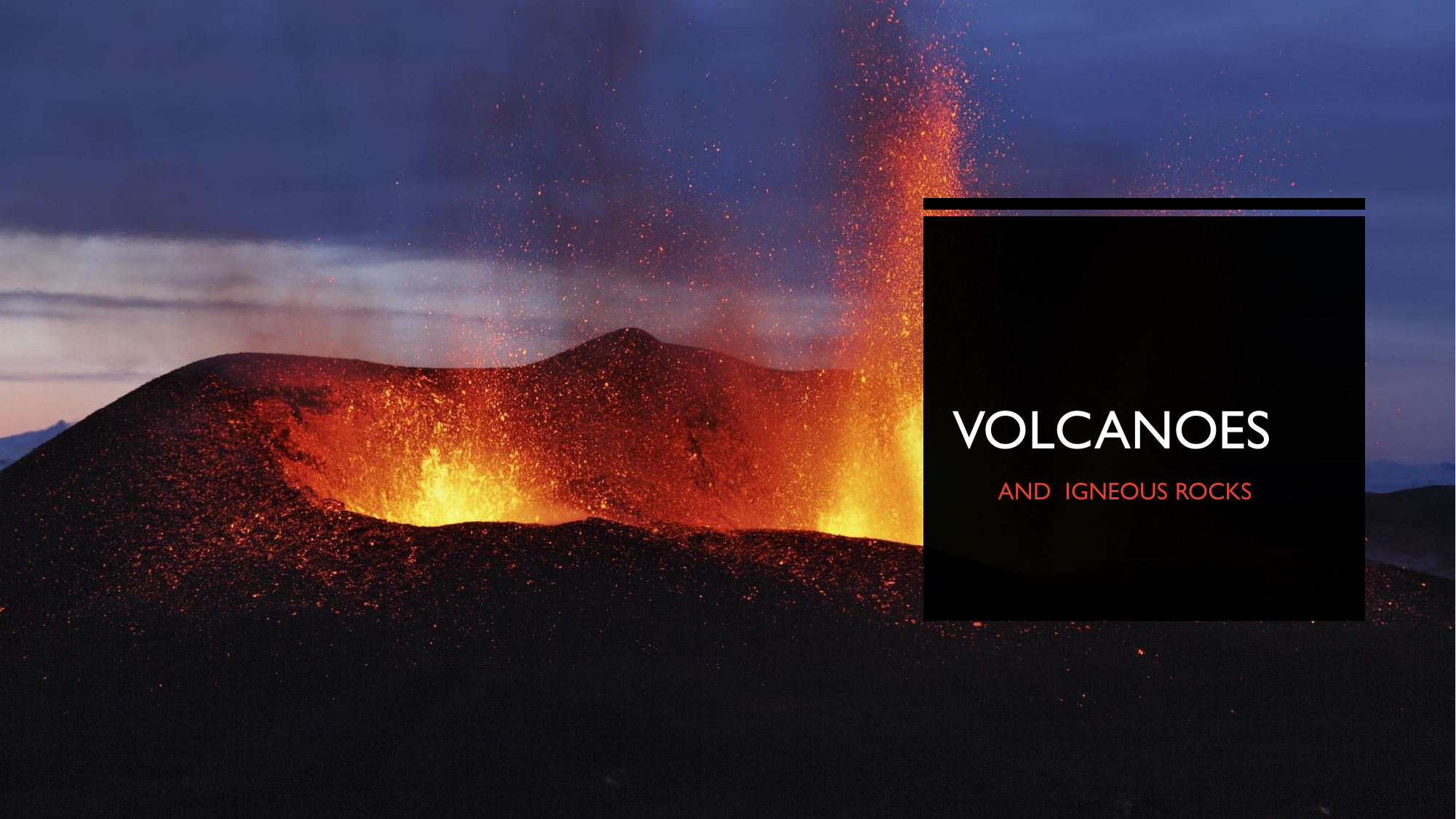 VOLCANOES
AND IGNEOUS ROCKS
WHAT IS A VOLCANO?
A volcano is a geological structure where the
release of magma takes place.
MAGMA is molten rock that originates deep in
the Earth's crust and Mantle.
LAVA is molten rock on the Earth's surface
(under natural atmospheric conditions).
VOLCANIC FORMATIONS/LANDFORMS
Volcanic activity can be described as INTRUSIVE or EXTRUSIVE.
INTRUSIVE
EXTRUSIVE
* Below ground or underneath * Above the surface or ground
the surface
* Not visible
* Features a Magma chamber
* Rocks formed from this
feature are called PLUTONIC
ROCKS
* Visible (Volcanic peak)
* Rocks formed are called
VOLCANIC ROCKS
INTRUSIVE VOLCANIC FORMATIONS
Intrusive volcanic formation can be described based on their vertical and horizontal
features:
HORIZONTAL
* Formation is called a "Sill"
* Always occurs between
sedimentary layers
VERTICAL
* Formation is called a "Dyke"
* It can be straight or on an
incline
* Cuts through a number of
sedimentary layers
OTHER INTRUSIVE
VOLCANIC
FORMATIONS
 LOPOLITH – Saucer
shaped intrusive
formation
 PHACOLITH –
Convex shaped
formation i.e. bulges
outwards in anticlines
and synclines
OTHER TYPES OF VOLCANIC
FORMATIONS
 LACCOLITH is a large blister or igneous
mound with a 'domeshaped' upper surface and
a level base fed by a pipe-like conduit from
below. It arches up the overlying strata of
sedimentary rocks
 BATHOLITH - It is a huge mass of igneous
rocks, usually granite, which after removal of
the overlying rocks forms a massive and
resistant upland region.
BATHOLITH
EXTRUSIVE FORMATIONS
* Depends on the type of magma (Basic or acidic)
BASIC MAGMA
ACIDIC MAGMA
* Mid-oceanic ridge
* Ash-cinder Volcano
* Shield Volcano
* Basalt lava plateau
* Composite Volcano
* Caldera Volcano
BASIC MAGMA
Comes from OCEANIC crust that forms at the MID-OCEANIC RIDGES
BASIC MAGMA
SHIELD VOLCANOES – Results in formation of islands under the ocean e.g. Hawaii
BASIC MAGMA
FISSURE VOLCANO – Results in basaltic lava plateau on continents. E.g. Deccan
traps in India, Snake Plateau in USA
BASIC MAGMA
DOME VOLCANO – Similar to shield volcano but found on continent
ACIDIC MAGMA
ASH-CINDER VOLCANO – Slightly acidic. Does not form very high peaks (about
400m). E.g. Naples,Mt. Paricutin in Mexico
ACIDIC MAGMA
COMPOSITE VOLCANO:
• More acidic than ash-cinder volcanoes
• Known as Strato-Volcanoes due to their different types of layers
• Have side vents known as branch pipes or parasitic cones where magma will exit as
well
• Produces some of the highest volcanic peaks
Examples: Mt Etna, Stromboli,Vesuvius, Fujiyama, Krakatoa, Chimborazo
ACIDIC MAGMA
CALDERA VOLCANO – Most explosive of all volcanoes collapsing in on itself. Selfdestructive. Over time once the depression solidifies it turns in to a caldera lake
(bigger) or crater lakes (smaller) due to rainfall. E.g.