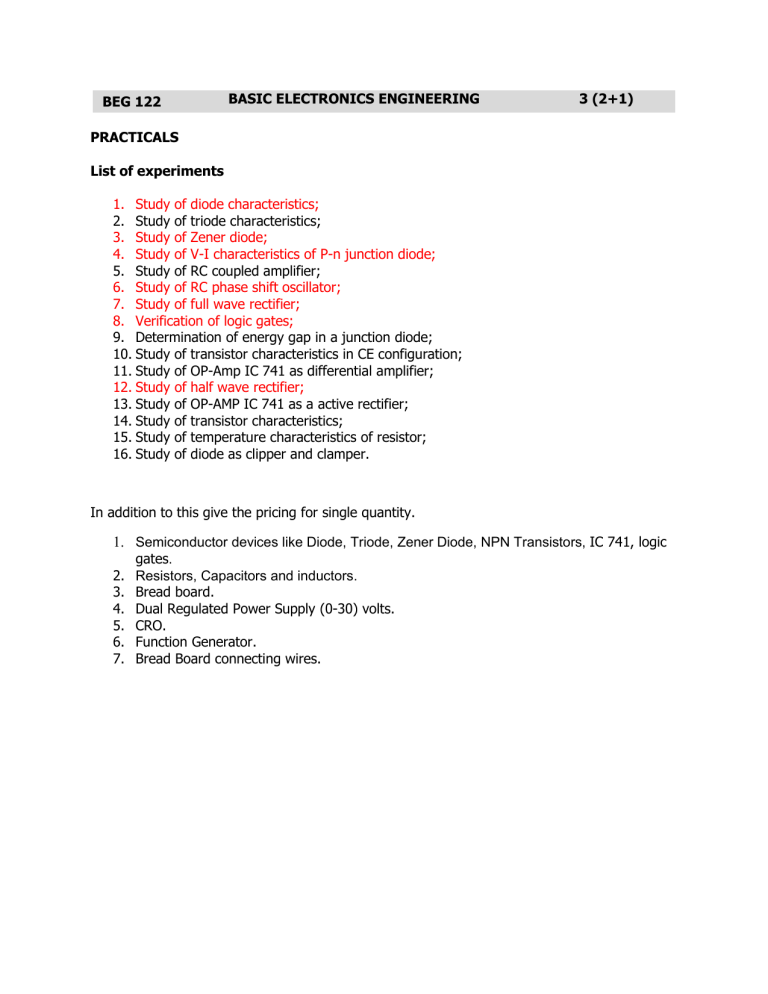 BEG 122
BASIC ELECTRONICS ENGINEERING
3 (2+1)
PRACTICALS
List of experiments
1. Study of diode characteristics;
2. Study of triode characteristics;
3. Study of Zener diode;
4. Study of V-I characteristics of P-n junction diode;
5. Study of RC coupled amplifier;
6. Study of RC phase shift oscillator;
7. Study of full wave rectifier;
8. Verification of logic gates;
9. Determination of energy gap in a junction diode;
10. Study of transistor characteristics in CE configuration;
11. Study of OP-Amp IC 741 as differential amplifier;
12. Study of half wave rectifier;
13. Study of OP-AMP IC 741 as a active rectifier;
14. Study of transistor characteristics;
15. Study of temperature characteristics of resistor;
16. Study of diode as clipper and clamper.
In addition to this give the pricing for single quantity.
1. Semiconductor devices like Diode, Triode, Zener Diode, NPN Transistors, IC 741, logic
2.
3.
4.
5.
6.
7.
gates.
Resistors, Capacitors and inductors.
Bread board.
Dual Regulated Power Supply (0-30) volts.
CRO.
Function Generator.
Bread Board connecting wires.