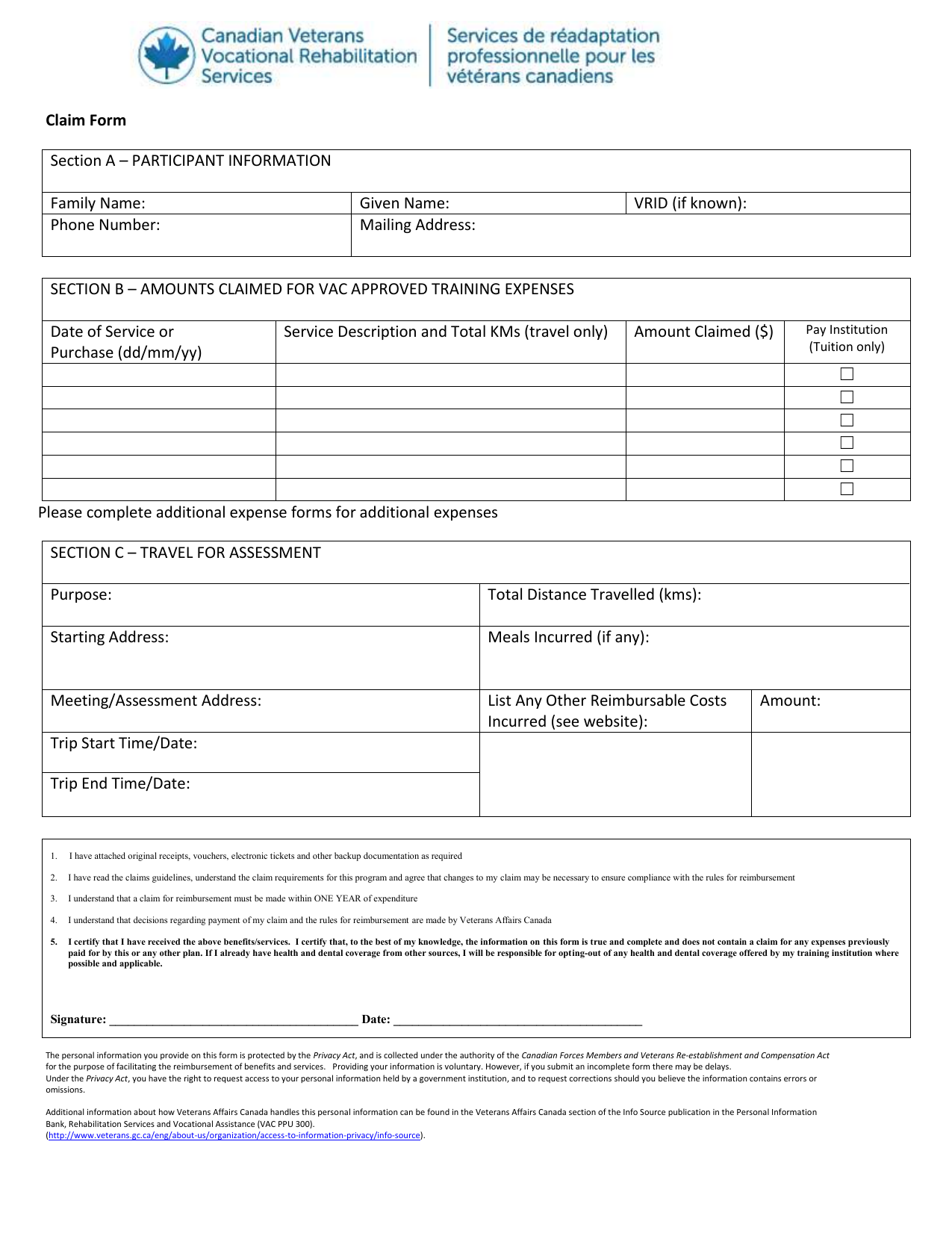 Claim Form
Section A – PARTICIPANT INFORMATION
Family Name:
Phone Number:
Given Name:
Mailing Address:
VRID (if known):
SECTION B – AMOUNTS CLAIMED FOR VAC APPROVED TRAINING EXPENSES
Date of Service or
Purchase (dd/mm/yy)
Service Description and Total KMs (travel only)
Amount Claimed ($)
Pay Institution
(Tuition only)
☐
☐
☐
☐
☐
☐
Please complete additional expense forms for additional expenses
SECTION C – TRAVEL FOR ASSESSMENT
Purpose:
Total Distance Travelled (kms):
Starting Address:
Meals Incurred (if any):
Meeting/Assessment Address:
List Any Other Reimbursable Costs
Incurred (see website):
Amount:
Trip Start Time/Date:
Trip End Time/Date:
1.
I have attached original receipts, vouchers, electronic tickets and other backup documentation as required
2.
I have read the claims guidelines, understand the claim requirements for this program and agree that changes to my claim may be necessary to ensure compliance with the rules for reimbursement
3.
I understand that a claim for reimbursement must be made within ONE YEAR of expenditure
4.
I understand that decisions regarding payment of my claim and the rules for reimbursement are made by Veterans Affairs Canada
5.
I certify that I have received the above benefits/services. I certify that, to the best of my knowledge, the information on this form is true and complete and does not contain a claim for any expenses previously
paid for by this or any other plan. If I already have health and dental coverage from other sources, I will be responsible for opting-out of any health and dental coverage offered by my training institution where
possible and applicable.
Signature: ________________________________________ Date: ________________________________________
The personal information you provide on this form is protected by the Privacy Act, and is collected under the authority of the Canadian Forces Members and Veterans Re-establishment and Compensation Act
for the purpose of facilitating the reimbursement of benefits and services. Providing your information is voluntary. However, if you submit an incomplete form there may be delays.
Under the Privacy Act, you have the right to request access to your personal information held by a government institution, and to request corrections should you believe the information contains errors or
omissions.
Additional information about how Veterans Affairs Canada handles this personal information can be found in the Veterans Affairs Canada section of the Info Source publication in the Personal Information
Bank, Rehabilitation Services and Vocational Assistance (VAC PPU 300).
(http://www.veterans.gc.ca/eng/about-us/organization/access-to-information-privacy/info-source).
If you are concerned with Veterans Affairs Canada's handling of your personal information, you have the right to complain to the Privacy Commissioner of Canada at 30 Victoria Street, Gatineau, Quebec, K1A
1H3.
CLAIM COMPLETION INSTRUCTIONS:
1. Please complete Section A for all claims
2. Complete Section B for any training-related expenses
3. Complete Section C for any travel for assessment completed
4. Sign and date all claims
5. When completed, please mail your claim form to:
CVVRS
Claim Processing Centre
5th Floor, 915 Fort Street
Victoria, BC
V8V 3K3
In order to obtain prompt payment of your claim, did you…
☐ Complete and sign your claim form?
☐ Submit the original copy of your claim form (NO Photocopies)?
☐ Include original receipts (NO Photocopies OR Faxes)?
☐ Staple all receipts and documentation to the claim?
☐ Include documentation from the educational institution indicating that the following items are
"required": books, tools, safety clothing, software, equipment, etc. (see documentation)?
☐ List mileage by day or week showing each day that was traveled? Provide a rationale if travel
occurred during a weekend or statutory holiday?
☐ Ensure that you have a copy of your Individual Vocational Rehabilitation Plan (IVRP)?
If you do not, please contact your VAC Case Manager.
Payment of this claim does not indicate that all future claims for these items or services will be approved.
Claims for reimbursement must be made in writing within one year after the day on which the
expenditure was incurred. Claims submitted after that date will be declined.
Missing or incorrect information results in unavoidable delays in claims payment.
For questions view our website at www.cvvrs.ca
or contact the Claim Processing Centre toll-free at 1-855-389-0699
Decisions regarding payment of your claim and the rules for reimbursement are made by Veterans
Affairs Canada.