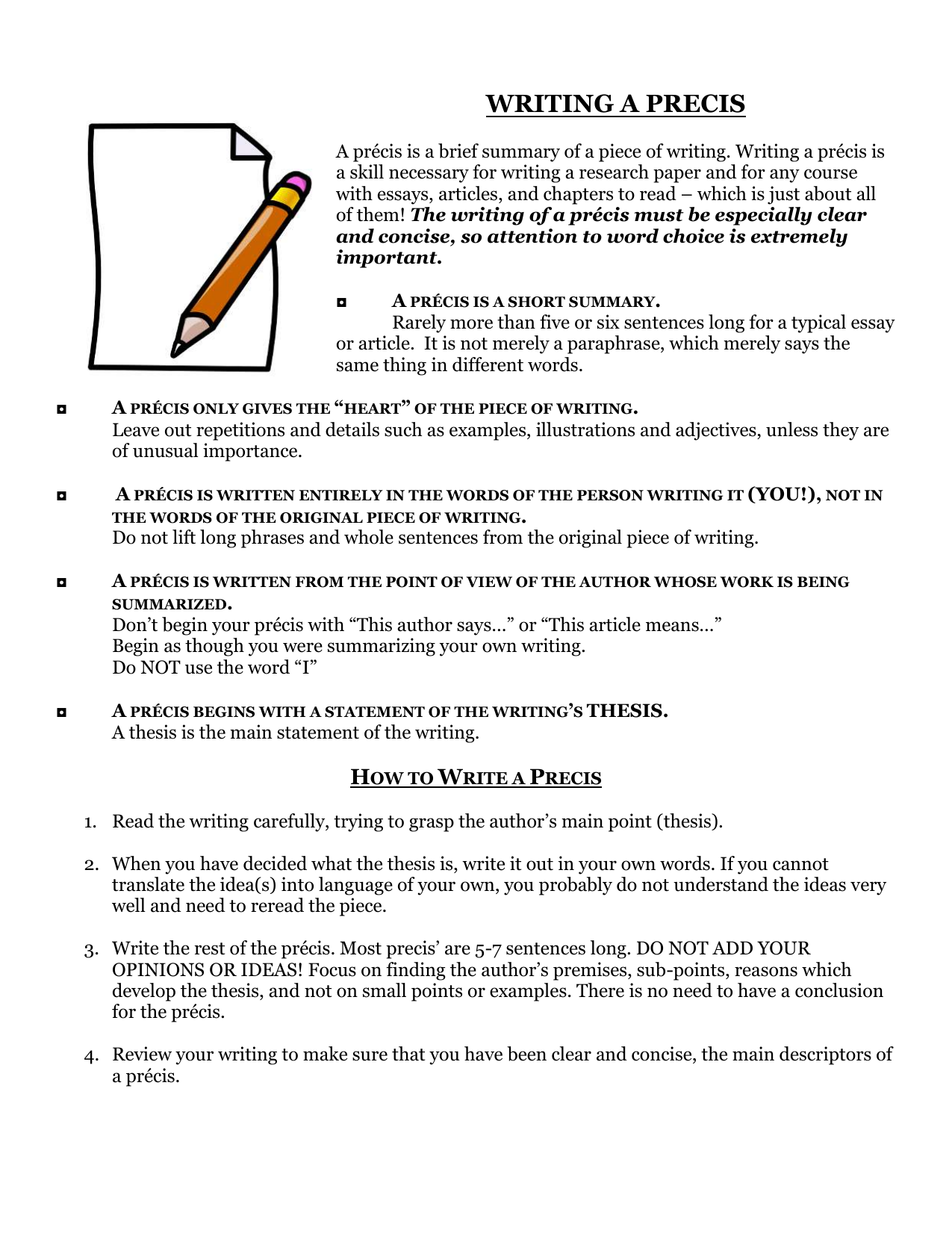 WRITING A PRECIS
A précis is a brief summary of a piece of writing. Writing a précis is
a skill necessary for writing a research paper and for any course
with essays, articles, and chapters to read – which is just about all
of them! The writing of a précis must be especially clear
and concise, so attention to word choice is extremely
important.
◘
A PRÉCIS IS A SHORT SUMMARY.
Rarely more than five or six sentences long for a typical essay
or article. It is not merely a paraphrase, which merely says the
same thing in different words.
◘
A PRÉCIS ONLY GIVES THE "HEART" OF THE PIECE OF WRITING.
Leave out repetitions and details such as examples, illustrations and adjectives, unless they are
of unusual importance.
◘
A PRÉCIS IS WRITTEN ENTIRELY IN THE WORDS OF THE PERSON WRITING IT (YOU!), NOT IN
THE WORDS OF THE ORIGINAL PIECE OF WRITING.
Do not lift long phrases and whole sentences from the original piece of writing.
◘
A PRÉCIS IS WRITTEN FROM THE POINT OF VIEW OF THE AUTHOR WHOSE WORK IS BEING
SUMMARIZED.
Don't begin your précis with "This author says…" or "This article means…"
Begin as though you were summarizing your own writing.
Do NOT use the word "I"
◘
A PRÉCIS BEGINS WITH A STATEMENT OF THE WRITING'S THESIS.
A thesis is the main statement of the writing.
HOW TO WRITE A PRECIS
1. Read the writing carefully, trying to grasp the author's main point (thesis).
2. When you have decided what the thesis is, write it out in your own words. If you cannot
translate the idea(s) into language of your own, you probably do not understand the ideas very
well and need to reread the piece.
3. Write the rest of the précis. Most precis' are 5-7 sentences long. DO NOT ADD YOUR
OPINIONS OR IDEAS! Focus on finding the author's premises, sub-points, reasons which
develop the thesis, and not on small points or examples. There is no need to have a conclusion
for the précis.
4. Review your writing to make sure that you have been clear and concise, the main descriptors of
a précis.