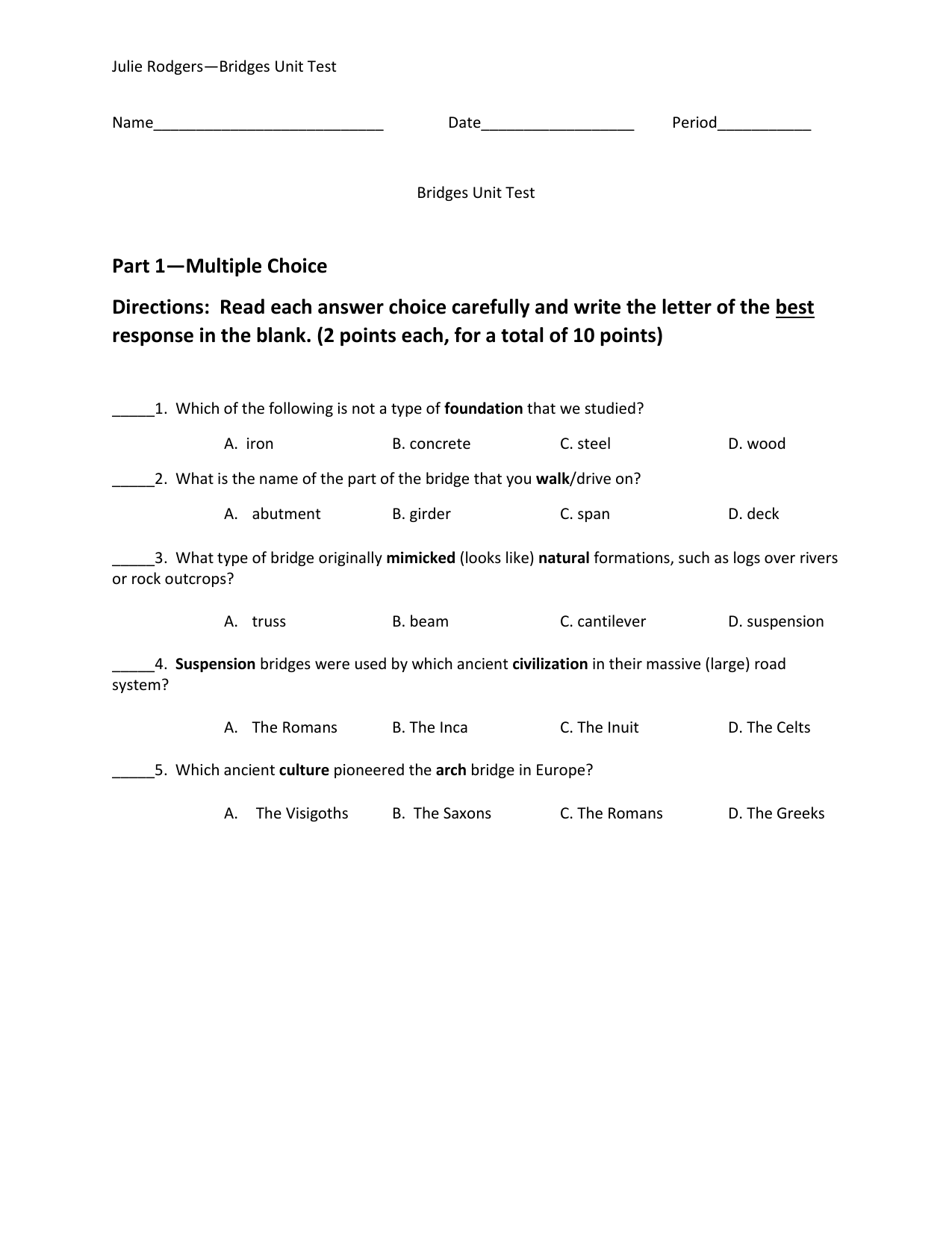 Julie Rodgers—Bridges Unit Test
Name___________________________
Date__________________
Period___________
Bridges Unit Test
Part 1—Multiple Choice
Directions: Read each answer choice carefully and write the letter of the best
response in the blank. (2 points each, for a total of 10 points)
_____1. Which of the following is not a type of foundation that we studied?
A. iron
B. concrete
C. steel
D. wood
_____2. What is the name of the part of the bridge that you walk/drive on?
A. abutment
B. girder
C. span
D. deck
_____3. What type of bridge originally mimicked (looks like) natural formations, such as logs over rivers
or rock outcrops?
A. truss
B. beam
C. cantilever
D. suspension
_____4. Suspension bridges were used by which ancient civilization in their massive (large) road
system?
A. The Romans
B. The Inca
C. The Inuit
D. The Celts
_____5. Which ancient culture pioneered the arch bridge in Europe?
A.
The Visigoths
B. The Saxons
C. The Romans
D. The Greeks
Julie Rodgers—Bridges Unit Test
Part 2: True—False
Directions: Read each statement below carefully. Place a T on the line if you
think a statement it TRUE. Place an F on the line if you think the statement is
FALSE. If you have questions, raise your hand and ask your teacher. (2 points
each, for a total of 20 points).
The two main forces that act on a bridge at any given time are compression
and repression.
_____6.
_____7. Usually, a poor foundation can be easily fixed.
_____8. Sometimes, foundations must go deeper into the ground than a structure is
tall.
_____9. The three types of foundations are shallow, deep, and semi-deep.
_____10. One challenge to building in a narrow mountain canyon is that sometimes
there are no flat or straight open areas for road surfaces.
_____11. Engineers are continually refining the materials used to make the members
(beams, piers, columns, girders) of a bridge to construct safe and dependable bridges.
_____12. Reinforced pressure is the weight or force bearing down on the soil from the
bottom of the foundation
_____13. Settlement is the vertical downward movement of the foundation.
_____14. Foundations are often the most overlooked part of a bridge or any building
_____15. Compression is the force responsible for most bridge failures.
Julie Rodgers—Bridges Unit Test
Part 3: Vocabulary Matching
Directions: Match the vocabulary word to its correct definition (on the left).
Write the letter of the correct answer in the blank. (2 points each, for a total of
30 points)
_____16. Vertical downward movement of the foundation
_____17. Someone who uses science and math to design and construct
structures such as buildings, bridges, and tunnels.
_____18. A pushing force that presses material together.
_____19. Structures that project horizontally into space, supported on
only one end
_____20. A bridge in which the deck is hung from cables
_____21. The elongation or contraction of a material per unit length of
the material
_____22. The length of a bridge between two piers.
_____23. A mass, as of masonry, receiving the arch, beam, truss, etc.,
at each end of a bridge
_____24. Indicates the stiffness of a material
_____25. The "top" of the bridge on which we drive or walk
_____26. A pulling Force that pulls and stretches materials outward
_____27. Is a design or plan that guides the builder when they are
building a building or structure
_____28. A part of the bridge, such as a subordinate structural beam,
column or wall
_____29. The ability of a material to show little or no yielding before
failure
_____30. The ability of a material to be subjected to large strains
before it ruptures or fails
A.
B.
C.
D.
E.
F.
G.
H.
I.
J.
K.
L.
M.
N.
O.
P.
Q.
Ductile
Span
Tension
Blueprint
Member
Brittle
Compression
Deck
Stress
Pier
Strain
Modulus of
elasticity
Abutment
Engineer
Cantilevers
Settlement
Suspension
Julie Rodgers—Bridges Unit Test
Part 4: Extended Response
Directions: For the following questions, please provide a complete and
thoughtful answer using complete sentences. Be sure to use vocabulary words
and examples that demonstrate your understanding of the unit. (5 points each,
for a total of 40 points)
1.
What are some of the things that engineers must consider when designing bridges?
2.
If you were an engineer, how would you go about designing a bridge to make sure it was safe?
3.
Engineers must consider many things when designing the foundation for a bridge or structure.
What are some of those things?
Julie Rodgers—Bridges Unit Test
4. What happens to the size of a foundation as a building or bridge gets bigger? The foundation
must increase in size. Why?
5. What are reasons why people want roadways like those in Glenwood Canyon?
6. Why does it matter to us that engineers are careful to balance the cost of a bridge with their
design decisions?
7. Explain at least 3 factors influence bridge cost.
8. What factors do you think are most important in the cost of a bridge? Be sure to back up your
opinion with examples from our unit. You can use famous bridge examples if you wish.