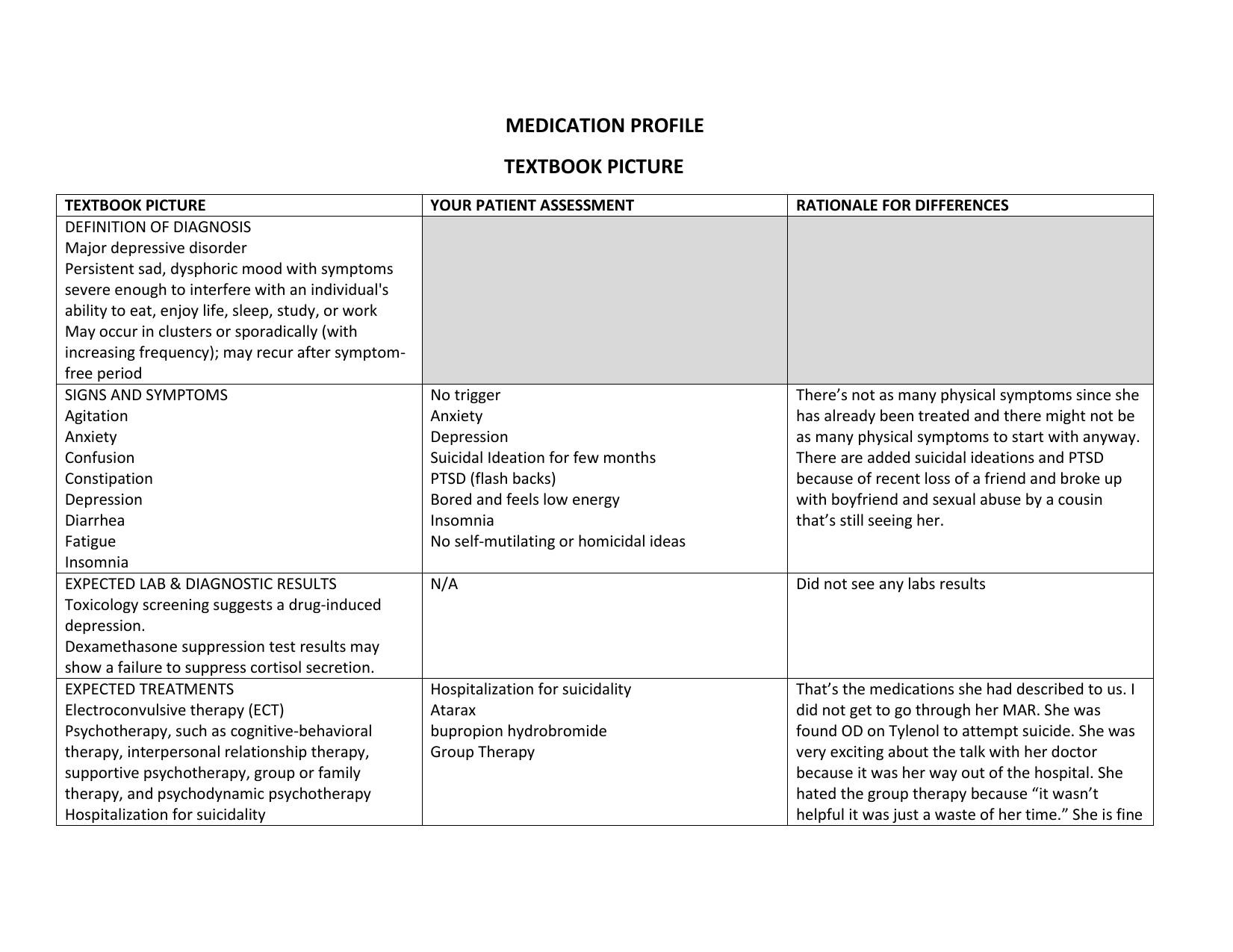 MEDICATION PROFILE
TEXTBOOK PICTURE
TEXTBOOK PICTURE
DEFINITION OF DIAGNOSIS
Major depressive disorder
Persistent sad, dysphoric mood with symptoms
severe enough to interfere with an individual's
ability to eat, enjoy life, sleep, study, or work
May occur in clusters or sporadically (with
increasing frequency); may recur after symptomfree period
SIGNS AND SYMPTOMS
Agitation
Anxiety
Confusion
Constipation
Depression
Diarrhea
Fatigue
Insomnia
EXPECTED LAB & DIAGNOSTIC RESULTS
Toxicology screening suggests a drug-induced
depression.
Dexamethasone suppression test results may
show a failure to suppress cortisol secretion.
EXPECTED TREATMENTS
Electroconvulsive therapy (ECT)
Psychotherapy, such as cognitive-behavioral
therapy, interpersonal relationship therapy,
supportive psychotherapy, group or family
therapy, and psychodynamic psychotherapy
Hospitalization for suicidality
YOUR PATIENT ASSESSMENT
RATIONALE FOR DIFFERENCES
No trigger
Anxiety
Depression
Suicidal Ideation for few months
PTSD (flash backs)
Bored and feels low energy
Insomnia
No self-mutilating or homicidal ideas
There's not as many physical symptoms since she
has already been treated and there might not be
as many physical symptoms to start with anyway.
There are added suicidal ideations and PTSD
because of recent loss of a friend and broke up
with boyfriend and sexual abuse by a cousin
that's still seeing her.
N/A
Did not see any labs results
Hospitalization for suicidality
Atarax
bupropion hydrobromide
Group Therapy
That's the medications she had described to us. I
did not get to go through her MAR. She was
found OD on Tylenol to attempt suicide. She was
very exciting about the talk with her doctor
because it was her way out of the hospital. She
hated the group therapy because "it wasn't
helpful it was just a waste of her time." She is fine
Transcranial magnetic stimulation if unresponsive
to one class of antidepressants
Vagus nerve stimulation
SSRI/SNRI
Atypical
TCA
MAOI
St. John's Wort
Aripiprazole
References: Lippincott advisor. (2019). Retrieved from http://advisor.lww.com
with the medications, but she complains that they
made her too drowsy during the day.