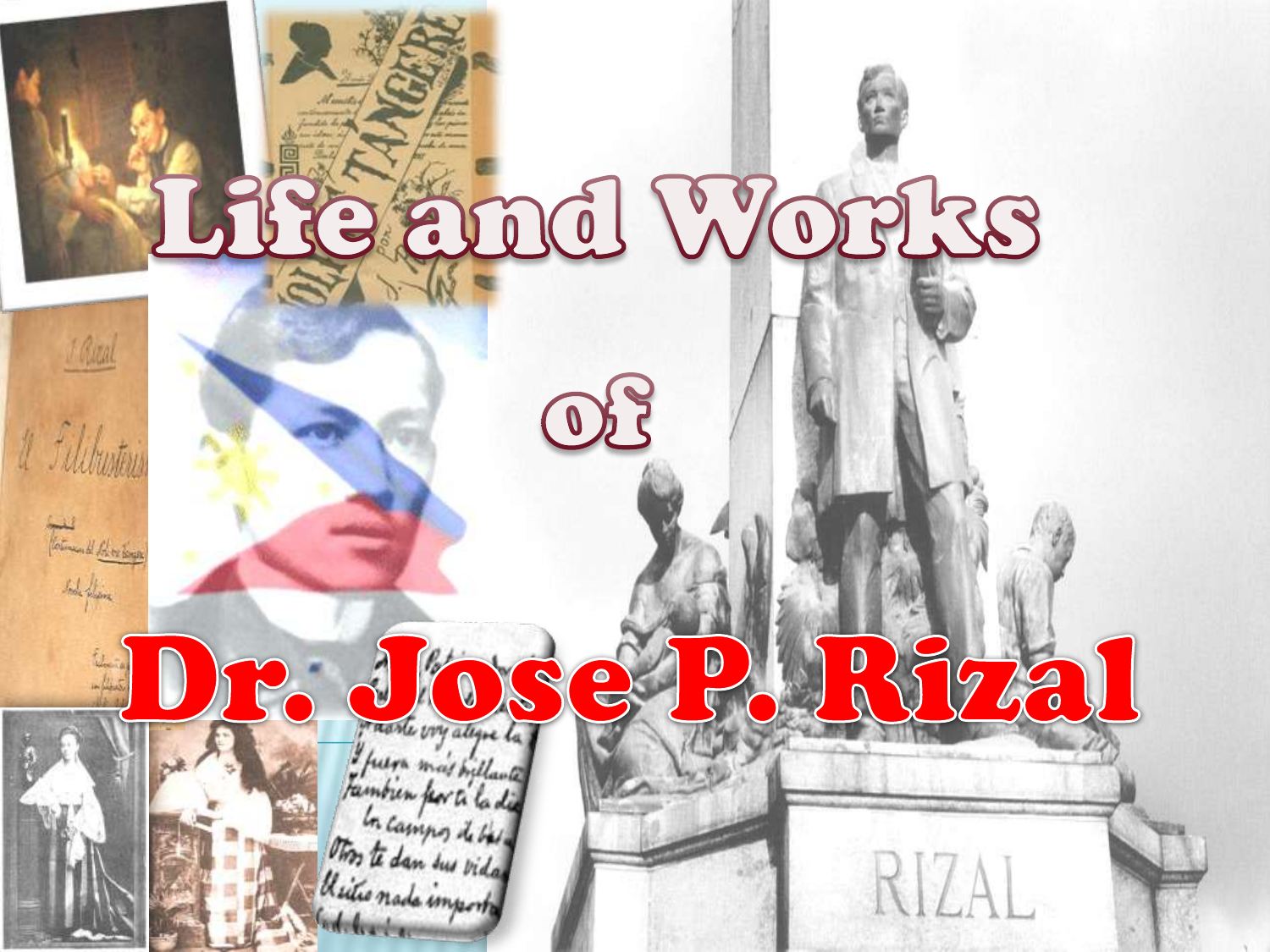 After his trip to London, he move to PARIS.
Timely there is an International Exposition
being held at Paris.
Rizal's roommates
(a)
Captain Justo Trinidad – former
gobernadorcillo & a refugee from
Spanish tyranny;
(b) Jose Albert – young student from Manila.
In his spare hours, he used to dine at the
house of the De Taveras:
1) DR.TRINIDAD PARDO DE TAVERA –
physician by vocation and philologist by
avocation.
2) DR.FELIX PARDO DE TAVERA – also a
physician by vocation and an artist &
sculptor by avocation.
3) PAZ PARDO DE TAVERA – wife of Juan
Luna.
4) DON JOAQUIN PARDO DE TAVERA – an
exle of 1872 who escape from Marianas &
lived in France.
MR.EDWARD BOUSTED - was born in the
Phil., the son of a rich French
businessman of
Singapore, and had
married a daughter of prominent Genato
family of Manila.
Two attractive daughter
1. Nellie – a fencer
2. Adelina – quiet, dignified & refined
He carried his artistic hobbies and
made two statues
1. The Beggar
2. The Maid with a Baker – sent to
Blumentrit together with an artistic
wallet (PETACA) made of Philippine
vine.
1. Kidlat Club
2. Indios Bravos
Kidlat Club – special club form in order
to organize Fils. In the French
country
Members:
(a)Antonio & Juan Luna,
(b) Lauro Dimagiba
La Vision de Fray Rodriquez
Por Telepono
1. International Association of Filipinologist
2. Modern Filipino College in Hongkong
International Association of Filipinologist –
association that aim to study the
Philippines from the scientific and
historical piont of view.
President:Dr.Ferdinand Blumentritt(Austrian)
Vice President : Mr. Edmund Plauehul (French)
Counsellor : Dr. Reinhold Rost (Anglo-German)
Counsellor : Dr. Antonio Ma. Regidor (Filipino-
Spanish)
Secretary : Dr. Jose Rizal (Filipino)
Modern Filipino in Hongkong – a college
that aims to train and educate men of
good family and financial means in
according with the demands of modern
times and circumstances.
Mr. Cunanan - who promised Rizal to help
him raise money as initial capital for
the college.
P40,000 – amount needed as capital for the
college.
Por Telepono – another satirical work of Rizal
that is a reply to fr. Salvador Font, who
mastermind the banning of his Noli. –
was published in booklet form in
Barcelona, 1889.
– it describes in anical vain Father
Salvador Font and a friar in the San
Agustin Convent in Manila.
Dimasalang – pen name used by Rizal in
writing Por Telepono.
Adelina Boustead – another romance of Rizal
in Paris.
Antonio Luna – a dashing man of violent
passions who is madly in love with Nelly
(Adelina's sister)
Mir Deas – Spanish newspaperman who was
writing articles against Filipinos.
Reasons that Rizal marriage did not prosper:
1. Adelina was not sure ho loved her because
of his broken engagement
2. Rizal refused to accept the condition that
he will become a protestant like her
3. Adelina's mother opposed the match
because Rizal was not rich enough to support
a family in style.