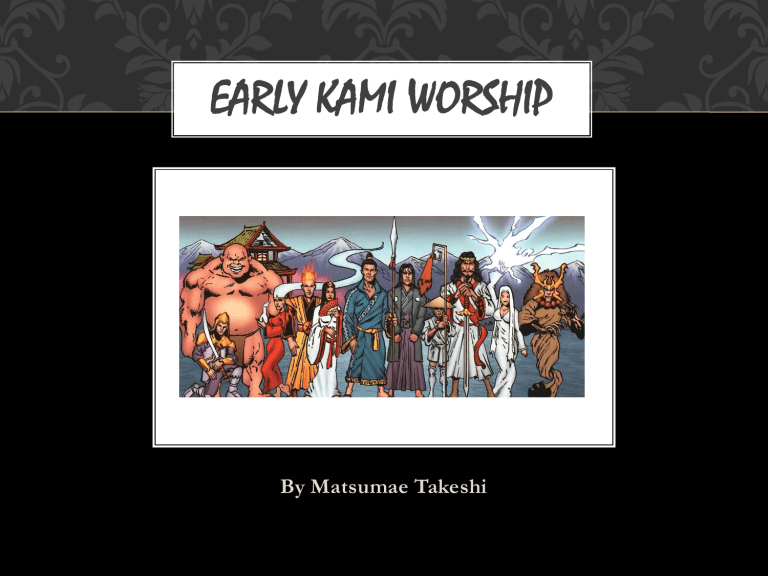 EARLY KAMI WORSHIP
By Matsumae Takeshi
OUTLINE
General Characteristics of Shinto:
The concept of kami
Ethics and ritual purity
Shinto literature and mythology
The periodization of Japanese mythology / evolution of Shinto
(M.Takeshi):
1. Genesis and early forms
2. From primitive Shinto to clan Shinto
3. From clan Shinto to state Shinto
4. The maturation of state Shinto
THE CONCEPT OF KAMI
•
•
•
•
•
•
•
Kami is "deity"
Everything that have exceptional powers, good or bad
Extraordinary phenomenon possessed charismatic power
Spirits as a kami
Kami as a tutelary deity (ujigami)
Kami as a creative power (musubi)
Shinto –religious system of kami worship - "the kami way"
ETHICS AND RITUAL PURITY
• Tsumi –the danger to both the
cosmic and social order
• Ablutions as a magic rites to
eliminate tsumi (EX: Izanagi's
action; purification ceremonies for
agricultural production,
misfortunes, Oharae – Great
Purification Ceremony)
SHINTO LITERATURE AND
MYTHOLOGY
• Kojiki (712) and Nihon shoki (720); semihistorical chronicles
compiled under imperial court; fudoki-gazetteers, records of
the Grand Shrine at Ise, prayers, descriptions about rites
• The myths were consciously manipulated/created by Yamato
court (6-7 cent) to construct political ideology for itself (Tsuda
Sokichi)
• It emerged from popular sources (as through migrations taking
roots from Korean/Chinese myths) and then arranged for
political purposes (M.Takeshi)
1. GENESIS AND EARLY FORMS
JOMON-YAYOI AGE
• Animistic forms of nature worship: primitive beliefs in spirits,
nature forces
• Using religious practices for the purposes of living, to ensure
agricultural prosperity
• Included shamanism and the worship of a "rice spirit" - food
kami the spirit of rice
• Hierarchical social structure – the formation of small
kingdoms in certain regions (Yamatai kingdom – shaman ruler
Himiko)
2. FROM PRIMITIVE TO CLAN
SHINTO, BURIAL MOUND PERIOD
• Development Shrine Shinto together with
Political system
• Specific names and functions (rankings) to
animistic kamis, and places to worship –
sacred space/objects
• Kami of political functions (ujigami)
• Kami as ancestral deities (Yanagita Kunio) or
nature deities (M.Takeshi): myth about the
founder of Miwa clan, existence of kami
before the clan, some animational forms of
kami
3. FROM CLAN TO STATE SHINTO
• Sacred holy objects "shintai"
• Organized religious system: construction of buildings
• Organization and systematization of Shinto on a nationwide
scale, incorporation of kami to enhance the imperial-clan
power (Amaterasu)
• Centralization and monopolization of worship/rites by
imperial authority
Sacred tree
Sacred Fuji mountain
4. THE MATURATION OF STATE
SHINTO (LATE 7-8 CENT.)
• Shinto as an institutionalized religion supported the state
• Religion and polity interdevelopment by Chinese influence:
ritsuryo system
• Centralizing a bureaucratic order under the emperor
• Import of Buddhism from China as a support of the state
supremacy
• Shinto explains the origins of the Japanese state, the position
and functions of emperor claimed descent from kami; still
functioned as the guarantor of food. focused on people's most
basic fears and to give them hope that such disasters could be
prevented by supernatural intervention.
THANK YOU!