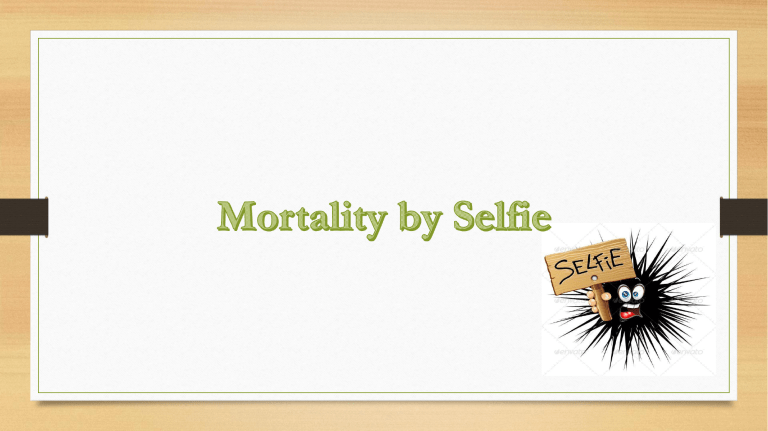 What is Selfie?
A selfie is a self-portrait photograph, typically
taken with a digital camera or camera phone
held in the hand or supported by a selfie stick.
Selfies are often shared on social networking
services such as Facebook, Instagram and
Twitter.
By Wikipedia
Can you predict how many selfies are taking
everyday across the world?
Do you know people are endangered by taking
selfie?
Can you guess how many people die from
taking selfie last year?
Did you or your friends have experience of this
kind of craziness before?
What are the causes of death by selfie
last year?
Fall from Height
Drowning
Train accident
Gunshot
• 4
Plain Crash
• 2
Car Crash
• 2
Animal attack
• 1
Cause of death when selfie 2016
Fall
from
Height
No
16
of
death
Drowning Train
Gunshot Plane
accident
crash
Car
Animal
Crash attack
14
2
8
4
2
1
Percent distribution by cause of death
34%
30%
17%
8,40%
FALL FROM HEIGHT
DROWNING
TRAIN ACCIDENT
GUNSHOT
4,30%
4,30%
PLANE CRASH
CAR CRASH
2,00%
ANIMAL ATTACK
Take home massage- some safe selfie tips
• Life is too short and can end in the flash
of a camera.
• So, Click with Care.