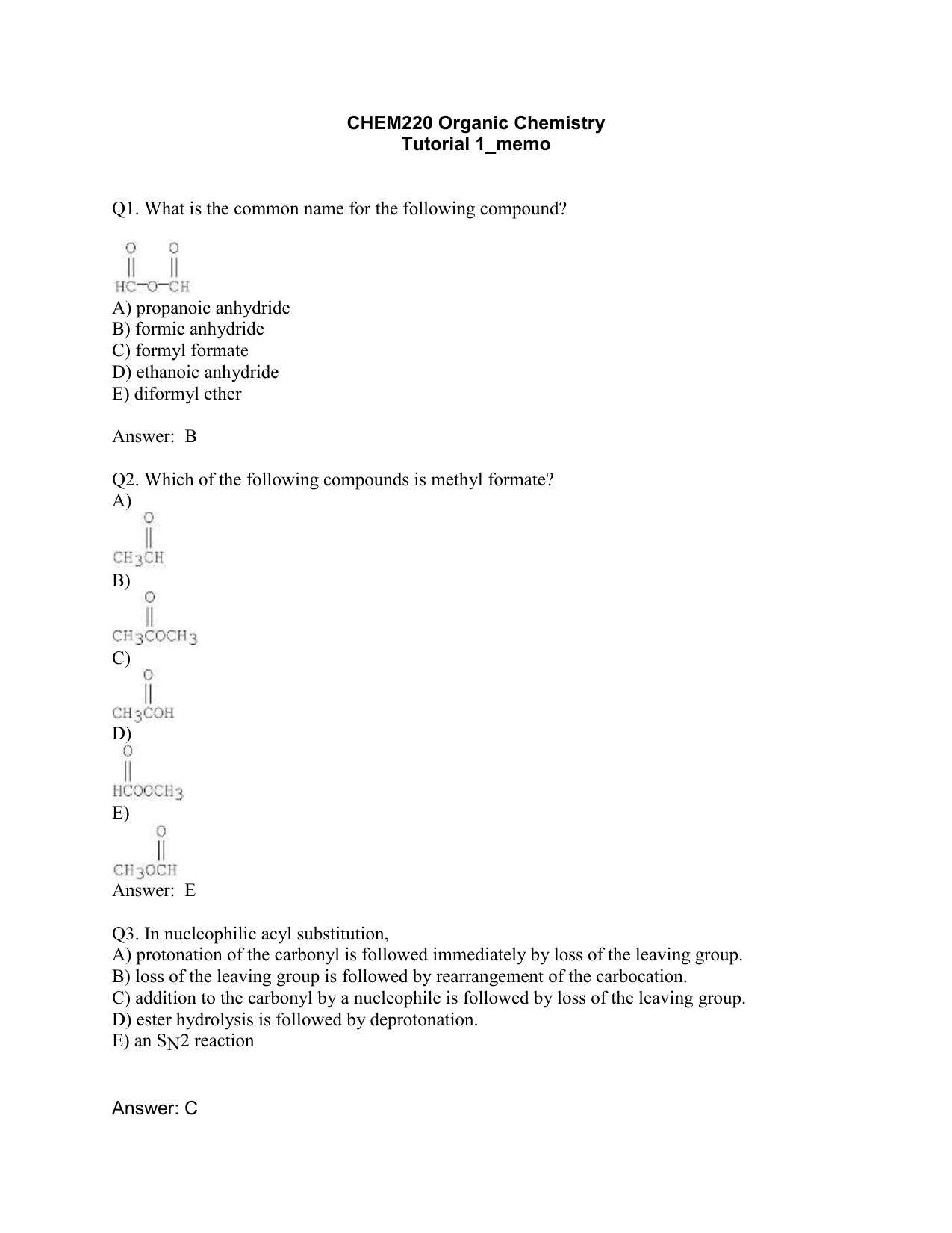 CHEM220 Organic Chemistry
Tutorial 1_memo
Q1. What is the common name for the following compound?
A) propanoic anhydride
B) formic anhydride
C) formyl formate
D) ethanoic anhydride
E) diformyl ether
Answer: B
Q2. Which of the following compounds is methyl formate?
A)
B)
C)
D)
E)
Answer: E
Q3. In nucleophilic acyl substitution,
A) protonation of the carbonyl is followed immediately by loss of the leaving group.
B) loss of the leaving group is followed by rearrangement of the carbocation.
C) addition to the carbonyl by a nucleophile is followed by loss of the leaving group.
D) ester hydrolysis is followed by deprotonation.
E) an SN2 reaction
Answer: C
Q4: Which C—N bond below is shorter, I or II? Explain.
Answer: I is the shorter C—N bond. Electron delocalization of N's lone pair into the
adjacent carbonyl gives C—N bond I partial double bond character.
Q5: Do you expect the following reaction to go to completion? Why or why not?
Answer:
No. The equilibrium will favor the reactants because the nucleophile, Cl -, is a much
weaker base than the leaving group CH3O-.
Q6. Which of the following compounds is most reactive toward nucleophilic acyl
substitution, and why?
A)
B)
C)
D)
E)
Answer: C,
The reaction will be favored in forward direction as Cl- is a weakest base, so can easily
be substituted.
Q7. What product do you expect from the reaction of acetyl chloride and methanol?
Explain with the help of a mechanism.
Answer
The methyl acetate will be formed as a product. The reaction will follow uncatalyzed
alcoholysis mechanism.
Q8. In the lab, a student tried to prepare N,N-diethylacetamide by heating acetyl chloride
with two equivalents of triethylamine.
Was the student successful?
Explain with any appropriate suggestion
Answer
No, the reaction was unsuccessful. Tertiary amines do not react with acid chlorides to
form stable products because there is no H bonded to the nitrogen in the amine reagent
which can be lost subsequent to amine attack on the carbonyl. The reaction would have
proved successful had diethylamine been used.
Q9. An amide is formed from the following reaction. What is structure of the product
formed? Provide a reaction mechanism.
O
O
Answer
NH3
Answer:
Q10: Provide a detailed, stepwise mechanism for the acid-catalyzed transesterification
of ethyl acetate with n-propanol.
Answer
Q11: Provide the major organic product of the reaction below with a suitable
explanation.
Answer
The presence of nitro helps stabilizing negative charge generated on phenolate ion,
formed due to attack of –OH group.