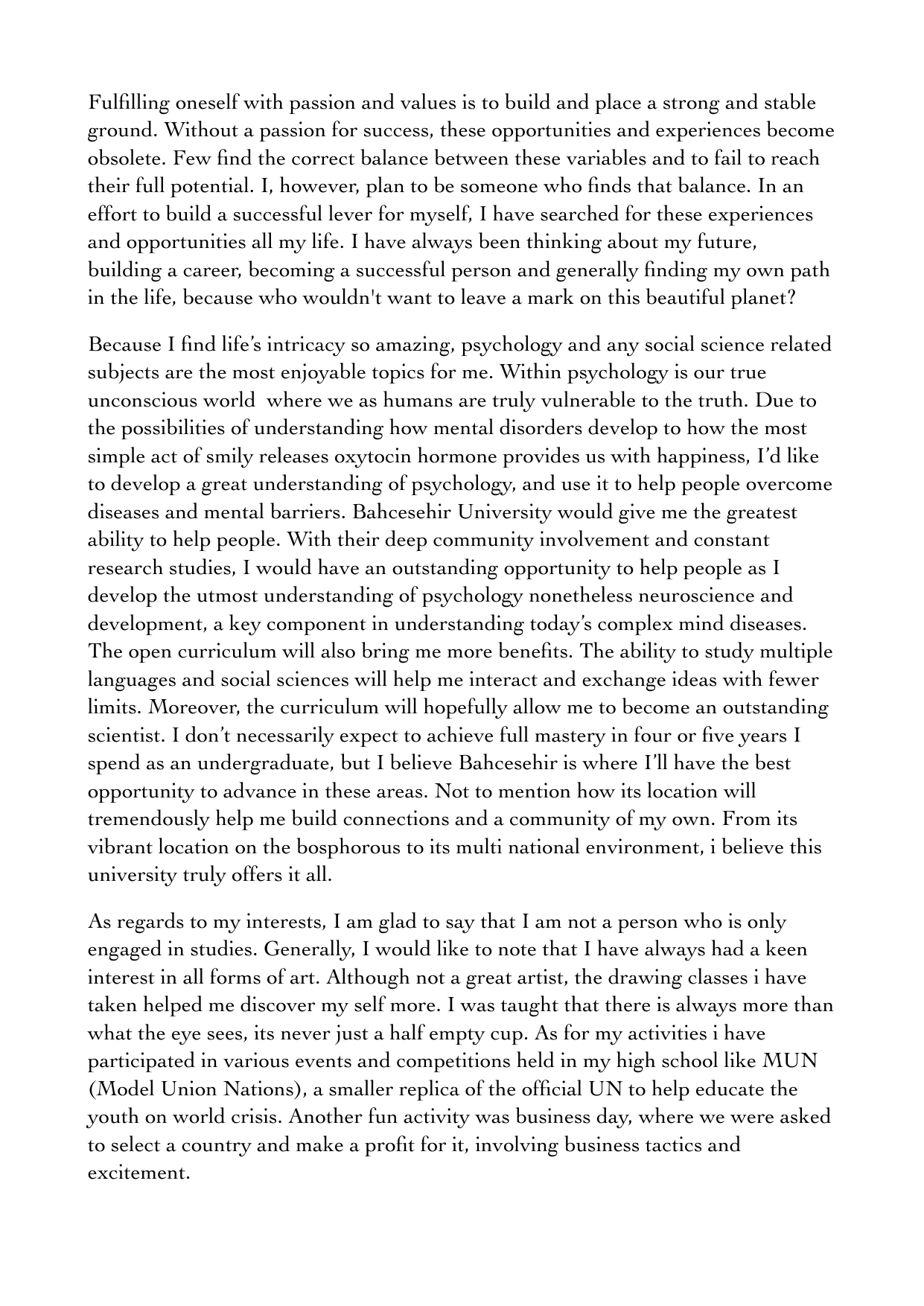 Fulfilling oneself with passion and values is to build and place a strong and stable
ground. Without a passion for success, these opportunities and experiences become
obsolete. Few find the correct balance between these variables and to fail to reach
their full potential. I, however, plan to be someone who finds that balance. In an
effort to build a successful lever for myself, I have searched for these experiences
and opportunities all my life. I have always been thinking about my future,
building a career, becoming a successful person and generally finding my own path
in the life, because who wouldn't want to leave a mark on this beautiful planet?
Because I find life's intricacy so amazing, psychology and any social science related
subjects are the most enjoyable topics for me. Within psychology is our true
unconscious world where we as humans are truly vulnerable to the truth. Due to
the possibilities of understanding how mental disorders develop to how the most
simple act of smily releases oxytocin hormone provides us with happiness, I'd like
to develop a great understanding of psychology, and use it to help people overcome
diseases and mental barriers. Bahcesehir University would give me the greatest
ability to help people. With their deep community involvement and constant
research studies, I would have an outstanding opportunity to help people as I
develop the utmost understanding of psychology nonetheless neuroscience and
development, a key component in understanding today's complex mind diseases.
The open curriculum will also bring me more benefits. The ability to study multiple
languages and social sciences will help me interact and exchange ideas with fewer
limits. Moreover, the curriculum will hopefully allow me to become an outstanding
scientist. I don't necessarily expect to achieve full mastery in four or five years I
spend as an undergraduate, but I believe Bahcesehir is where I'll have the best
opportunity to advance in these areas. Not to mention how its location will
tremendously help me build connections and a community of my own. From its
vibrant location on the bosphorous to its multi national environment, i believe this
university truly offers it all.
As regards to my interests, I am glad to say that I am not a person who is only
engaged in studies. Generally, I would like to note that I have always had a keen
interest in all forms of art. Although not a great artist, the drawing classes i have
taken helped me discover my self more. I was taught that there is always more than
what the eye sees, its never just a half empty cup. As for my activities i have
participated in various events and competitions held in my high school like MUN
(Model Union Nations), a smaller replica of the official UN to help educate the
youth on world crisis. Another fun activity was business day, where we were asked
to select a country and make a profit for it, involving business tactics and
excitement.
Attending Bahcesehir University will bring me all of these things, which will aid
me in becoming the best scientist I can possibly be.
In conclusion, I would like to say that if I become a student of your university, I
promise to be a worthy member of the team. I would love to be considered for a
scholarship if possible.
Thank you very much for considering my application. I look forward to your
positive response.
Yours sincerely, Tala Husseino.