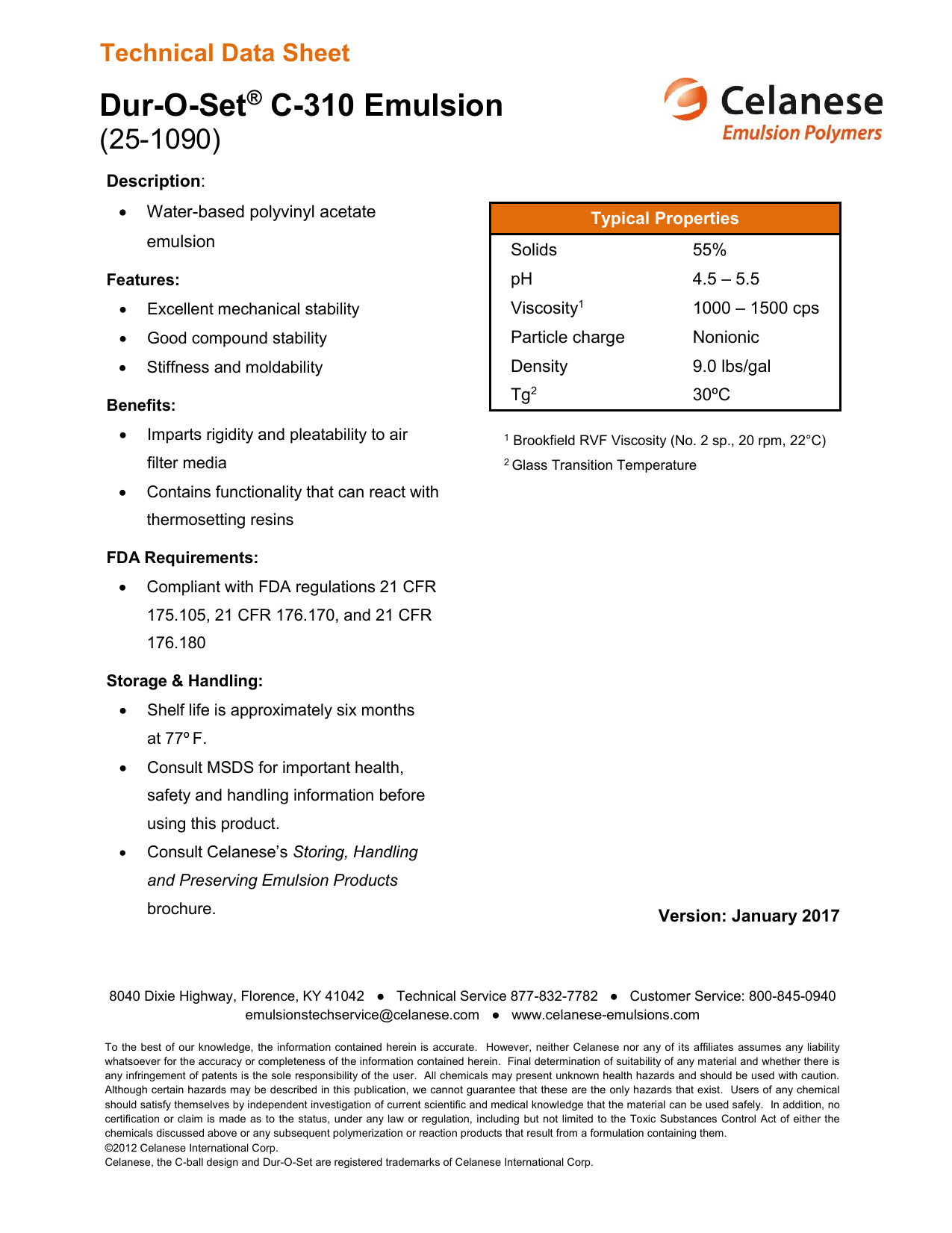 Technical Data Sheet
Dur-O-Set® C-310 Emulsion
(25-1090)
Description:

Water-based polyvinyl acetate
Typical Properties
emulsion
Features:
Solids
55%
pH
4.5 – 5.5

Excellent mechanical stability
Viscosity1
1000 – 1500 cps

Good compound stability
Particle charge
Nonionic

Stiffness and moldability
Density
9.0 lbs/gal
Tg2
30ºC
Benefits:


Imparts rigidity and pleatability to air
1
filter media
2 Glass
Brookfield RVF Viscosity (No. 2 sp., 20 rpm, 22°C)
Transition Temperature
Contains functionality that can react with
thermosetting resins
FDA Requirements:

Compliant with FDA regulations 21 CFR
175.105, 21 CFR 176.170, and 21 CFR
176.180
Storage & Handling:

Shelf life is approximately six months
at 77º F.

Consult MSDS for important health,
safety and handling information before
using this product.

Consult Celanese's Storing, Handling
and Preserving Emulsion Products
brochure.
Version: January 2017
8040 Dixie Highway, Florence, KY 41042 ● Technical Service 877-832-7782 ● Customer Service: 800-845-0940
[email protected] ● www.celanese-emulsions.com
To the best of our knowledge, the information contained herein is accurate. However, neither Celanese nor any of its affiliates assumes any liability
whatsoever for the accuracy or completeness of the information contained herein. Final determination of suitability of any material and whether there is
any infringement of patents is the sole responsibility of the user. All chemicals may present unknown health hazards and should be used with caution.
Although certain hazards may be described in this publication, we cannot guarantee that these are the only hazards that exist. Users of any chemical
should satisfy themselves by independent investigation of current scientific and medical knowledge that the material can be used safely. In addition, no
certification or claim is made as to the status, under any law or regulation, including but not limited to the Toxic Substances Control Act of either the
chemicals discussed above or any subsequent polymerization or reaction products that result from a formulation containing them.
©2012 Celanese International Corp.
Celanese, the C-ball design and Dur-O-Set are registered trademarks of Celanese International Corp.