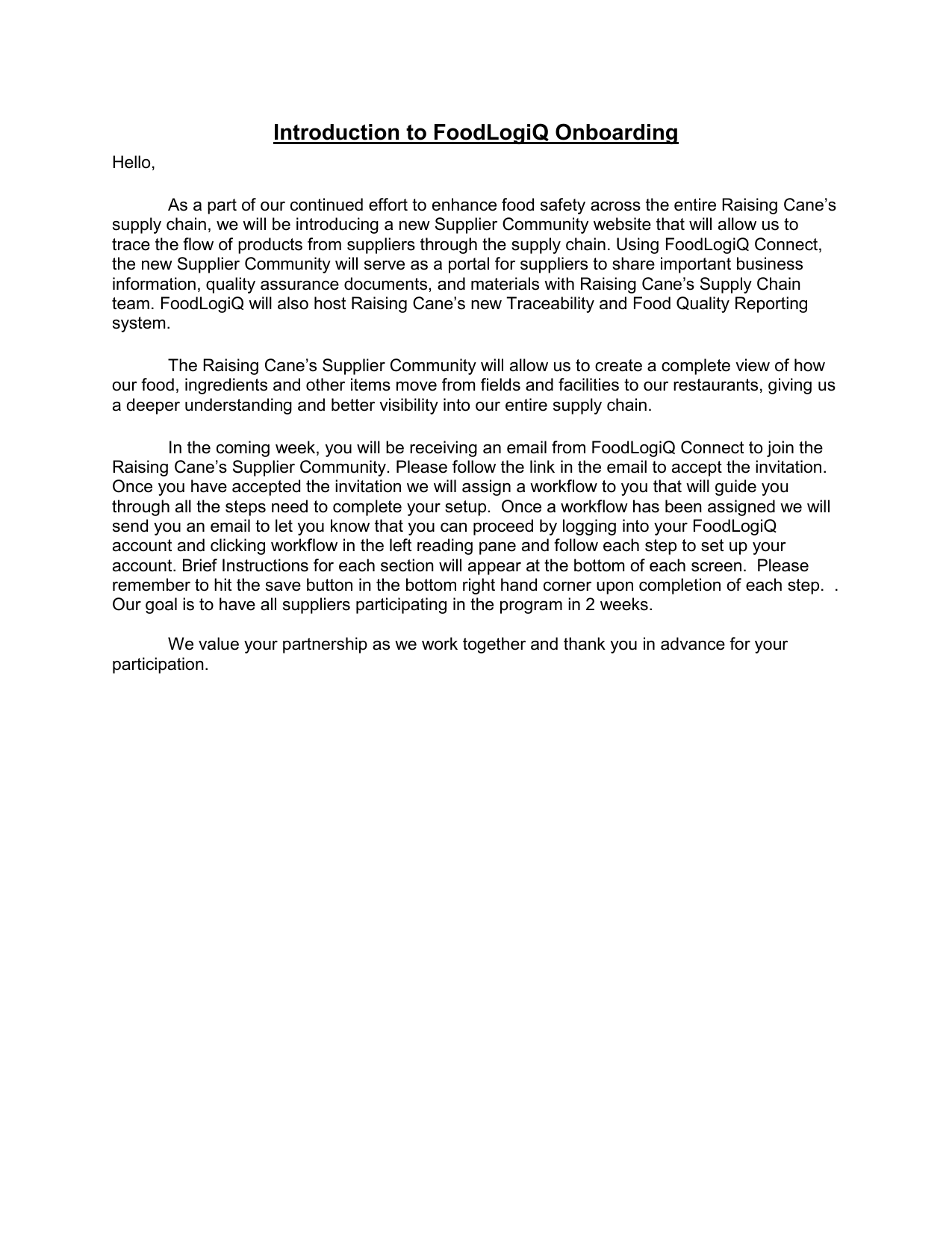 Introduction to FoodLogiQ Onboarding
Hello,
As a part of our continued effort to enhance food safety across the entire Raising Cane's
supply chain, we will be introducing a new Supplier Community website that will allow us to
trace the flow of products from suppliers through the supply chain. Using FoodLogiQ Connect,
the new Supplier Community will serve as a portal for suppliers to share important business
information, quality assurance documents, and materials with Raising Cane's Supply Chain
team. FoodLogiQ will also host Raising Cane's new Traceability and Food Quality Reporting
system.
The Raising Cane's Supplier Community will allow us to create a complete view of how
our food, ingredients and other items move from fields and facilities to our restaurants, giving us
a deeper understanding and better visibility into our entire supply chain.
In the coming week, you will be receiving an email from FoodLogiQ Connect to join the
Raising Cane's Supplier Community. Please follow the link in the email to accept the invitation.
Once you have accepted the invitation we will assign a workflow to you that will guide you
through all the steps need to complete your setup. Once a workflow has been assigned we will
send you an email to let you know that you can proceed by logging into your FoodLogiQ
account and clicking workflow in the left reading pane and follow each step to set up your
account. Brief Instructions for each section will appear at the bottom of each screen. Please
remember to hit the save button in the bottom right hand corner upon completion of each step. .
Our goal is to have all suppliers participating in the program in 2 weeks.
We value your partnership as we work together and thank you in advance for your
participation.