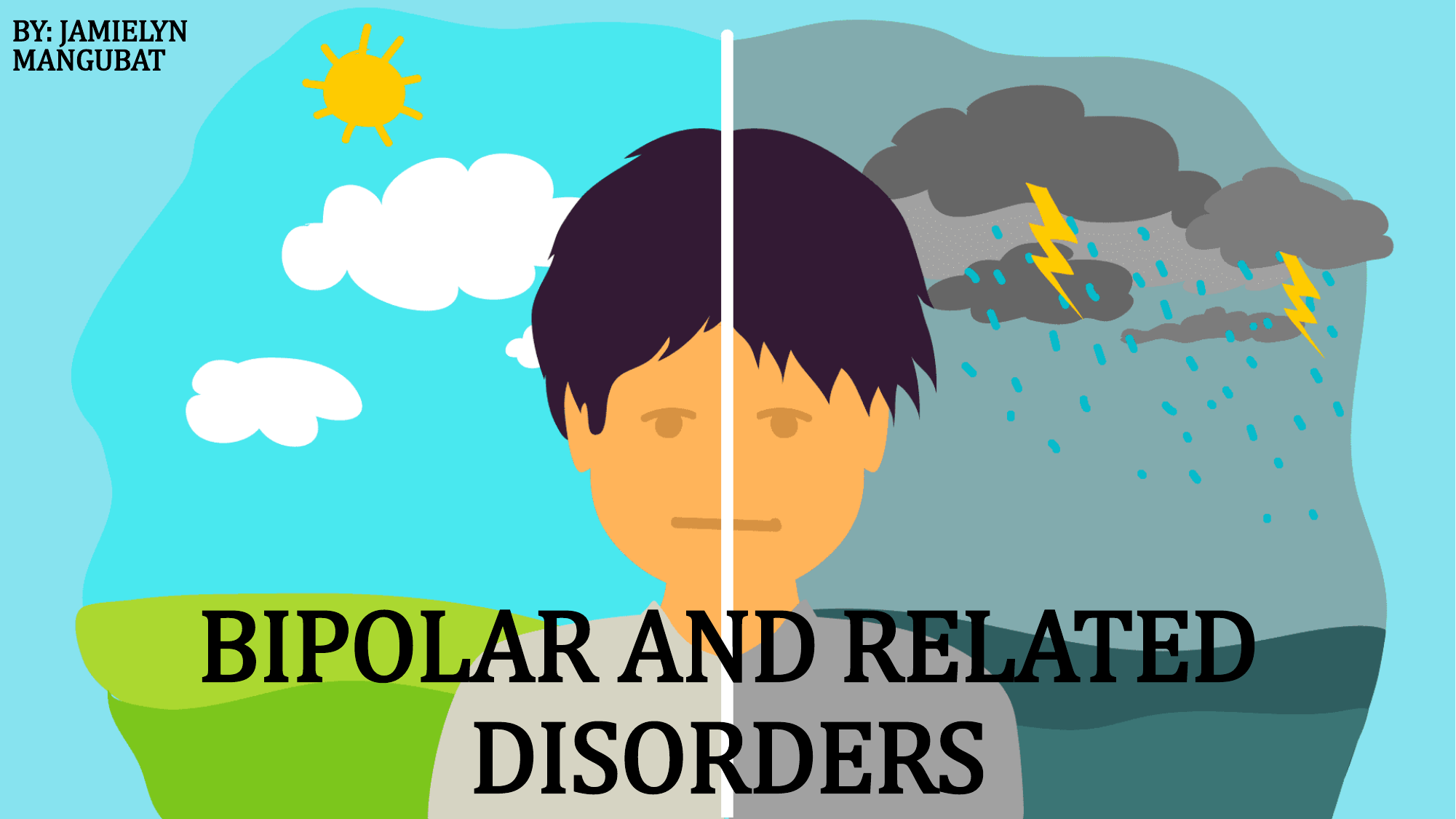 BY: JAMIELYN
MANGUBAT
BIPOLAR AND RELATED
DISORDERS
BIPOLAR
DISORDERS
The key identifying feature of bipolar
disorders is the tendency of manic
episodes to alternate with major
depressive episodes in an unending rollercoaster ride from the peaks of elation to
the depths of despair
MAJOR
DEPRESSIVE
HYPOMANIA
MANIA
MANIC
EPISODE
A
DISTINCT
PERIOD
ABNORMALLY
OF
&
PERSISTENTLY
ELEVATED,
EXPANSIVE OR IRRITABLE MOOD
AND
ABNORMALLY
&
PERSISTENTLY
INCREASED
GOAL-DIRECTED
ACTIVITY OR ENERGY NEARLY
EVERY DAY.
MAJOR
DEPRESSIVE
EPISODE
5 (OR MORE)
OF THE SYMPTOMS
IS PRESENT NEARLY
DURING THE
EVERYDAY
SAME 2 – WEEK
PERIOD
AND REPRESENT A CHANGE
FROM THE PREVIOUS FUNCTIONING; AT
LEAST ONE OF THE SYMPTOMS IS EITHER
(1)
DEPRESSED MOOD
LOSS OF
PLEASURE
INTEREST
OR (2)
OR
SYMPTOMS ARE THE SAME
SYMPTOMS ARE THE SAME
AT LEAST 4 DAYS
AT LEAST 1 WEEK
NOTICEABLE BUT NOT SEVERE ENOUGH TO IMPAIR
FUNCTIONING OR REQUIRE HOSPITALIZATION
INTERFERES SOCIAL OR OCCUPATIONAL
FUNCTIONING OR REQUIRES HOSPITALIZATION TO
PREVENT HARM
BIPOLAR I BIPOLAR II
DISORDER DISORDER
DIAGNOSED WITH
MANIC EPISODE
HYPOMANIC EPISODE
AND MAJOR
DEPRESSIVE
EPISODE
DIAGNOSED WITH
HYPOMANIC EPISODE
AND MAJOR
DEPRESSIVE
EPISODE
CYCLOTHYMIC
DISORDER
DIAGNOSED WITH
2-YEAR PERIOD OF
HYPOMANIC
& MAJOR DEPRESSIVE
SYMPTOMS
BUT DO NOT MEET THE
CRITERIA
SUBSTANCE/MEDICATIONINDUCED BIPOLAR AND
RELATED DISORDER
• A prominent and persistent disturbance in mood that
predominates in the clinical picture and is characterized by
elevated, expansive, or irritable mood, with or without
depressed mood, or markedly diminished interest or pleasure
in all, or almost all, activities.
• The symptoms developed during or soon after substance
intoxication or withdrawal or after exposure to a medication.
• The involved substance/medication is capable of producing the
symptoms.
BIPOLAR AND RELATED DISORDER DUE TO ANOTHER MEDICAL CONDITION
• A prominent and persistent period of abnormally elevated, expansive, or irritable mood and abnormally increased
activity or energy that predominates in the clinical picture
• There is evidence from the history, physical examination, or laboratory findings that the disturbance is the direct
pathophysiological consequence of another medical condition
• The disturbance causes clinically significant distress or impairment in social, occupational, or other important
areas of functioning, or necessitates hospitalization to prevent harm to self or others, or there are psychotic
features.
PREVALENCE
• There is some similarity in the lifetime prevalence rates for bipolar spectrum
disorders across many different countries ranging from India and Japan to
the United States, Lebanon, and New Zealand (0.1 to 4.4 percent; Merikangas et
al., 2011).
• Bipolar disorder seems to occur at about the same rate (1%) in childhood and
adolescence as in adults (Brent & Birmaher, 2009; Kessler et al., 2012;
Merikangas & Pato, 2009).
• Bipolar I disorder (must be diagnosed with mania): The 12-month prevalence rate is estimated at approximately 0.6
percent. Lifetime male-to-female prevalence ratio is approximately 1:1:1
• Bipolar II disorder (diagnosis of hypomania): The 12-month prevalence rate is estimated at 0.8 percent in US; 0.3%
internationally.
• Cyclothymic disorder: This is a more chronic but less intense manifestation of bipolar-like symptoms. Lifetime prevalence
is estimated to be between 0.4 percent and 1 percent.
• Co-occurring mental disorders are common, with the most
frequent disorders being any anxiety disorder (e.g., panic
attacks, social anxiety disorder [social phobia], specific phobia),
occurring in approximately three-fourths of individuals
• ADHD, any disruptive, impulse-control, or conduct disorder (e.g.,
intermittent explosive disorder, oppositional defiant disorder,
conduct disorder), and any substance use disorder (e.g., alcohol
use disorder) occur in over half of individuals with bipolar I
disorder.
• Adults with bipolar I disorder have high rates of serious and/or
untreated co-occurring medical conditions. Metabolic syndrome
and migraine are more common among individuals with bipolar
COMORBIDITY
FOR BIPOLAR I
disorder than in the general population.
• More than half of individuals whose symptoms meet criteria for
bipolar disorder have an alcohol use disorder, and those with
•
Bipolar II disorder is more often associated with one or more cooccurring mental disorders, with anxiety disorders being the most
common. Approximately 60% of individuals with bipolar II disorder
have three or more co-occurring mental disorders; 75% have an
anxiety disorder; and 37% have a substance use disorder.
•
Children and adolescents with bipolar II disorder have a higher rate of
co-occurring anxiety disorders and the anxiety disorder most often
predates the bipolar disorder. Anxiety and substance use disorders
occur in individuals with bipolar II disorder at a higher rate than in
the general population.
•
Approximately 14% of individuals with bipolar II disorder have at
least one lifetime eating disorder, with binge-eating disorder being
more common than bulimia nervosa and anorexia nervosa.
•
These commonly co-occurring disorders do not seem to follow a
course of illness that is truly independent from that of the bipolar
disorder, but rather have strong associations with mood states. For
example, anxiety and eating disorders tend to associate most with
depressive symptoms, and substance use disorders are moderately
COMORBIDITY
FOR BIPOLAR II
Substance-related
disorders
and
sleep
disorders (i.e., difficulties in initiating and
maintaining sleep) may be present in individuals
with cyclothymic disorder. Most children with
cyclothymic disorder treated in outpatient
psychiatric settings have comorbid mental
conditions; they are more likely than other pediatric
patients with mental disorders to have comorbid
attention-deficit/hyperactivity disorder.
COMORBIDITY
FOR
CYCLOTHYMIC DISORDER
Jane was the wife of a well-known surgeon and the loving mother of three children. The family lived in an old
country house on the edge of town with plenty of room for family members and pets. Jane was nearly 50; the older
children had moved out; the youngest son, 16-year-old Mike, was having substantial academic difficulties in school
and seemed anxious. Jane brought Mike to the clinic to find out why he was having problems.
As they entered the office, I observed that Jane was well-dressed, neat, vivacious, and personable; she had a
bounce to her step. She began talking about her wonderful and successful family before she and Mike even reached
their seats. Mike, by contrast, was quiet and reserved. He seemed resigned and perhaps relieved that he would
have to say little during the session. By the time Jane sat down, she had mentioned the personal virtues and
material achievement of her husband, and the brilliance and beauty of one of her older children, and she was
proceeding to describe the second child. But before she finished she noticed a book on anxiety disorders and,
having read voraciously on the subject, began a litany of various anxiety-related problems that might be troubling
Mike.
In the meantime, Mike sat in the corner with a small smile on his lips that seemed to be masking considerable
distress and uncertainty over what his mother might do next. It became clear as the interview progressed that
Mike suffered from obsessive-compulsive disorder, which disturbed his concentration both in and out of school. He
It also became clear that Jane herself was in the midst of a hypomanic episode, evident in her unbridled
enthusiasm, grandiose perceptions, "uninterruptable" speech, and report that she needed little sleep these days.
She was also easily distracted, as when she quickly switched from describing her children to the book on the
table. When asked about her own psychological state, Jane readily admitted that she was a "manic depressive"
(the old name for bipolar disorder) and that she alternated rather rapidly between feeling on top of the world
and feeling depressed; she was taking medication for her condition. I immediately wondered if Mike's obsessions
had anything to do with his mother's condition.
Mike was treated intensively for his obsessions and compulsions but made little progress. He said that life at
home was difficult when his mother was depressed. She sometimes went to bed and stayed there for 3 weeks.
During this time, she seemed be in a depressive stupor, essentially unable to move for days. It was up to the
children to care for themselves and their mother, whom they fed by hand. Because the older children had now left
home, much of the burden had fallen on Mike. Jane's profound depressive episodes would remit after about 3
weeks, and she would immediately enter a hypomanic episode that might last several months or more. During
hypomania, Jane was mostly funny, entertaining, and a delight to be with—if you could get a word in edgewise.
Consultation with her therapist, an expert in the area, revealed that he had prescribed a number of medications
REFERENCES
American Psychiatric Association. (2013). Desk reference to the diagnostic criteria from DSM-5. Washington, DC: American
Psychiatric Publishing.
American Psychiatric Association. (2013). Diagnostic and statistical manual of mental disorders: DSM-5 (Fifth ed.). Bangkok: IGroup
Press.
Barlow, D. H., & Durand, V. M. (2015). Abnormal psychology: an integrative approach (Seventh ed.). Singapore: Cengage Learning Asia
Pte Ltd.
Butcher, J. N., Mineka, S., & Hooley, J. M. (2014). Abnormal psychology (12th ed.). Boston: Pearson.