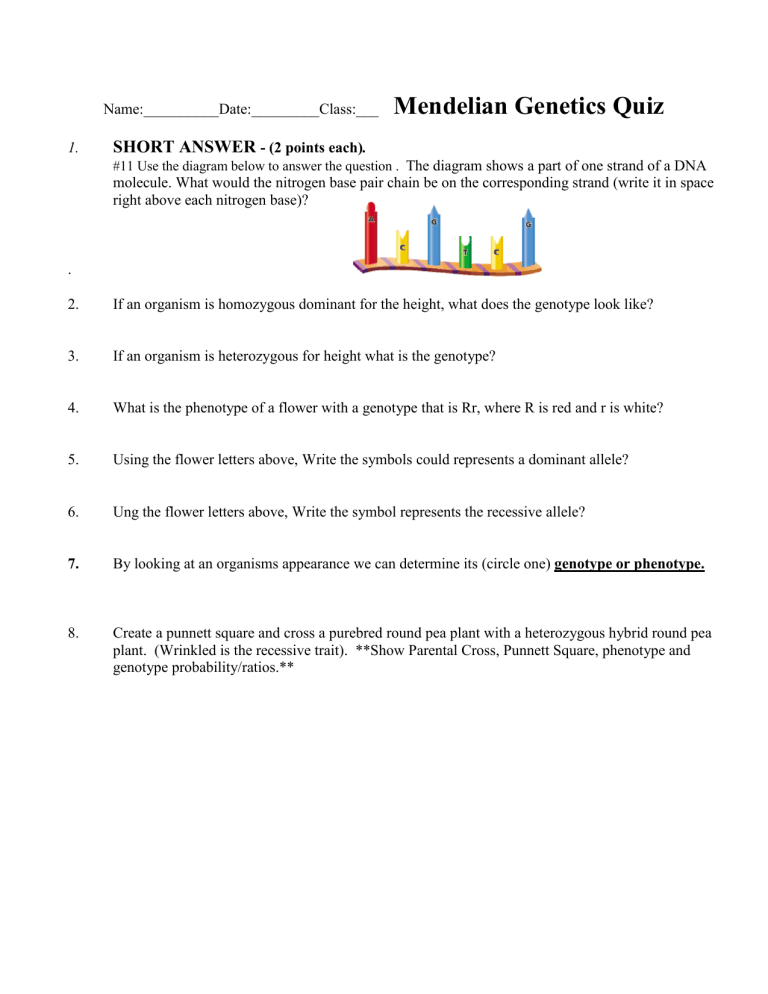 Name:__________Date:_________Class:___
1.
Mendelian Genetics Quiz
SHORT ANSWER - (2 points each).
#11 Use the diagram below to answer the question . The diagram shows a part of one strand of a DNA
molecule. What would the nitrogen base pair chain be on the corresponding strand (write it in space
right above each nitrogen base)?
.
2.
If an organism is homozygous dominant for the height, what does the genotype look like?
3.
If an organism is heterozygous for height what is the genotype?
4.
What is the phenotype of a flower with a genotype that is Rr, where R is red and r is white?
5.
Using the flower letters above, Write the symbols could represents a dominant allele?
6.
Ung the flower letters above, Write the symbol represents the recessive allele?
7.
By looking at an organisms appearance we can determine its (circle one) genotype or phenotype.
8.
Create a punnett square and cross a purebred round pea plant with a heterozygous hybrid round pea
plant. (Wrinkled is the recessive trait). **Show Parental Cross, Punnett Square, phenotype and
genotype probability/ratios.**
9.
How can Mutations become Helpful or Harmful? Explain and support your response with
examples. Use atleast 5 sentences to complete your response.
10.
Who is Gregor Mendel? Why are his contributions important? What law did he create? What did
people believe before he created this law?