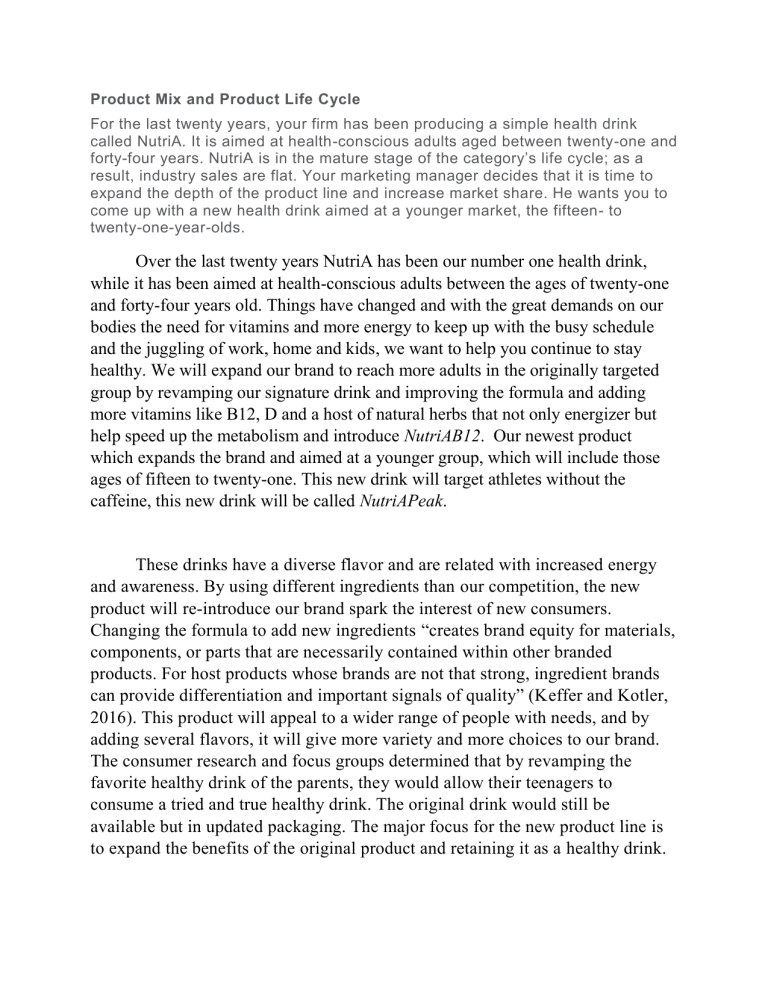 Product Mix and Product Life Cycle
For the last twenty years, your firm has been producing a simple health drink
called NutriA. It is aimed at health-conscious adults aged between twenty-one and
forty-four years. NutriA is in the mature stage of the category's life cycle; as a
result, industry sales are flat. Your marketing manager decides that it is time to
expand the depth of the product line and increase market share. He wants you to
come up with a new health drink aimed at a younger market, the fifteen- to
twenty-one-year-olds.
Over the last twenty years NutriA has been our number one health drink,
while it has been aimed at health-conscious adults between the ages of twenty-one
and forty-four years old. Things have changed and with the great demands on our
bodies the need for vitamins and more energy to keep up with the busy schedule
and the juggling of work, home and kids, we want to help you continue to stay
healthy. We will expand our brand to reach more adults in the originally targeted
group by revamping our signature drink and improving the formula and adding
more vitamins like B12, D and a host of natural herbs that not only energizer but
help speed up the metabolism and introduce NutriAB12. Our newest product
which expands the brand and aimed at a younger group, which will include those
ages of fifteen to twenty-one. This new drink will target athletes without the
caffeine, this new drink will be called NutriAPeak.
These drinks have a diverse flavor and are related with increased energy
and awareness. By using different ingredients than our competition, the new
product will re-introduce our brand spark the interest of new consumers.
Changing the formula to add new ingredients "creates brand equity for materials,
components, or parts that are necessarily contained within other branded
products. For host products whose brands are not that strong, ingredient brands
can provide differentiation and important signals of quality" (Keffer and Kotler,
2016). This product will appeal to a wider range of people with needs, and by
adding several flavors, it will give more variety and more choices to our brand.
The consumer research and focus groups determined that by revamping the
favorite healthy drink of the parents, they would allow their teenagers to
consume a tried and true healthy drink. The original drink would still be
available but in updated packaging. The major focus for the new product line is
to expand the benefits of the original product and retaining it as a healthy drink.