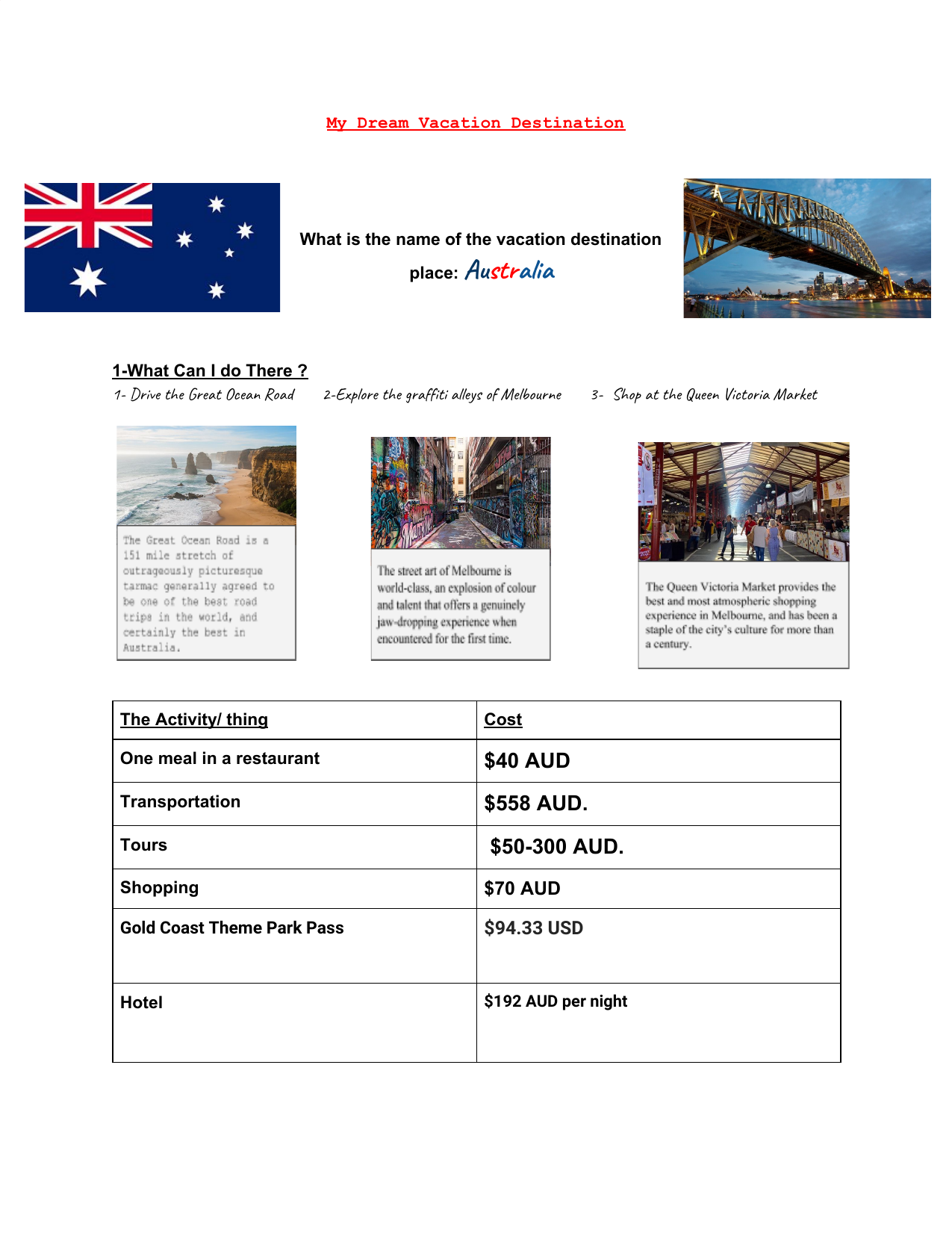 My Dream Vacation Destination
What is the name of the vacation destination
Au​str​alia
place: ​
1-What Can I do There ?
1- Drive the Great Ocean Road
2-Explore the graffiti alleys of Melbourne
The Activity/ thing
Cost
One meal in a restaurant
$40 AUD
Transportation
$558 AUD.
Tours
3- ​ ​Shop at the Queen Victoria Market
$50-300 AUD.
Shopping
$70 AUD
Gold Coast Theme Park Pass
$94.33 USD
Hotel
$192 AUD per night
2- Address of the hotel
Name of hotel : ​Meriton Suites Coward
Street, Mascot
Location​:​ 200 ​Coward S​treet ​, Botany
Bay, New South Wales 2020, Australia
Phone number : ​00 61 2 9053 4548
3- What can you do at your vacation there ?
Have a BBQ on Ninety Mile Beach
A BBQ on the beach is a classic Australian experience,
so you might as well combine that with a trip to the
longest uninterrupted beach in the country and the third
longest in the world.
See more penguins on Phillip Island
If the penguins at the pier have whetted your appetite,
Phillip Island beckons, where you'll find even more,
along with kangaroos, wallabies, seals and – if you're
lucky – dolphins and whales
Take a hike in Wilsons Promontory N.P.
For deserted sandy beaches and generally gorgeous
coastal scenery, go walking on the Wilsons Promontory
peninsula, which covers the southernmost portion of
mainland ​Australia​.