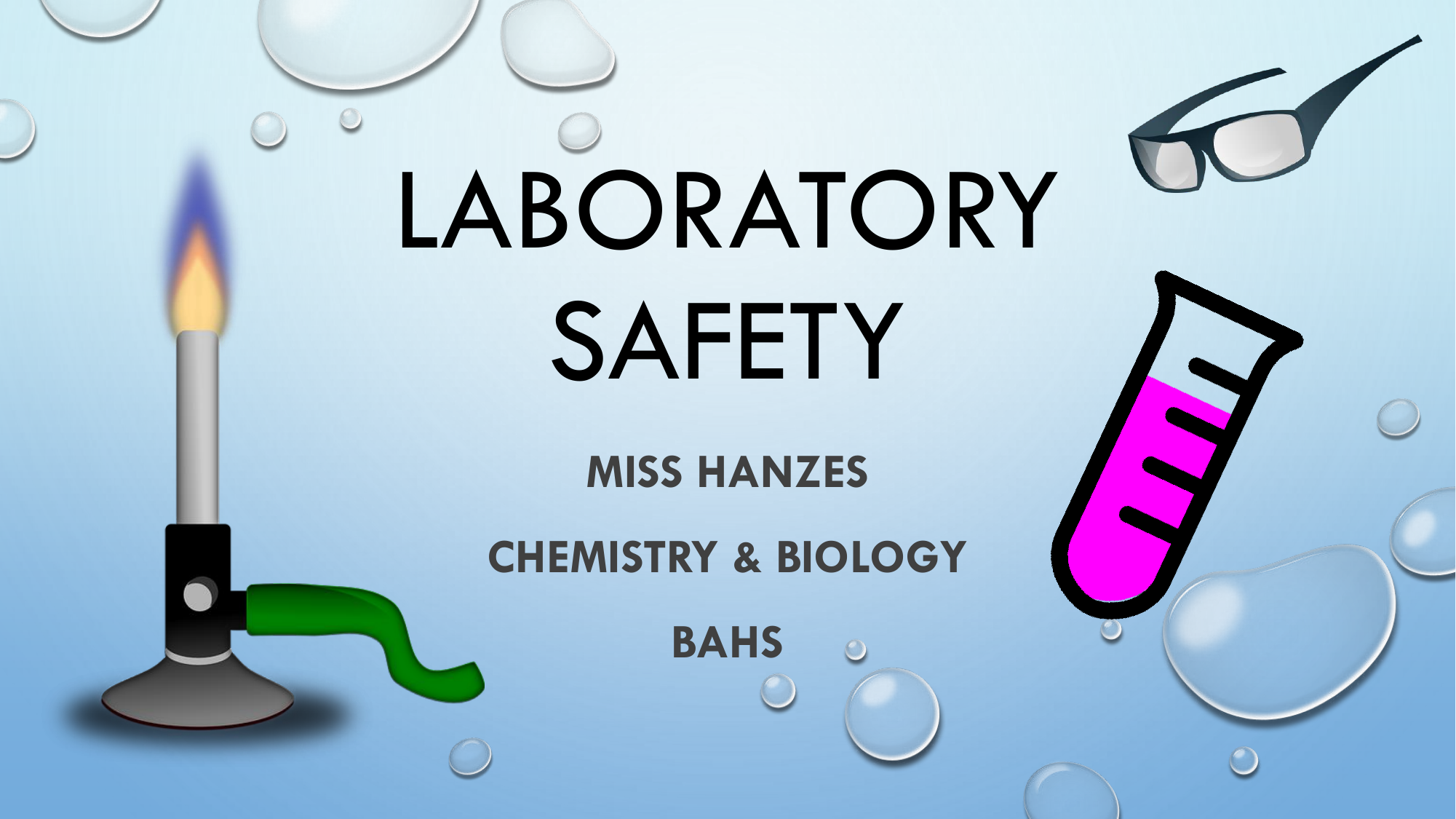 LABORATORY
SAFETY
MISS HANZES
CHEMISTRY & BIOLOGY
BAHS
Safety in the science classroom/lab
is the #1 PRIORITY for students,
teachers and parents.
What are the lab safety rules and procedures?
RULE #1
CONDUCT YOURSELF IN A RESPONSIBLE,
MATURE MANNER AT ALL TIMES IN THE
LABORATORY!
RULE #2
Follow all written and verbal instructions
carefully. If you do not understand a direction
or a part of a procedure, ask the instructor
before proceeding.
RULE #3
Do not eat food, drink beverages,
or chew gum in the laboratory.
Do not use laboratory glassware
as containers for food or
beverages.
Hazardous chemical
or orange juice?
RULE #4
Never fool around in the
laboratory. Horseplay,
practical jokes, and pranks are
dangerous and prohibited.
No horseplay in the
laboratory, please!
RULE #5
Perform only those experiments authorized by
the instructor and outlined in the laboratory
procedure.
TRUE OR FALSE?
You read over the lab procedures and safety
precautions before class, so you don't need to
listen to the teacher's verbal instructions.
FALSE!
TRUE OR FALSE?
It is okay to drink water in the
lab.
FALSE!
TRUE OR FALSE?
You should throw away your gum
before entering the lab.
TRUE!
GENERAL LAB SAFETY PRINCIPLES:
Keep work areas clean and tidy. Only place
necessary materials on the lab tables.
Keep aisles clear. Push chairs in when not in use.
Never work alone. Do not work in the laboratory
without the instructor present.
GENERAL LAB SAFETY PRINCIPLES:
Know the locations and operating
procedures of all safety equipment,
including the first aid kit, eyewash station,
safety shower, and fire extinguisher. Know
where the fire alarm and exits are located.
Always work in a well-ventilated area.
Use the fume hood when working with
volatile substances or poisonous vapors.
TRUE OR FALSE?
You should keep your chair
pushed in during a lab activity.
TRUE!
TRUE OR FALSE?
You don't want to get your new bag dirty,
so you can leave it on the table when
performing a lab.
FALSE!
TRUE OR FALSE?
Since you plan to always wear your
safety goggles, you don't need to know
where the eyewash station is.
FALSE!
LABORATORY ATTIRE
For your personal safety, appropriate lab attire must be worn at all times!
GOGGLES: any time chemicals,
heat, or glassware are used,
students will wear safety
goggles/glasses
LONG HAIR,
BAGGY
CLOTHES, &
DANGLING
JEWELRY must be
secured
CONTACT LENSE wearers should not
use safety glasses, only goggles
APRONS
should be
worn when
working in the
lab
OPEN-TOE SHOES are not
permitted in the lab
TRUE OR FALSE?
It is not necessary to wear goggles if
you are only heating water.
FALSE!
TRUE OR FALSE?
If you wear sandals to school, you
should bring extra shoes for the lab.
TRUE!
ENTERING THE LAB
1. Before entering the lab, read all procedures thoroughly
and familiarize yourself with safely precautions.
2. Dress in appropriate laboratory attire, including
goggles.
3. Enter the laboratory and sit only at your assigned work
station with your assigned partner.
ENTERING THE LAB
4. Locate emergency wash stations, fire extinguisher,
and fire exits.
5. Do not touch any equipment, chemicals, or other
laboratory materials until instructed to do so.
6. You may begin the lab when instructed, after you
feel fully prepared.
TRUE OR FALSE?
If your lab partner is absent, you should
just sit with a few of your friends.
FALSE!
TRUE OR FALSE?
Before starting a lab, you should make
sure you know were the safety shower is
located.
TRUE!
WORKING IN THE LAB
Experiments must be personally monitored at all times.
DO NOT DISTRACT OTHER STUDENTS!
Keep hands away from face, eyes, mouth, and body
when using chemicals or preserved specimens.
Be alert and proceed with caution at all times in the lab.
Check all labels twice before adding/removing contents.
TRUE OR FALSE?
You and your partner should work
together to make sure one of you is
always monitoring the experiment.
TRUE!
TRUE OR FALSE?
If you get an eyelash in your eye, you should
alert the instructor, thoroughly wash your
hands, and head to the restroom before
attempting to get it out.
TRUE!
HANDLING CHEMICALS
All chemicals in the lab are to be considered dangerous
Do not touch, smell, or taste any chemicals unless
specifically instructed to do so.
Remember to waft chemical vapors in order to smell
them.
Never return unused chemicals to their original
containers.
Never remove chemicals from the laboratory.
HANDLING CHEMICALS
Hold chemical containers away from your body.
When transporting chemical containers, hold them securely
with 2 hands. Be aware of your surroundings and walk
carefully. A person holding a chemical always has the rightof-way.
Handle acids with extreme care. Always add acid to
water.
Do not dispense flammable liquids near a source of heat.
TRUE OR FALSE?
You are working in the lab with a solution
of sucrose. You recognize this as table
sugar. It is okay to have a taste.
FALSE!
TRUE OR FALSE?
You pour out too much of a chemical into
your flask. Even though it is wasteful, you
should dispose of it.
TRUE!
TRUE OR FALSE?
To save time, you can carry two beakers
of chemicals, one in each hand.
FALSE!
HANDLING GLASSWARE & EQUIPMENT
Never handle broken glass with your bare hands, use a
brush and dustpan. Place broken glassware in the
designated disposal container.
Never use glassware that is chipped, cracked, or dirty.
If you do not understand how to use a piece of equipment,
ask the instructor for help.
Do not immerse hot glassware in cold water; it may shatter.
Hands must be completely dry before touching an electrical
switch, plug, or outlet.
TRUE OR FALSE?
You notice a crack in one of your beakers.
It still seems to hold water, so you can
keep using it.
FALSE!
TRUE OR FALSE?
You can't figure out how to light your
Bunsen burner. The instructor seems busy,
so you can just ask a friend instead.
FALSE!
HEATING SUBSTANCES
Exercise extreme caution when using a gas (Bunsen) burner.
Take care that hair, clothing, and hands are a safe distance from
the flame at all times.
Do not put any substance into the flame unless specifically
instructed to do so.
Never reach over an exposed flame.
Never leave a flame unattended.
Light gas burners only as instructed.
Turn the burner/hot plate off when not in use.
HEATING SUBSTANCES
Use tongs or heat-protective gloves when handling heated
metals or glass. These materials take a long time to cool!
Allow plenty of time for hot equipment to cool before
moving it. Touch with caution.
Direct the open end of heating containers away from
yourself or anyone else. Never look into a container that is
being heated.
Hot glass looks like cold glass!
TRUE OR FALSE?
When using a Bunsen burner, one lab
partner should always keep an eye
on the flame.
TRUE!
TRUE OR FALSE?
You cannot visually tell the difference
between hot glass and cold glass.
TRUE!
TRUE OR FALSE?
While heating a chemical in a test tube,
you should look down inside to better
observe the chemical reaction.
FALSE!
CLEANING UP THE LAB
Dispose of all chemical waste properly. Chemicals
should NEVER be poured down the sink drain unless
the instructor says to do so. Follow the instructor's
directions for chemical and material disposal.
Wash your hands with soap and water after
performing all experiments. Clean all work surfaces
and equipment at the end of the experiment. Return
all equipment to the proper storage area.
TRUE OR FALSE?
You should take the time to wash your
hands before leaving the lab, even if it
means you will be late for you next class.
TRUE!
TRUE OR FALSE?
You see your classmate about to pour
their leftover chemicals down the sink
drain. You should immediately stop them.
TRUE!
PREVENTING LABORATORY ACCIDENTS
The simplest way to prevent accidents in the
laboratory is to follow all safety rules,
procedures, and guidelines outlined thus far in
the presentation, and those listed on the lab
instructions.
PREVENTING LABORATORY ACCIDENTS
Keep your workspace organized and keep aisles clear
from stools, backpacks, etc.
Notify the instructor immediately of any unsafe
conditions you observe.
You and your lab partner are working together as a
team: keep an eye out for any unsafe practices that
your partner may be engaging in. For example, if she
forgets to wear her goggles, remind her to put them on.
WHAT TO DO IF AN ACCIDENT OCCURS?
Report any accident (spill, breakage, etc.) or
injury (cut, burn, etc.) to the instructor
immediately, no matter how trivial it may
appear.
WHAT TO DO IF AN ACCIDENT OCCURS?
If a chemical splashes in your eyes or on your skin, immediately
flush with running water from the eyewash station or safety
shower for at least 20 minutes.
If a fire occurs, notify the instructor immediately. If it cannot be
extinguished, turn off any gas sources and exit using the fire
escape route. Pull the fire alarm to notify others in the building.
Avoid touching mercury from broken thermometers.
TRUE OR FALSE?
While using the hot plate, you get a little burn on
your finger. You have survived burns much worse,
so you don't need to bother telling the teacher.
FALSE!
TRUE OR FALSE?
You drop a test tube and it breaks into several
pieces. You don't want to get in trouble with the
teacher, so you can just pick up the pieces and throw
them away.
FALSE!
IN THE EVENT OF A FIRE DRILL…
Close all containers.
Turn off all gas valves, electrical
equipment, and fume hood.