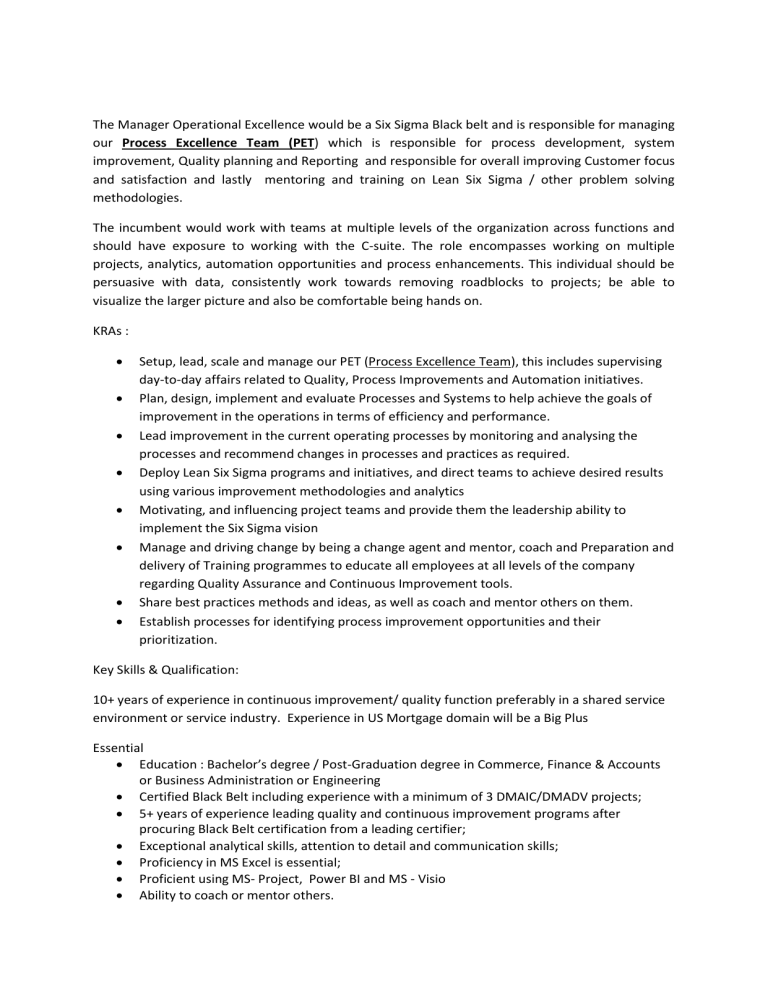 The Manager Operational Excellence would be a Six Sigma Black belt and is responsible for managing
our Process Excellence Team (PET) which is responsible for process development, system
improvement, Quality planning and Reporting and responsible for overall improving Customer focus
and satisfaction and lastly mentoring and training on Lean Six Sigma / other problem solving
methodologies.
The incumbent would work with teams at multiple levels of the organization across functions and
should have exposure to working with the C-suite. The role encompasses working on multiple
projects, analytics, automation opportunities and process enhancements. This individual should be
persuasive with data, consistently work towards removing roadblocks to projects; be able to
visualize the larger picture and also be comfortable being hands on.
KRAs :








Setup, lead, scale and manage our PET (Process Excellence Team), this includes supervising
day-to-day affairs related to Quality, Process Improvements and Automation initiatives.
Plan, design, implement and evaluate Processes and Systems to help achieve the goals of
improvement in the operations in terms of efficiency and performance.
Lead improvement in the current operating processes by monitoring and analysing the
processes and recommend changes in processes and practices as required.
Deploy Lean Six Sigma programs and initiatives, and direct teams to achieve desired results
using various improvement methodologies and analytics
Motivating, and influencing project teams and provide them the leadership ability to
implement the Six Sigma vision
Manage and driving change by being a change agent and mentor, coach and Preparation and
delivery of Training programmes to educate all employees at all levels of the company
regarding Quality Assurance and Continuous Improvement tools.
Share best practices methods and ideas, as well as coach and mentor others on them.
Establish processes for identifying process improvement opportunities and their
prioritization.
Key Skills & Qualification:
10+ years of experience in continuous improvement/ quality function preferably in a shared service
environment or service industry. Experience in US Mortgage domain will be a Big Plus
Essential
 Education : Bachelor's degree / Post-Graduation degree in Commerce, Finance & Accounts
or Business Administration or Engineering
 Certified Black Belt including experience with a minimum of 3 DMAIC/DMADV projects;
 5+ years of experience leading quality and continuous improvement programs after
procuring Black Belt certification from a leading certifier;
 Exceptional analytical skills, attention to detail and communication skills;
 Proficiency in MS Excel is essential;
 Proficient using MS- Project, Power BI and MS - Visio
 Ability to coach or mentor others.

Excellent communication & presentation skills at CXO levels
Desirable






Knowledge of automation with help of Robotics or some other modern IT technology.
Knowledge of VBA, Programing on Excel Macro, Robotics Applications like UI Path, AA, etc.
Exposure to US Mortgage domain will be a BIG plus
PMP certification will be an added advantage;
Experience in training and mentoring in Lean Six Sigma preferred.
Exposure to Data Analytics and Machine Learning will be added advantage.