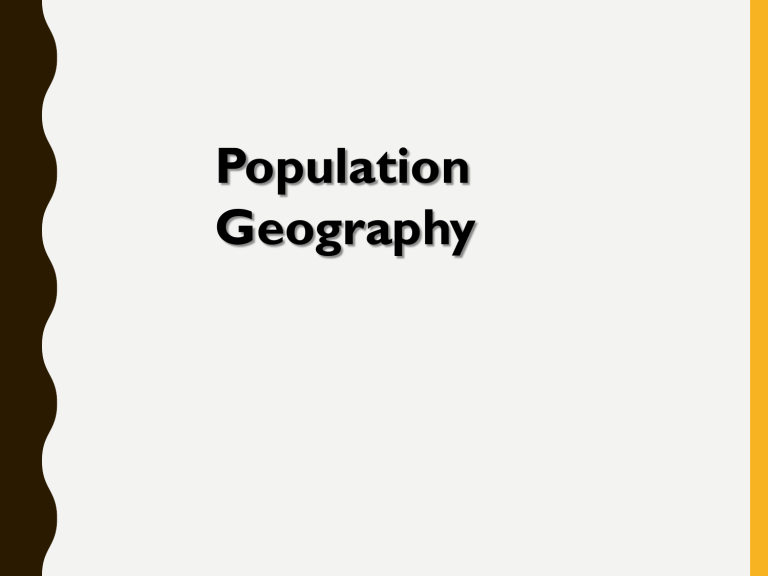 Population
Geography
There are a lot of people in the world and more all the
time.
• Currently over 6.5 billion.
• Estimates are that it will be over 9 billion by 2050.
That's almost a 50% increase in just 44 years!
• What sorts of problems does this present?
Things that affect population growth:
2. Birth rate
• The number of live births for every 1,000 people in
a given population.
3. Fertility rate
• The estimated number of children a woman may
have in her lifetime in a given population.
• The replacement rate is 2.1 kids per mother.
• There are two parents, so two kids are needed
to replace them. It's 2.1 because you have to
account for accidental deaths of young children.
• The worldwide rate is now about 3.0. So
we're increasing.
1. Mortality rate
• Number of deaths per every thousand people in
a given population.
1. Infant mortality rate
• Number of deaths of infants per every thousand live
births.
• This statistic is often used to gauge the health and
healthcare abilities of a nation.
• The U.S. currently ranks 42nd in lowest infant
mortality rate with a rate of 6.5.
• Can sometimes be a troublesome statistic because
there is no uniform method across countries of
measuring it.
• Some countries don't count it if the child dies
within the first day, for example, or if it doesn't
breath upon birth.
• These are also self-reported by each country and
some may be motivated to play with the numbers.
• Also, the more developed countries (with the
will) will attempt to deliver at-risk babies at
earlier times in
the term.
• The U.S. generally considers it a live birth if it's
obviously alive when it comes out, reports
accurately, and delivers lots of premies.
Because of this, its stats seem unusually low.
1.Population pyramid
• Shows the age and gender
distribution of a society.
• Allows geographers to evaluate
the effect of different events.
1. Push-pull factors
• Factors that compel people to migrate, either
compelling them to leave an area (pushing them
out) or that which attracts them to new areas
(pulls them towards it).
• What are historical examples of each?
2. Carrying capacity
• The ability of land to support a population. The
greater its carrying capacity, the more people it
can support.
Urban Geography
What is a city?
Population
• United States
definition= 2500
• Japan's definition=
30,000
• What is the problem
with population alone
as a definition ?
Cities
• City – a conglomeration of people and
buildings clustered together to serve as a
center of politics, culture, and economics.
Key Question :
When and Why did
People Start Living in
Cities?
Origins of the city
• People moved to cities for
employment, protection, and to be
apart of civilization
The First Urban Revolution
Two components enable the
formation of cities:
1.
an agricultural surplus
2.
social stratification
(a leadership class)
Five Hearths of Urbanization
In each of these hearths, an agricultural surplus and social stratification
created the conditions necessary for cities to form and be maintained.
The Second Urban Revolution
A large scale movement of people to cities to
work in manufacturing. Made possible by:
1. second agricultural revolution that
improved food production and created a larger
surplus
2. industrialization, which encouraged
growth of cities near industrial resources
Industrialized regions of Europe, 1914
Urbanization
•
•
The process by which a city grows
The two dimensions of urbanization
1)
Increase in the number of people living in
the city
Increase in the percentage of people living
in the city
2)
Shenzhen, China
The Modern
Process of
Urbanization –
a rural area can
become
urbanized quite
quickly in the
modern world
Shenzhen, China
Shenzhen changed from a fishing village to a major metropolitan area in just
25 years. 25 years ago, all of this land was duck ponds and rice paddies.
Urbanization
• 1800 only 3% of The World's population lived in cities
• London the only city over 1 million citizens
• 2000 almost half of the World's population inhabit cities
• 400 cities with at least 1 million
Cities with 10 million
Suburbanization Definition
• Movement of upper and middle-class people
from core areas to surrounding outskirts.
• Suburban means territory inside the
metropolitan area that lies outside the
central city
• Suburbs have been growing faster than
central cities for a century
• The process began in the mid-nineteenth
century but became a mass phenomenon in
the late-twentieth century.
The U. S. suburban population grew
from 26.7% in 1950 to 49.8% in 2000.
Pop. in Cities, Suburbs, and Nonmetro Areas
1950 to 2000
160
In millions of people
140
120
central cities
100
suburbs
80
nonmetro
60
40
20
1950
1960
1970
1980
years
1990
2000
Causes of Suburban Growth
• Six Reasons:
• Government policies
• Government financing of a system of metropolitan expressways
• Land within the legal boundaries of the city had already been
developed
• Suburban housing costs were initially lower
• Demographic changes
• Preference of single-family homes with own lots
Key Question:
WHERE ARE
CITIES
LOCATED
AND WHY?
Site and Situation
Site
Situation
* absolute location
of a city
* relative location of
a city
* a city's static
location, often
chosen for trade,
defense, or
religion.
* a city's place in the
region and the
world around it.
Rural Geography
• Agriculture is the key economic activity in
most rural areas.
Subsistence Agriculture
• Food is produced by a family for its own
needs.
• Anything extra, usually not much, may be sold
for important supplies.
• Machinery is not used in this type of
Agriculture.
Market-Oriented Agriculture
• Commercial agriculture.
• Farmers grow products to sell to consumers.
• Common in developed countries.