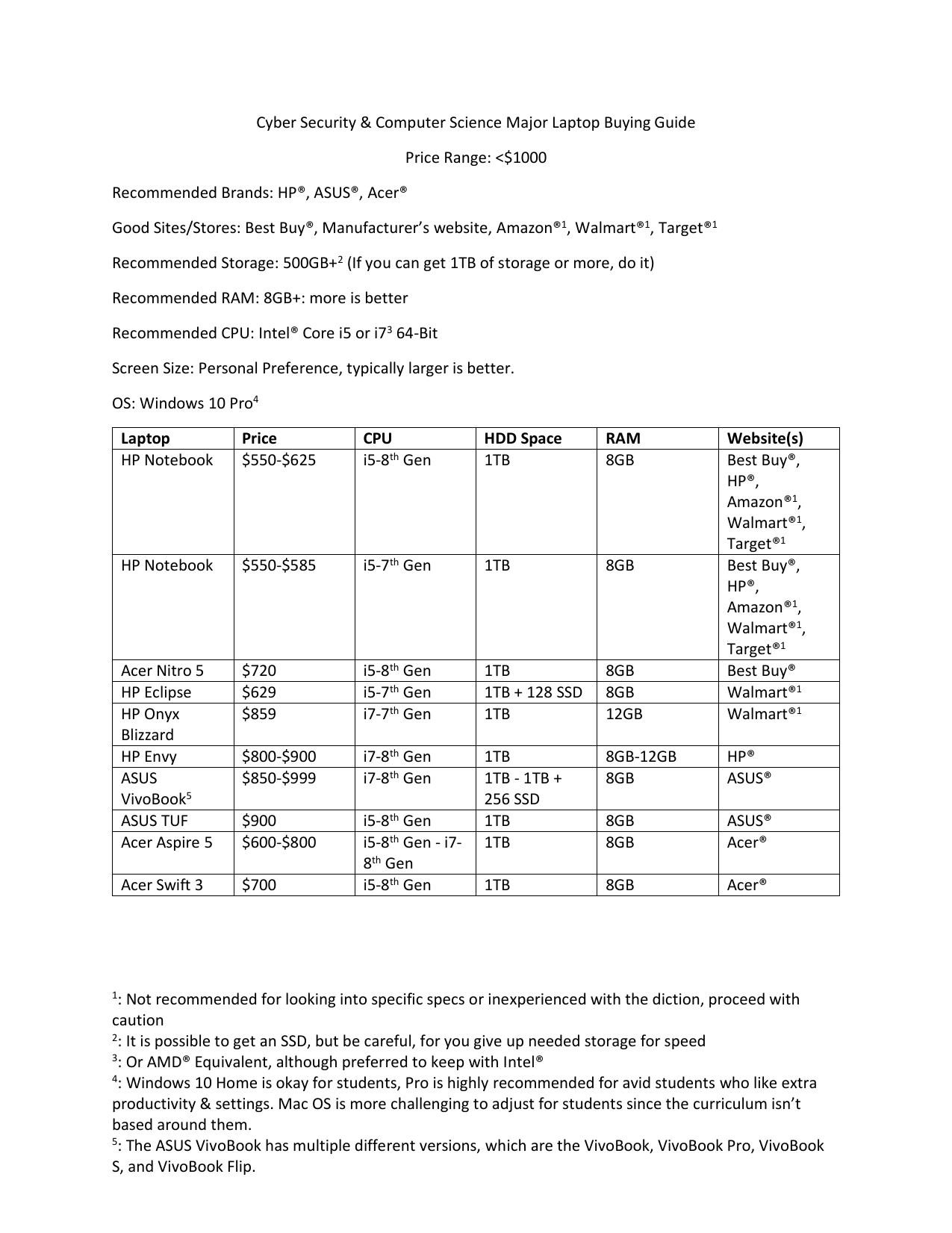 Cyber Security & Computer Science Major Laptop Buying Guide
Price Range: <$1000
Recommended Brands: HP®, ASUS®, Acer®
Good Sites/Stores: Best Buy®, Manufacturer's website, Amazon®1, Walmart®1, Target®1
Recommended Storage: 500GB+2 (If you can get 1TB of storage or more, do it)
Recommended RAM: 8GB+: more is better
Recommended CPU: Intel® Core i5 or i73 64-Bit
Screen Size: Personal Preference, typically larger is better.
OS: Windows 10 Pro4
Laptop
HP Notebook
Price
$550-$625
CPU
i5-8th Gen
HDD Space
1TB
RAM
8GB
HP Notebook
$550-$585
i5-7th Gen
1TB
8GB
Acer Nitro 5
HP Eclipse
HP Onyx
Blizzard
HP Envy
ASUS
VivoBook5
ASUS TUF
Acer Aspire 5
$720
$629
$859
i5-8th Gen
i5-7th Gen
i7-7th Gen
1TB
1TB + 128 SSD
1TB
8GB
8GB
12GB
Website(s)
Best Buy®,
HP®,
Amazon®1,
Walmart®1,
Target®1
Best Buy®,
HP®,
Amazon®1,
Walmart®1,
Target®1
Best Buy®
Walmart®1
Walmart®1
$800-$900
$850-$999
i7-8th Gen
i7-8th Gen
8GB-12GB
8GB
HP®
ASUS®
$900
$600-$800
8GB
8GB
ASUS®
Acer®
Acer Swift 3
$700
i5-8th Gen
i5-8th Gen - i78th Gen
i5-8th Gen
1TB
1TB - 1TB +
256 SSD
1TB
1TB
1TB
8GB
Acer®
1:
Not recommended for looking into specific specs or inexperienced with the diction, proceed with
caution
2: It is possible to get an SSD, but be careful, for you give up needed storage for speed
3: Or AMD® Equivalent, although preferred to keep with Intel®
4: Windows 10 Home is okay for students, Pro is highly recommended for avid students who like extra
productivity & settings. Mac OS is more challenging to adjust for students since the curriculum isn't
based around them.
5: The ASUS VivoBook has multiple different versions, which are the VivoBook, VivoBook Pro, VivoBook
S, and VivoBook Flip.