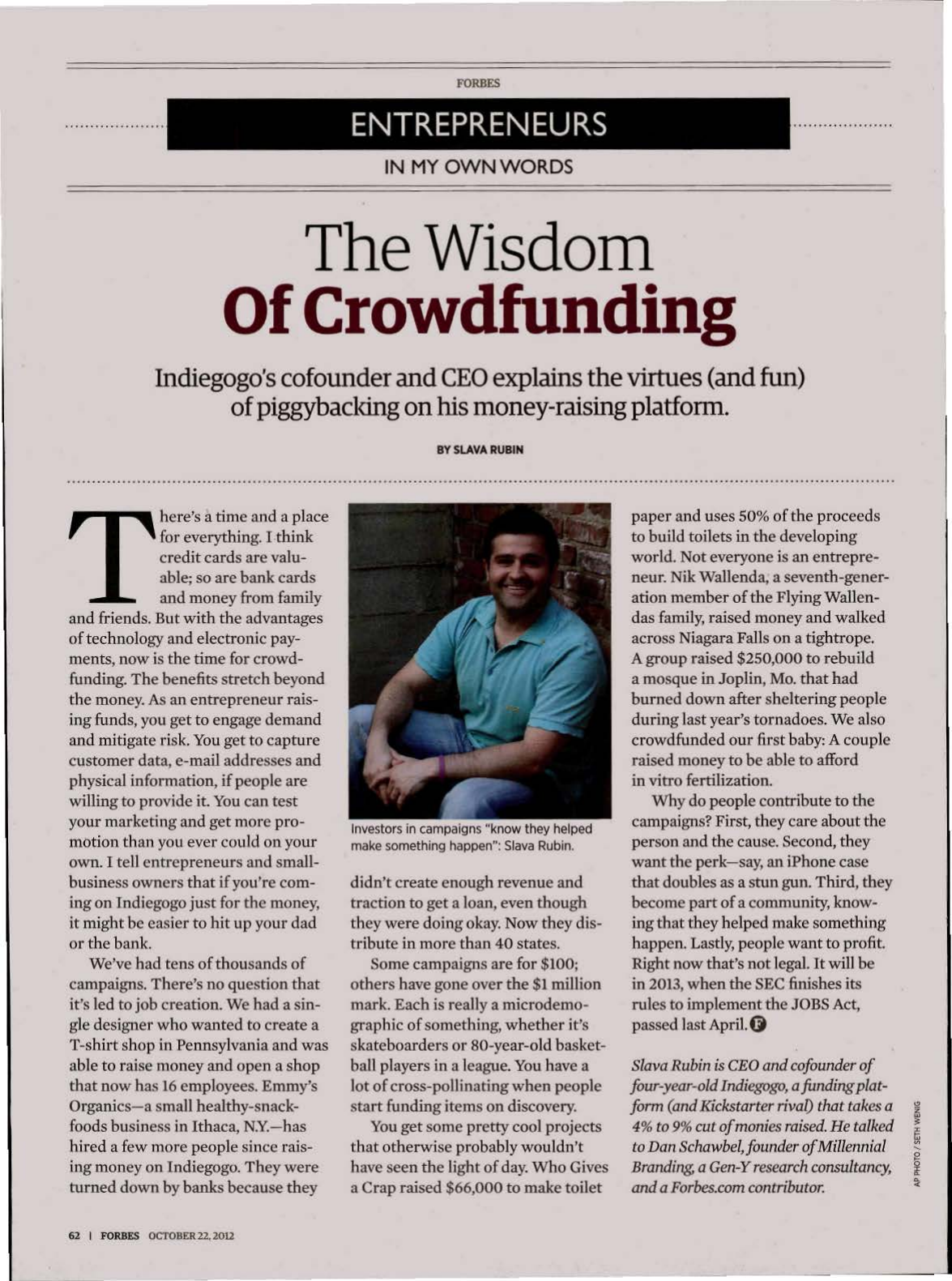 FORBES
ENTREPRENEURS
IN MYOWNWORDS
The Wisdom
Of Crowdfunding
Indiegogo's cofounder and CEO explains the virtues (and fun)
of piggybacking on his money-raising platform.
BY SLAVA RUBIN
here's a time and a place
for everything. ! .think
credit cards are valuable; so are bank cards
and money from family
and friends. But with the advantages
of technology and electronic payments, now is the time for crowdfunding. The benefits stretch beyond
the money. As an entrepreneur raising funds, you get to engage demand
and mitigate risk. You get to capture
customer data, e-mail addresses and
physical information, if people are
willing to provide it. You can test
your marketing and get more promotion than you ever could on your
own. I tell entrepreneurs and smallbusiness owners that if you're coming on Indiegogo just for the money,
it might be easier to hit up your dad
or the bank.
We've had tens of thousands of
campaigns. There's no question that
it's led to job creation. We had a single designer who wanted to create a
T-shirt shop in Pennsylvania and was
able to raise money and open a shop
that now has 16 employees. Emmy's
Organics-a small healthy-snackfoods business in Ithaca, N.Y.-has
hired a few more people since raising money on Indiegogo. They were
turned down by banks because they
T
62 I FORBES OCTOBER22.20U
Investors in campaigns "know they helped
make something happen": Slava Rubin.
didn't create enough revenue and
traction to get a loan, even though
they were doing okay. Now they distribute in more than 40 states.
Some campaigns are for $100;
others have gone over the $1 million
mark. Each is really a microdemographic of something, whether it's
skateboarders or 80-year-old basketball players in a league. You have a
lot of cross-pollinating when people
start funding items on discovery.
You get some pretty cool projects
that otherwise probably wouldn't
have seen the light of day. Who Gives
a Crap raised $66,000 to make toilet
paper and uses SO% of the proceeds
to build toilets in the developing
world. Not everyone is an entrepreneur. Nik Wallenda, a seventh-generation member of the Flying Wallendas family, raised money and walked
across Niagara Falls on a tightrope.
A group raised $250,000 to rebuild
a mosque in Joplin, Mo. that had
burned down after sheltering people
during last year's tornadoes. We also
crowd funded our first baby: A couple
raised money to be able to afford
in vitro fertilization.
Why do people contribute to the
campaigns? First, they care about the
person and the cause. Second, they
want the perk-say, an iPhone case
that doubles as a stun gun. Third, they
become part of a community, knowing that they helped make something
happen. Lastly, people want to profit.
Right now that's not legal. It will be
in 2013, when the SEC fmishes its
rules to implement the JOBS Act,
passed last April.()
Slava Rubin is CEO and cofounder of
four-year-old Indiegogo, a fUnding platform (and Kickstarter rival) that takes a
4% to 9% cut ofmonies raised. He talked
to Dan Schawbel,founder ofMillennia[
Branding, a Gen-Y research consultancy,
and a Forbes.com contributor.