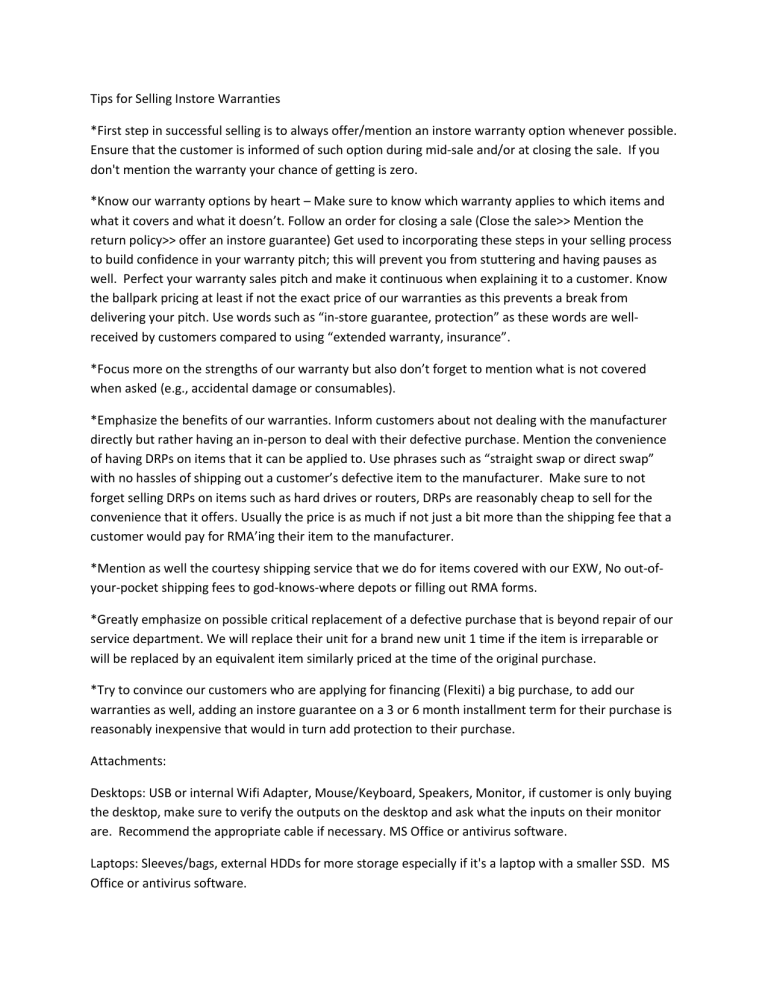 Tips for Selling Instore Warranties
*First step in successful selling is to always offer/mention an instore warranty option whenever possible.
Ensure that the customer is informed of such option during mid-sale and/or at closing the sale. If you
don't mention the warranty your chance of getting is zero.
*Know our warranty options by heart – Make sure to know which warranty applies to which items and
what it covers and what it doesn't. Follow an order for closing a sale (Close the sale>> Mention the
return policy>> offer an instore guarantee) Get used to incorporating these steps in your selling process
to build confidence in your warranty pitch; this will prevent you from stuttering and having pauses as
well. Perfect your warranty sales pitch and make it continuous when explaining it to a customer. Know
the ballpark pricing at least if not the exact price of our warranties as this prevents a break from
delivering your pitch. Use words such as "in-store guarantee, protection" as these words are wellreceived by customers compared to using "extended warranty, insurance".
*Focus more on the strengths of our warranty but also don't forget to mention what is not covered
when asked (e.g., accidental damage or consumables).
*Emphasize the benefits of our warranties. Inform customers about not dealing with the manufacturer
directly but rather having an in-person to deal with their defective purchase. Mention the convenience
of having DRPs on items that it can be applied to. Use phrases such as "straight swap or direct swap"
with no hassles of shipping out a customer's defective item to the manufacturer. Make sure to not
forget selling DRPs on items such as hard drives or routers, DRPs are reasonably cheap to sell for the
convenience that it offers. Usually the price is as much if not just a bit more than the shipping fee that a
customer would pay for RMA'ing their item to the manufacturer.
*Mention as well the courtesy shipping service that we do for items covered with our EXW, No out-ofyour-pocket shipping fees to god-knows-where depots or filling out RMA forms.
*Greatly emphasize on possible critical replacement of a defective purchase that is beyond repair of our
service department. We will replace their unit for a brand new unit 1 time if the item is irreparable or
will be replaced by an equivalent item similarly priced at the time of the original purchase.
*Try to convince our customers who are applying for financing (Flexiti) a big purchase, to add our
warranties as well, adding an instore guarantee on a 3 or 6 month installment term for their purchase is
reasonably inexpensive that would in turn add protection to their purchase.
Attachments:
Desktops: USB or internal Wifi Adapter, Mouse/Keyboard, Speakers, Monitor, if customer is only buying
the desktop, make sure to verify the outputs on the desktop and ask what the inputs on their monitor
are. Recommend the appropriate cable if necessary. MS Office or antivirus software.
Laptops: Sleeves/bags, external HDDs for more storage especially if it's a laptop with a smaller SSD. MS
Office or antivirus software.