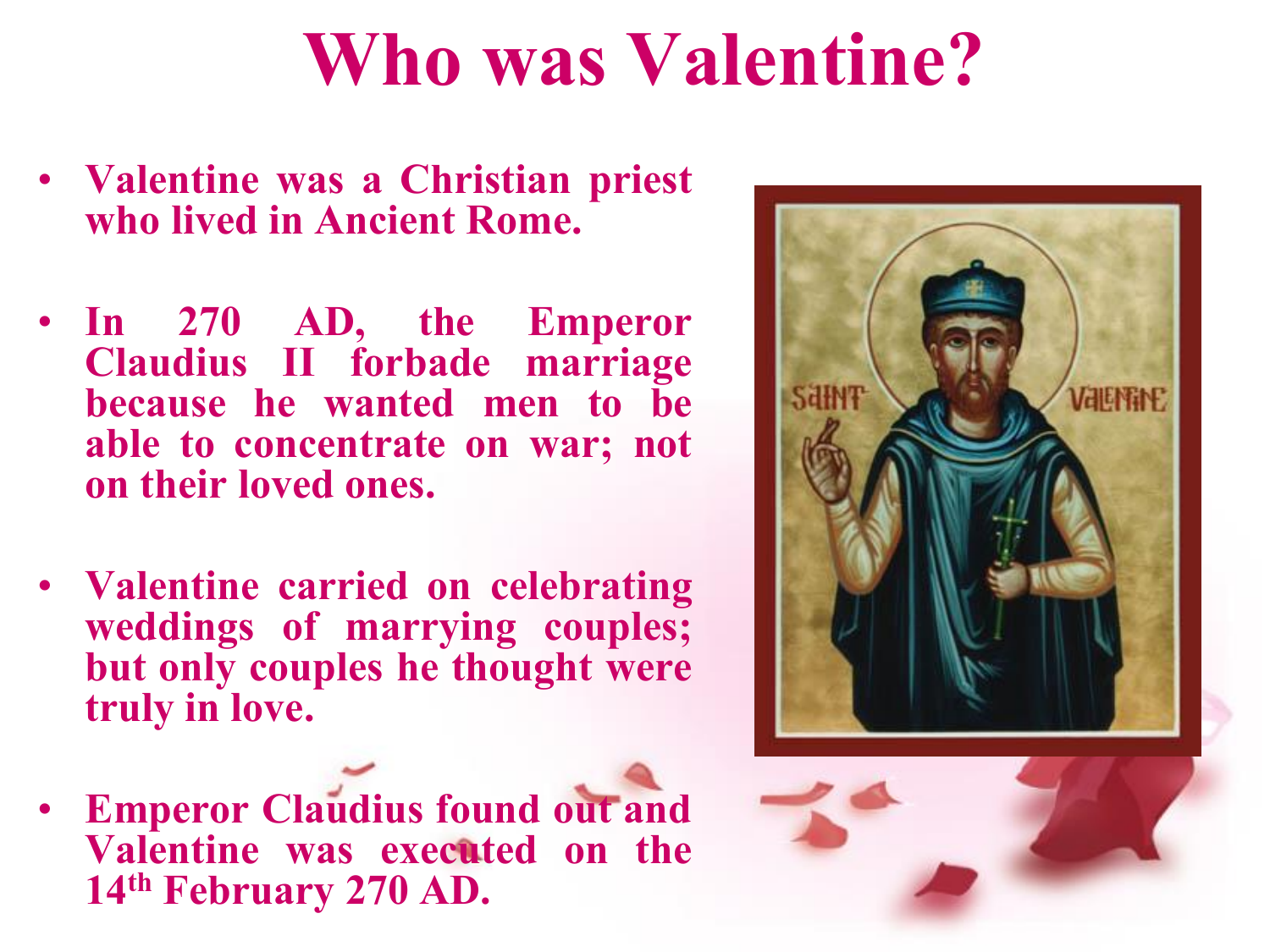 Who was Valentine?
• Valentine was a Christian priest
who lived in Ancient Rome.
• In 270 AD, the Emperor
Claudius II forbade marriage
because he wanted men to be
able to concentrate on war; not
on their loved ones.
• Valentine carried on celebrating
weddings of marrying couples;
but only couples he thought were
truly in love.
• Emperor Claudius found out and
Valentine was executed on the
14th February 270 AD.
Why Cupid?
During
ages
this
Roman holiday of love
has been associated
with Cupid. In Roman
mythology, Cupid, the
son of Venus is the god
of desire, affection and
love.
CARDS
Sending a Valentine's card
to a loved one is a custom
that started more than a
century ago. Couples give
cards to each other, but it
is also traditional to send
an anonymous card to
anyone you secretly love.
FLOWERS AND
CHOCOLATES
As well as cards, February
14th is also a day for
giving gifts. Traditionally,
men
and women give
chocolates or flowers to
their "Valentine".
Mobile Love
Texting your Valentine message
is an easy (although maybe not
very romantic!) option.
Valentine's Day text messages
include:
WUBMV : will you be my Valentine
Xoxoxoxoxo: hugs and kisses
LUWAM<3: love you with all my heart
ImRdy4Luv: I'm ready for love
:'-) I'm so happy, I'm crying
ILUVU: I love you
WHEN IS IT
CELEBRATED?