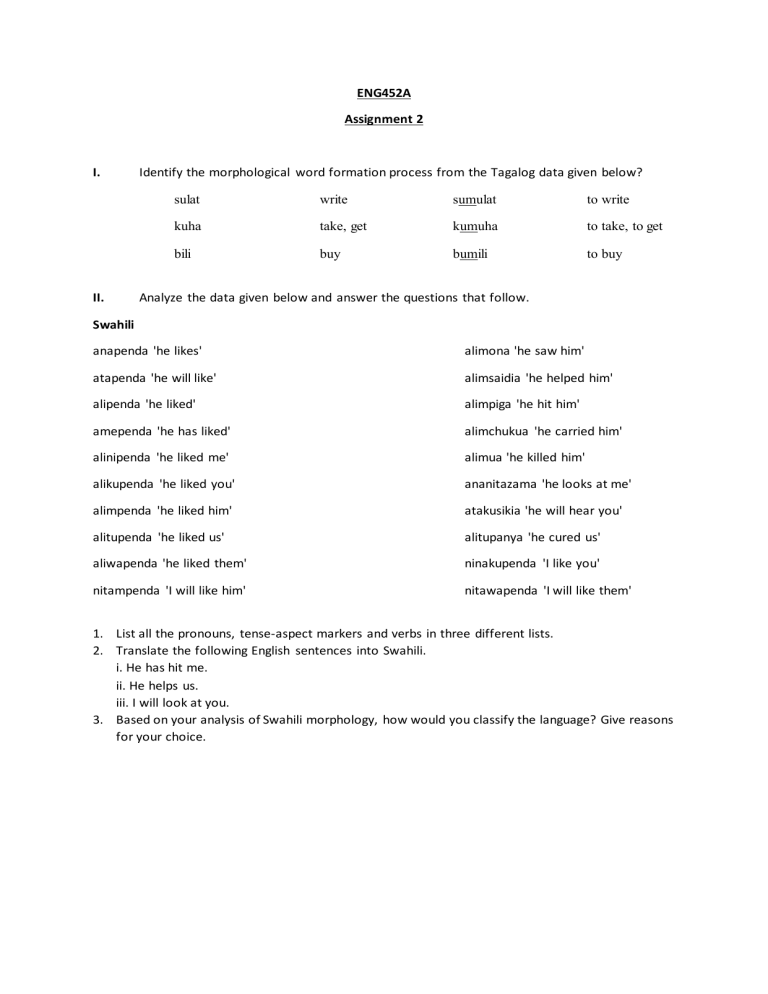 ENG452A
Assignment 2
I.
II.
Identify the morphological word formation process from the Tagalog data given below?
sulat
write
sumulat
to write
kuha
take, get
kumuha
to take, to get
bili
buy
bumili
to buy
Analyze the data given below and answer the questions that follow.
Swahili
anapenda 'he likes'
alimona 'he saw him'
atapenda 'he will like'
alimsaidia 'he helped him'
alipenda 'he liked'
alimpiga 'he hit him'
amependa 'he has liked'
alimchukua 'he carried him'
alinipenda 'he liked me'
alimua 'he killed him'
alikupenda 'he liked you'
ananitazama 'he looks at me'
alimpenda 'he liked him'
atakusikia 'he will hear you'
alitupenda 'he liked us'
alitupanya 'he cured us'
aliwapenda 'he liked them'
ninakupenda 'I like you'
nitampenda 'I will like him'
nitawapenda 'I will like them'
1. List all the pronouns, tense-aspect markers and verbs in three different lists.
2. Translate the following English sentences into Swahili.
i. He has hit me.
ii. He helps us.
iii. I will look at you.
3. Based on your analysis of Swahili morphology, how would you classify the language? Give reasons
for your choice.