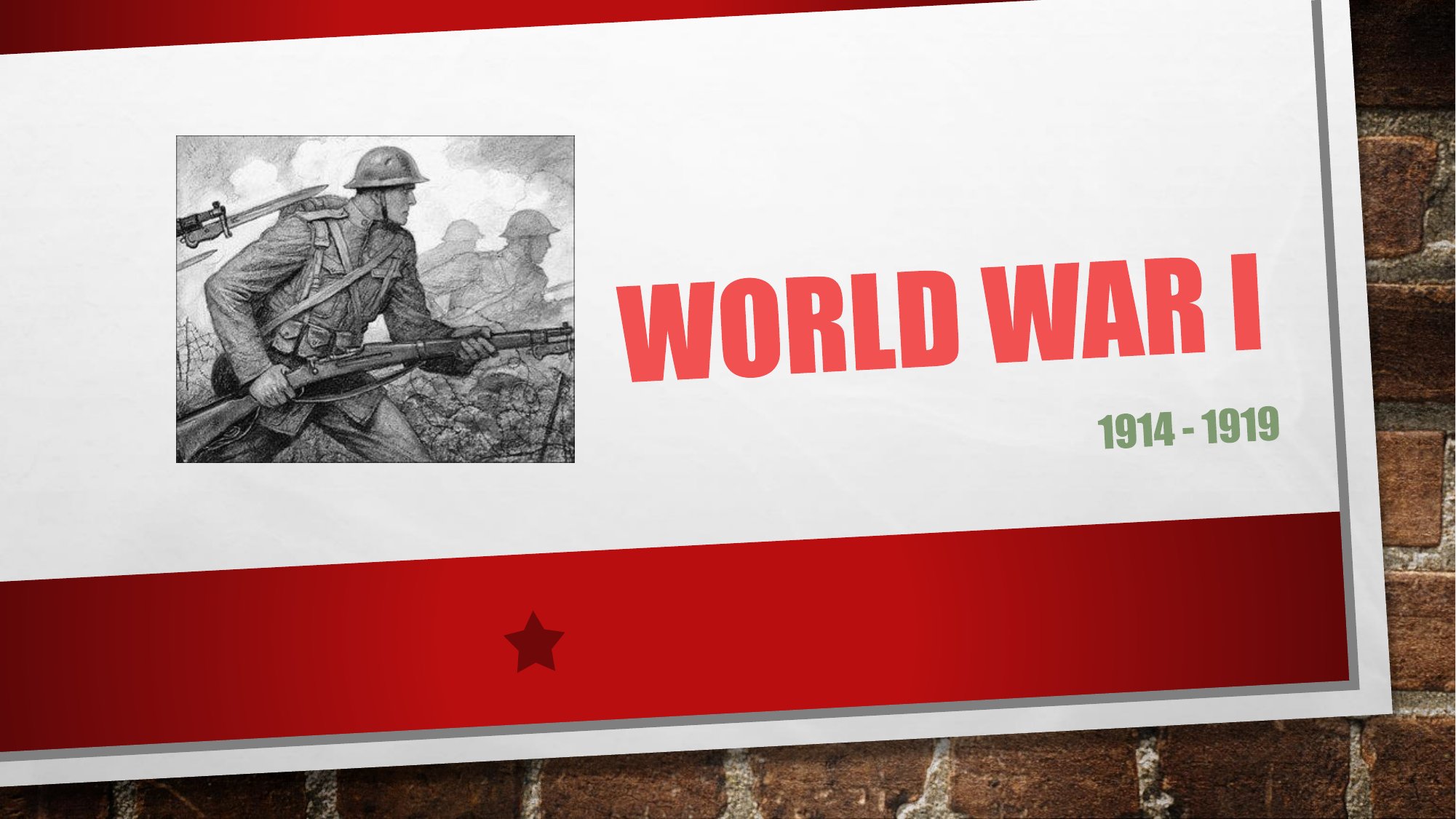 HOW DID WW1 START?
• WORLD WAR 1 BEGAN ON JULY 28, 1914. THE CONFLICT LASTED FOUR YEARS, THREE MONTHS AND 14
DAYS, ENDING ON NOVEMBER 11, 1918.
• THE WAR BEGAN BECAUSE OF THE ASSASSINATION OF ARCHDUKE FRANZ FERDINAND OF AUSTRIA. HE
WAS HEIR TO THRONE OF AUSTRIA-HUNGARY AND HIS DEATH WAS THE IMMEDIATE CAUSE OF WW1.
THE MAIN CAUSES OF WW1
ONE WAY TO REMEMBER THE FOUR MAIN CAUSES OF WORLD WAR 1 IS TO REMEMBER THE ACRONYM:
M
M = MILITARISM
A
I
N
A = ALLIANCES I = IMPERIALISM
N = NATIONALISM
• MILITARISM WAS ONE OF THE FOUR MAJOR CAUSES OF THE WAR. IT WAS AN "ARMS RACE." BECAUSE BRITAIN
HAD A LARGE NAVY, GERMANY WANTED A LARGE NAVY TOO.
• ALLIANCES - COUNTRIES WHICH ARE FIGHTING ON YOUR SIDE
• IMPERIALISM – GERMANY WANTED TO TAKE OVER POWER FROM OTHER COUNTRIES
• NATIONALISM - THEY WANTED POLITICAL INDEPENDENCE FROM OTHER NATIONS
WHICH COUNTRIES WERE INVOLVED?
• THERE WERE TWO SIDES IN THE WAR. THE ALLIES WERE BRITAIN, FRANCE, IRELAND AND RUSSIA.
THE CENTRAL POWERS WERE GERMANY, AUSTRIA AND HUNGARY.
• AMERICA JOINED WORLD WAR I ON APRIL 6, 1917. THIS WAS BECAUSE A GERMAN SUBMARINE HAD SUNK
A BRITISH PASSENGER SHIP THAT KILLED 1,195 PASSENGERS. 128 OF THOSE WERE AMERICAN CITIZENS
AND THE PEOPLE WERE OUTRAGED — PUTTING PRESSURE ON THE U.S. GOVERNMENT TO DECLARE WAR.
• THE PRESIDENT, WOODROW WILSON, WANTED A PEACEFUL END BUT THE GERMANS ANNOUNCED THAT
THEY WOULD SINK ANY SHIP THAT APPROACHED BRITAIN. THIS WAS WHEN PRESIDENT WILSON
ENTERED THE WAR TO HELP RESTORE PEACE TO EUROPE.
UNBELIEVABLE FACTS
•
THE YOUNGEST BRITISH SOLDIER WAS JUST 12 YEARS OLD, HE WAS A BOY CALLED SIDNEY LEWIS, HE LIED ABOUT HIS AGE SO THAT HE COULD JOIN THE
WAR AND FIGHT FOR HIS COUNTRY. HE WAS ONE OF 250,000 UNDERAGE SOLDIERS AND MANY OF THEM LIED SO THAT THEY COULD ENLIST. MOST DID
IT BECAUSE THEY LOVE THEIR COUNTRY, AND SOME TO ESCAPE THEIR POOR LIVES.
•
OVER 12 MILLION LETTERS WERE DELIVERED TO THE FRONT LINE EVERY WEEK. IT TOOK ONLY 2 DAYS FOR A LETTER TO BE DELIVERED FROM BRITAIN TO
FRANCE EVEN DURING THE WAR. IN REGENT'S PARK, LONDON, A MAIL OFFICE WAS BUILT TO SEND LETTERS TO THE TRENCHES. OVER 2 BILLION LETTERS
AND 114 MILLION PARCELS WERE SENT BY THE TIME THE WAR ENDED.
•
A BATTLEFIELD EXPLOSION IN FRANCE WAS HEARD IN ENGLAND. THE MAJORITY OF WW1 WAS FOUGHT IN MUDDY TRENCHES BUT ONE GROUP OF
MINERS DUG UNDERGROUND TUNNELS TO DETONATE MINES BEHIND ENEMY TRENCHES. ONE MINE IN BELGIUM, DETONATED 900,000POUNDS OF
EXPLOSIVES AND COMPLETELY DESTROYED THE GERMAN FRONT LINE. THIS EXPLOSION WAS SO LOUD AND SO POWERFUL THAT THE BRITISH PRIME
MINISTER, DAVID LLOYD GEORGE, HEARD IT ALL THE WAY BACK IN DOWNING STREET, LONDON — 140 MILES AWAY.
•
9 OUT OF 10 BRITISH SOLDIERS SURVIVED. IN WORLD WAR I MOST BRITISH SOLDIERS MOVED AROUND THE TRENCH SYSTEM CONSTANTLY AND WERE
NOT VERY OFTEN IN THE FIRING LINE. THEIR LIVES IN WW1 WOULD HAVE BEEN QUITE BORING, WITH LOTS OF ROUTINE JOBS AND DUTIES.
HOW DID WW1 END?
• WW1 OFFICIALLY ENDED ON JUNE 28, 1919. THIS WAS EXACTLY FIVE YEARS SINCE THE ASSASSINATION OF
FRANZ FERDINAND. THE ARMISTICE ON NOVEMBER 11, 1918 ENDED THE FIGHTING, BUT IT TOOK ANOTHER
SIX MONTHS TO NEGOTIATE PEACE BEFORE THE TREATY OF VERSAILLES COULD BE PREPARED.