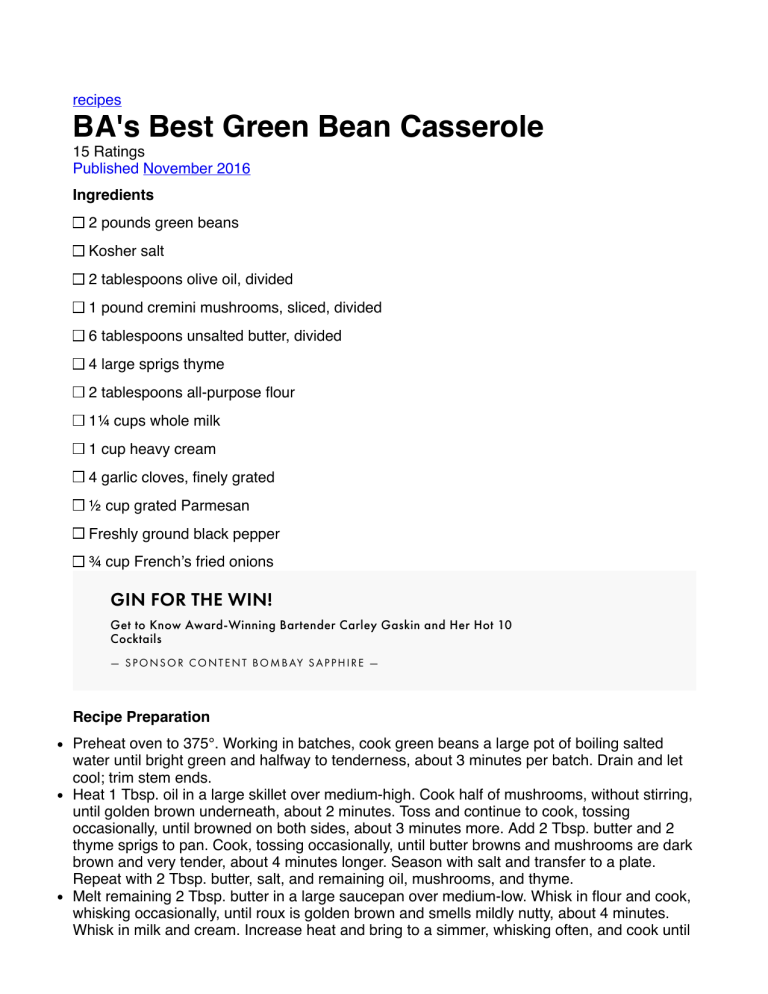 recipes
BA's Best Green Bean Casserole
15 Ratings
Published November 2016
Ingredients
2 pounds green beans
Kosher salt
2 tablespoons olive oil, divided
1 pound cremini mushrooms, sliced, divided
6 tablespoons unsalted butter, divided
4 large sprigs thyme
2 tablespoons all-purpose flour
1¼ cups whole milk
1 cup heavy cream
4 garlic cloves, finely grated
½ cup grated Parmesan
Freshly ground black pepper
¾ cup French's fried onions
GIN FOR TH WIN!
Get to Know Award-Winning artender Carle Ga kin and Her Hot 10
Cocktail
—
PON OR CONT NT
O M AY
APPHIR
—
Recipe Preparation
Preheat oven to 375°. Working in batches, cook green beans a large pot of boiling salted
water until bright green and halfway to tenderness, about 3 minutes per batch. Drain and let
cool; trim stem ends.
Heat 1 Tbsp. oil in a large skillet over medium-high. Cook half of mushrooms, without stirring,
until golden brown underneath, about 2 minutes. Toss and continue to cook, tossing
occasionally, until browned on both sides, about 3 minutes more. Add 2 Tbsp. butter and 2
thyme sprigs to pan. Cook, tossing occasionally, until butter browns and mushrooms are dark
brown and very tender, about 4 minutes longer. Season with salt and transfer to a plate.
Repeat with 2 Tbsp. butter, salt, and remaining oil, mushrooms, and thyme.
Melt remaining 2 Tbsp. butter in a large saucepan over medium-low. Whisk in flour and cook,
whisking occasionally, until roux is golden brown and smells mildly nutty, about 4 minutes.
Whisk in milk and cream. Increase heat and bring to a simmer, whisking often, and cook until
béchamel sauce is thick and bubbling, about 5 minutes. Remove from heat and whisk in
garlic and Parmesan; season with salt and pepper.
Arrange green beans and mushrooms in a 2-qt. baking dish. Pour sauce over (it may not look
like enough, but it will get saucier as it bakes). Cover tightly with foil and bake until sauce is
bubbling, 25–30 minutes. Uncover and continue to bake until casserole is lightly browned on
top and around the edges, 15–20 minutes longer. Top with fried onions and continue to bake
just until onions are slightly darker and fragrant, about 3 minutes. Let sit 10 minutes to set
before serving.
Watch
Are you still there?
YES, CONTINUE PLAYING
Pa tr Chef Attempt To Make Gourmet Luck Charm
Explore Bon Appétit
Casserolegreen beanBeanMushroomThymeCreamOnionParmesanCheeseGarlic
More from Bon Appétit
RecipesBA's Best Breakfast Sandwich2017-03-21T10:00:00.000Z
recipeBA's Best Old-Fashioned2016-12-08T13:00:00.000Z
- p o n o r C o n t e n t - Gin for the Win!