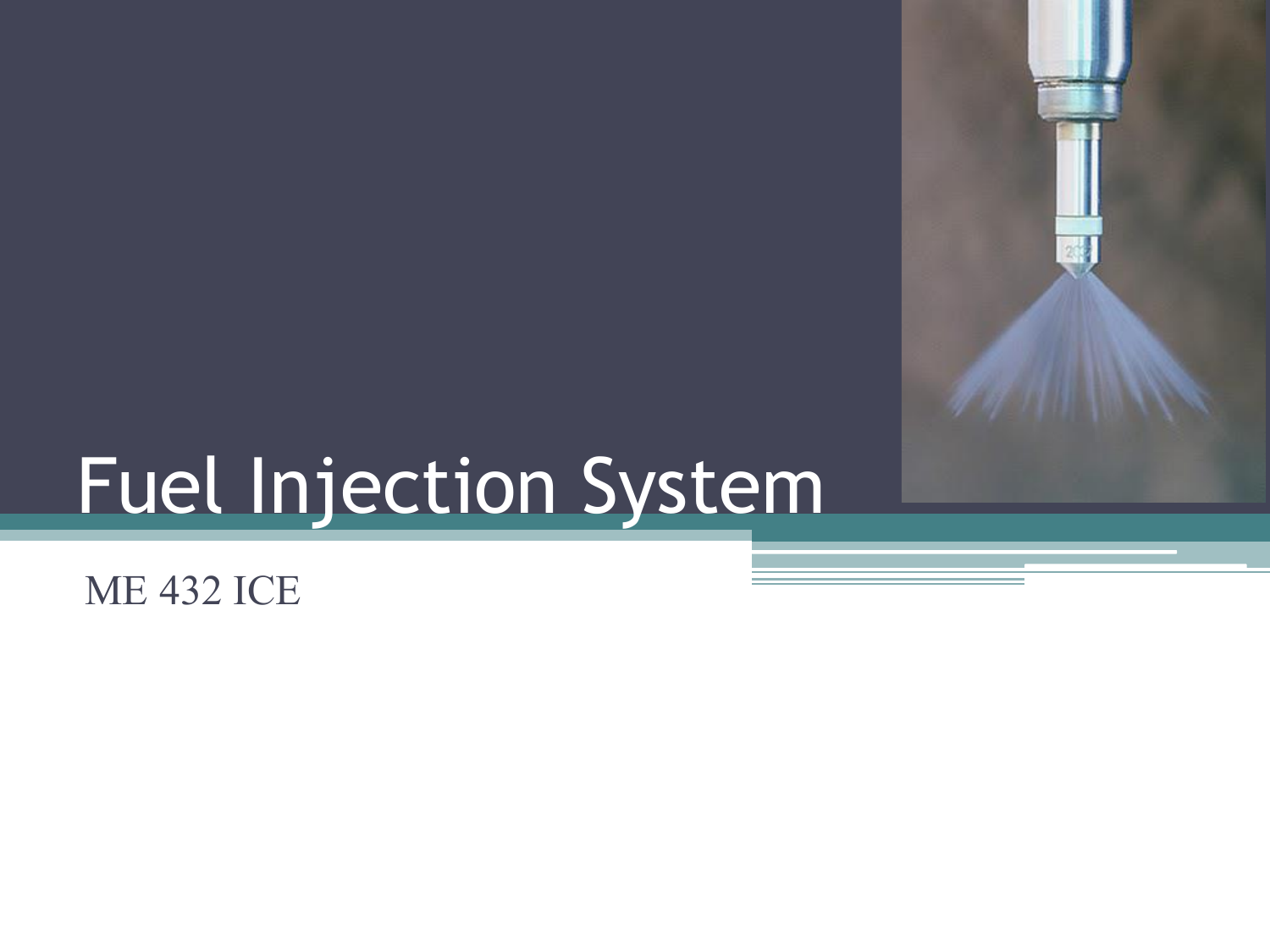 Fuel Injection System
ME 432 ICE
2
Carburetors and Fuel Injectors
3
Why Fuel Injectors for SI Engines
• Fuel distribution through carburetor
4
Why Fuel Injectors for SI Engines
• To improve the distribution of air-fuel ratio (fuel
richness) in all cylinders of multi-cylinder engines
• To improve the breathing capacity i.e. volumetric
efficiency
• To reduce or eliminate detonation
• To prevent fuel loss during scavenging in case of
two-stroke engines
5
Fuel Injection System – Advantages
• Improved Atomization
• Better Fuel Flow
• Smoother Idle
• Improved Fuel economy
• Low Emissions
• Better cold weather drivability
• Increased engine power
6
Types of Injection Systems
• Manifold Injection (Throttle Body Injection)
• Port Injection (Multi Point Fuel Injection)
▫ Continuous
▫ Timed
• Gasoline Direct Injection (GDI)
7
Single-Point/Throttle Body Fuel
Injection
• One or two injectors mounted inside the throttle
body
• Fuel sprays directed to center of intake manifold
8
Single-Point/Throttle Body Injection
9
Port or Multi Point Fuel Injection
• MPFI
10
Multi-Point Port Injection
• Injector located in each
branch of inlet manifold,
Air in
below throttle valve.
• Injectors spray fuel directly Throttle valve
Injector
into each port.
Fuel in
• Engine Control Unit (ECU)
controls
opening
of
injectors (in case of EFI)
Inlet manifold
11
Continuous Injection System
• Pressure driven fuel system 0.75-2.0 bar
• Fuel injected immediate downstream of throttle
plate (results in deposition in throttle body)
• Mechanical System
• Ensures continuous supply of fuel
12
Continuous Injection System
http://vwts.ru/vw_doc/eva2/FU01/ch5.html
13
Timed Injection System
• Fuel injected in port or cylinder at correct time
• The Injection timing driven through firing order &
piston position during compression stroke
• Fuel supply regulated by:
▫ engine speed; inlet manifold vacuum; atmospheric
pressure & temp; warm & cold start requirements etc.
14
Gasoline Direct Injection (GDI)
• Fuel injected directly into the cylinder
• Most accurate method of metered fuel injection
• Evaporation of fuel in cylinder volume
• Cools the charge
• Increase Volumetric efficiency
15
Mitsubishi 1.8L 4G93 GDI
• Power 10% ; Fuel Consumption 20%
16
Homogeneous Charge DI
• Fuel is injected on same time
the air is being drawn into
cylinder
• Prepares a homogenous charge
17
Stratified Charge DI
• Fuel injection just before ignition
• Higher compression ratio without
"knock"
• Small charge of rich fuel burn first
• Large charge of lean mixture burns
later
• High pressure fuel injection
18
Dual Injection System
• 2 fuel injectors /cylinder
• Engine Performance
• Fuel Consumption
• Very low exhaust emission
• Direct Injection Fraction XDI =
0.3
• Improved Combustion Process
19
Flame Front Propagation v/s xDI
Electronic Fuel Injection System
Electronic Fuel Injection uses various engine sensors and control
module to regulate the opening and closing of injector valve.
• Fuel delivery system
• Air induction system
• Sensor system
• Computer control system
21
Fuel Delivery system
•Electrical Fuel Pump draws fuel from
tank and forces it into the regulator.
•Pressure Regulator controls the amount
of pressure that enters the injector and any
extra fuel is returned to the fuel tank.
•Fuel Injector is simply a coil or solenoid
operated valve.
•Spring pressure holds the injector closed.
•When engaged, the injector sprays fuel
into the engine.
22
Air Induction System
•Air filter
•Throttle valve
•Sensors
•Connecting ducts
23
Sensor System
Monitors engine operating condition
and reports this information to ECM
(computer).
• Air Mass Flow Sensor
• Oxygen Sensor
• Throttle Position Sensor
• Engine Temperature Sensor
• Engine Speed Sensor
• Inlet Air Temperature Sensor
• Crankshaft Position Sensor
24
Mass Air Flow Sensor
• Measures the amount of outside air entering the engine.
• Contains an air flap or door that operates a variable resistor.
• Helps computer to determine how much fuel is needed.
25
Oxygen Sensor
• It measures the oxygen content in engine
exhaust.
• Mounted on the exhaust system before
the catalytic converter.
• Voltage output of O2 sensor changes with
the change in oxygen content of exhaust.
• Lean mixture decreases the voltage.
• Rich mixture increases the voltage.
• Signal is sent to ECM and the ECM
changes the time that an injector is open
or close.
26
Throttle Position Sensor
• Variable resister connected
to the throttle plate.
• Change in throttle angle =
change in resistance.
• Based on the resistance,
ECM richens or leans the
mixture.
27
Engine Temperature Sensor
• Monitors the operating
temperature of the engine.
• Exposed to engine coolant.
• Engine cold = Low Resistance =
Rich Mixture
• Engine Hot = High Resistance =
Lean Mixture.
28
Inlet Air Temperature Sensor
• Measures the temperature of
air entering the engine.
• Cold air (more dense) =
More fuel for proper AF
ratio.
29
Crankshaft Position Sensor
• Detects engine speed
• Changes injector timing and duration
• Higher engine speed = More fuel
30
Computer Control System
• Uses electrical data from
the sensors to control the
operation
of
the
fuel
injectors.
• Engine
Control
Module
(ECM)-
"Brain"
of
the
electronic fuel injection.