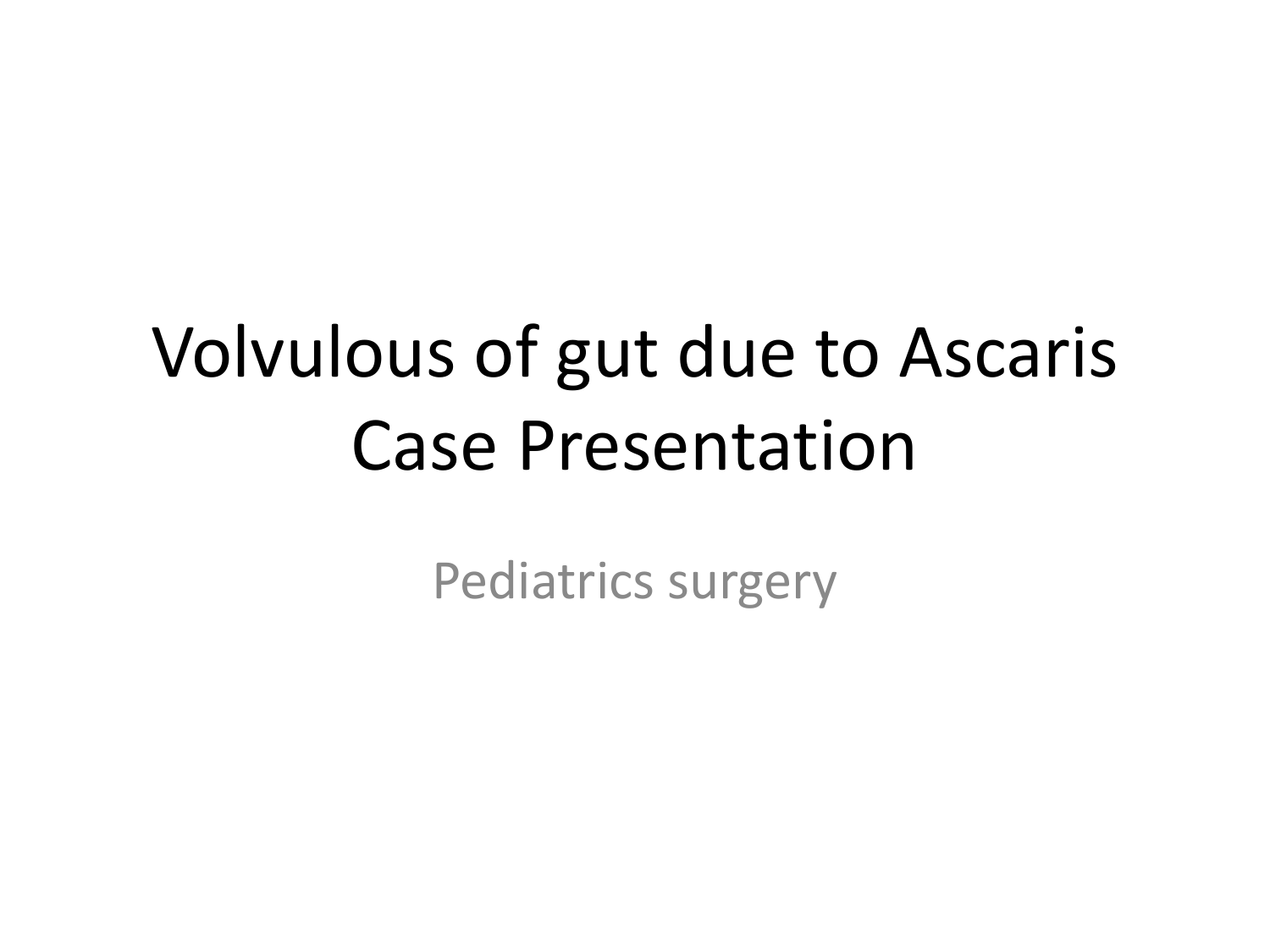 Volvulous of gut due to Ascaris
Case Presentation
Pediatrics surgery
Bio-data
• 10 years old female, resident of Thatta, admitted
through emergency in pediatrics surgery ward, CHK
on 1-1-2011.
Presenting complaints
• Abdominal pain…2 days.
• Vomiting…2 days.
• Bleeding PR.
H.O.P.C
• According to patient's mother, patient got abdominal
pain, gradual in onset, colicky in nature, more in
umbilical region associated with green colored
vomiting. Patient also passed stool with fresh blood
and also passed worms. Patient has history of
contact T.B to brother.
Examination
• Patient was looking pale, well oriented with time,
place and person, irritable lying on bed.
 VITALS;
• B.P=100/60 mm/hg.
• Pulse=105 b/min.
• Temp=100 "F.
• R/R=30 bth/min.
• Weight=20 kg.
Cont…
•
•
•
•
•
•
•
Anemia=+ve.
Jaundice=-ve.
Dehydration=+ve.
Edema=-ve.
Cyanosis=-ve.
Clubbing=-ve.
Lymph-nodes=cervical palpable.
Cont…
• Abdomen=tense, tender, no visceromegaly.
• Gut sounds=not audible.
• DRE=normal anal tone, no fissure or polyp, empty
rectum, blood tinged finger.
Labs
•
•
•
•
•
•
•
•
•
•
HB=10.4 gm/dl
WBC count=18.0x10 E9/L
Platelets=186x10E9/L
SGPT=31 unit/l.
Urea=26
crea.=0.5
Na=136
K+=3.0
Cl=99
Ca=7.8
• P.T=patient=19.4 Sec
• Control=12.0 Sec
• INR=1.64
Cont…
• U/S abdomen= thick walled fluid filled bowel
loops are seen with no peristaltic movements.
Cont…
• Emergency exploratory Laparotomy done on 2nd Feb.
2011. Operative findings were:
Globular swelling about 5x6 cm. at anti mesenteric
border, twisted gut 10-20 cm. from dj junction,
resection of 10-15 cm. of gut and end to end
anastomosis done. Worms were also taken out.
D/D
• Volvulus of gut=?
• ………………………..?
• ………………………..?