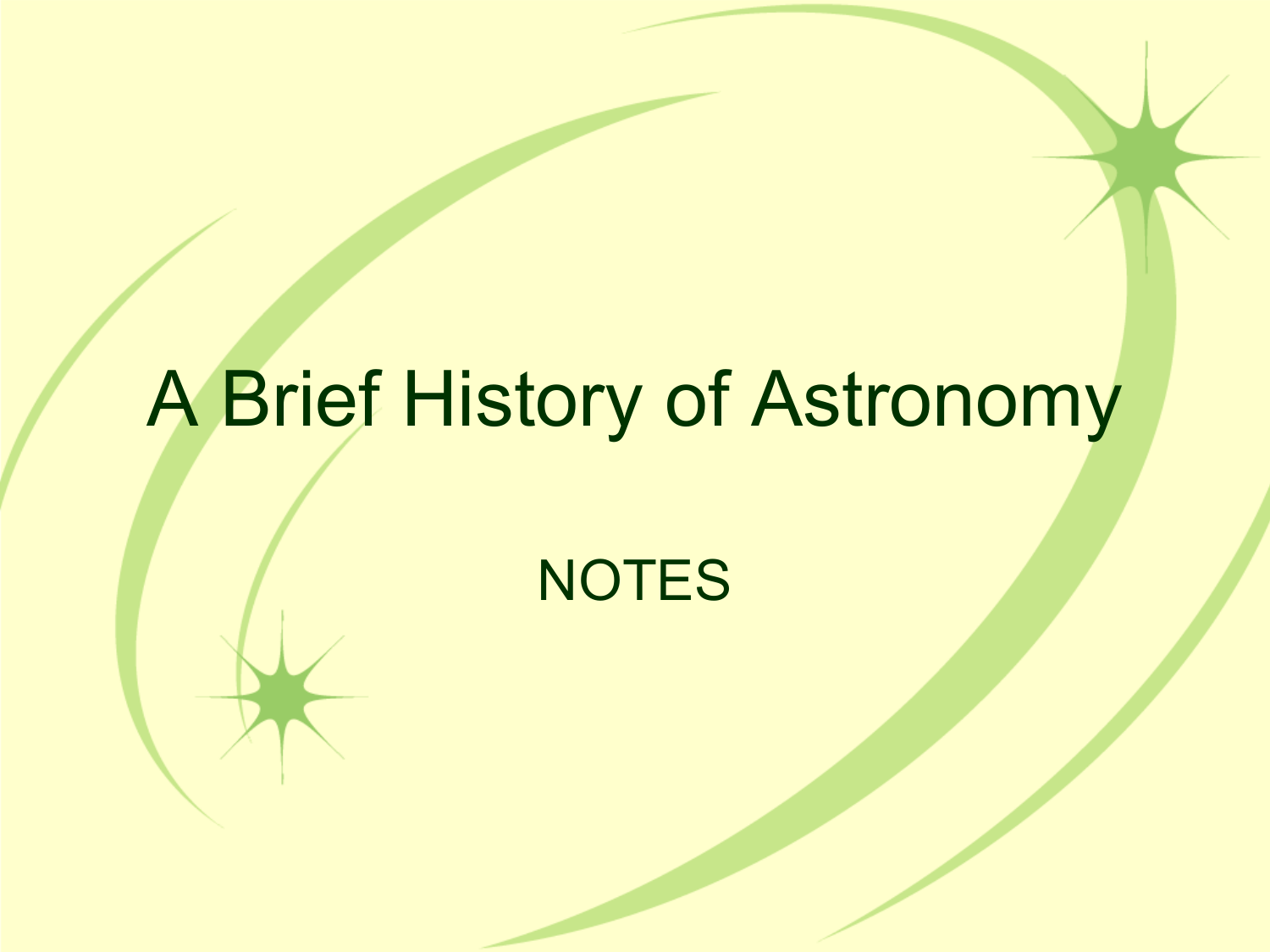 A Brief History of Astronomy
NOTES
GEO
MEANS
EARTH
HELIOS
MEANS
SUN
CENTRIC
MEANS
CENTER
There have been 2 main
thoughts about how the solar
system and universe are set up:
Geocentric System:
Definition:
earth centered model of the universe .
Geocentric System:
The Greeks:
• 4th century BC - Plato and Aristotle wrote about
it.
Geocentric System:
Ptolemy:
'Improved' the model…to explain zig zag of
objects in night sky.
Put planets/stars going in circles while orbitting.
Heliocentric System:
Definition:
sun centered model of the solar system
Heliocentric System:
Copernicus:
introduced his idea in 1543 - the same year he died
Why do you suppose most
people did not believe
Copernicus' idea?
FINALLY!!
Evidence that supports the heliocentric model is
discovered by…
…a scientist named GALILEO.
1600's Italian Astronomer
1st to use a telescope
What is the evidence that was discovered using the
telescope?
1. There were 4 moons orbiting around Jupiter (not
Earth)
2. Venus went through phases like our moon.
Who else helped?
Brahe and Kepler
•
Mathematicians who made observations on the
shape of the planet's orbits over a 20 year
period.
•
Brahe's observations and Kepler's analysis
revealed that the orbits of the planets WERE
NOT PERFECT CIRCLES, but ELLIPSES.