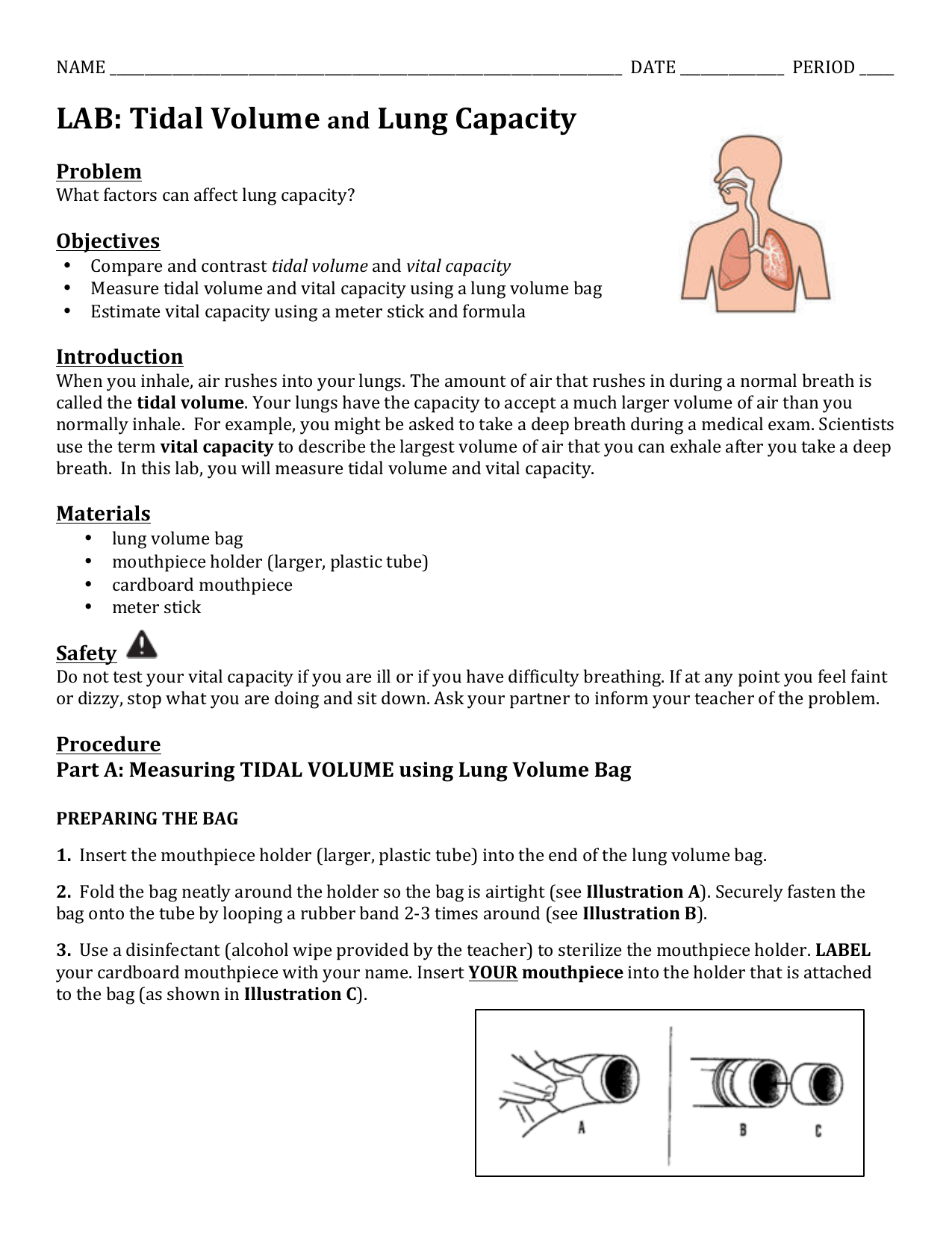 NAME __________________________________________________________________________ DATE _______________ PERIOD _____ LAB: Tidal Volume and Lung Capacity Problem What factors can affect lung capacity? Objectives •
•
•
Compare and contrast tidal volume and vital capacity Measure tidal volume and vital capacity using a lung volume bag Estimate vital capacity using a meter stick and formula Introduction When you inhale, air rushes into your lungs. The amount of air that rushes in during a normal breath is called the tidal volume. Your lungs have the capacity to accept a much larger volume of air than you normally inhale. For example, you might be asked to take a deep breath during a medical exam. Scientists use the term vital capacity to describe the largest volume of air that you can exhale after you take a deep breath. In this lab, you will measure tidal volume and vital capacity. Materials •
•
•
•
lung volume bag mouthpiece holder (larger, plastic tube) cardboard mouthpiece meter stick Safety Do not test your vital capacity if you are ill or if you have difficulty breathing. If at any point you feel faint or dizzy, stop what you are doing and sit down. Ask your partner to inform your teacher of the problem. Procedure Part A: Measuring TIDAL VOLUME using Lung Volume Bag PREPARING THE BAG 1. Insert the mouthpiece holder (larger, plastic tube) into the end of the lung volume bag. 2. Fold the bag neatly around the holder so the bag is airtight (see Illustration A). Securely fasten the bag onto the tube by looping a rubber band 2-­‐3 times around (see Illustration B). 3. Use a disinfectant (alcohol wipe provided by the teacher) to sterilize the mouthpiece holder. LABEL your cardboard mouthpiece with your name. Insert YOUR mouthpiece into the holder that is attached to the bag (as shown in Illustration C). THE MEASUREMENT 4. Make sure that the bag is ENTIRELY empty of air by flattening it against your thigh with one hand and pulling it through with the other (see Illustration D). 5. Hold the bag near your mouth, breathe in a normal breath, place the mouthpiece in your mouth, and exhale your breath (as you would normally) into the bag. 6. IMMEDIATELY after finishing exhaling your breath, grasp the bag just below the holder and twist it to trap the air inside. Wrap the bag tightly around your hand until the bag becomes stiff with the air inside (see Illustration E). Read the volume on the bag's scale and record the measurement in Data Table 1. Repeat Steps 2 and 3 two more times. 7. Calculate the mean for the measurements from the three trials. Record your answer in Data Table 1. Data Table 1: Tidal Volume Trial Tidal Volume (L) 1 2 3 Mean Part B: Estimating Vital Capacity 8. Use the meter stick to measure your height in centimeters or convert your height in inches to centimeters by multiplying the number of inches by 2.54. (1 inch = 2.54 cm) Height (cm): _________________________ 9. To calculate the estimated vital capacity of your lungs, use the formulas in Figure 1, below. Be sure to use the correct formula if you are a male or female. Your final answer will be in liters. Calculate and record your answer. Show all work for your calculations in the space below. Figure 1: Formulas to calculate vital capacity in males and females My Work: Estimated Vital Capacity (L): ______________ Part C: Measuring VITAL CAPACITY using Lung Volume Bag 10. Repeat Steps 1-­‐6, above, BUT this time, TAKE AS DEEP A BREATH AS POSSIBLE. Then, exhale as much air as you can from your lungs into the lung bag. Repeat two more times. 11. Calculate the mean for the measurements from the three trials and record your answer in in Data Table 2. Data T
able 2
: V
ital Capacity Trial Vital Capacity (L) 1 2 3 Mean Conclusions (Include your answers to these questions in your formal lab report!) 1) How did your estimated vital capacity compare with your measured vital capacity? 2) What could have caused any difference between the estimated value and the measured value? 3) Why is it important to do more than one trial when making measurements? 4) How would smoking or asthma affect lung capacity? EXPLAIN. 5) How would exercise affect lung capacity? EXPLAIN.