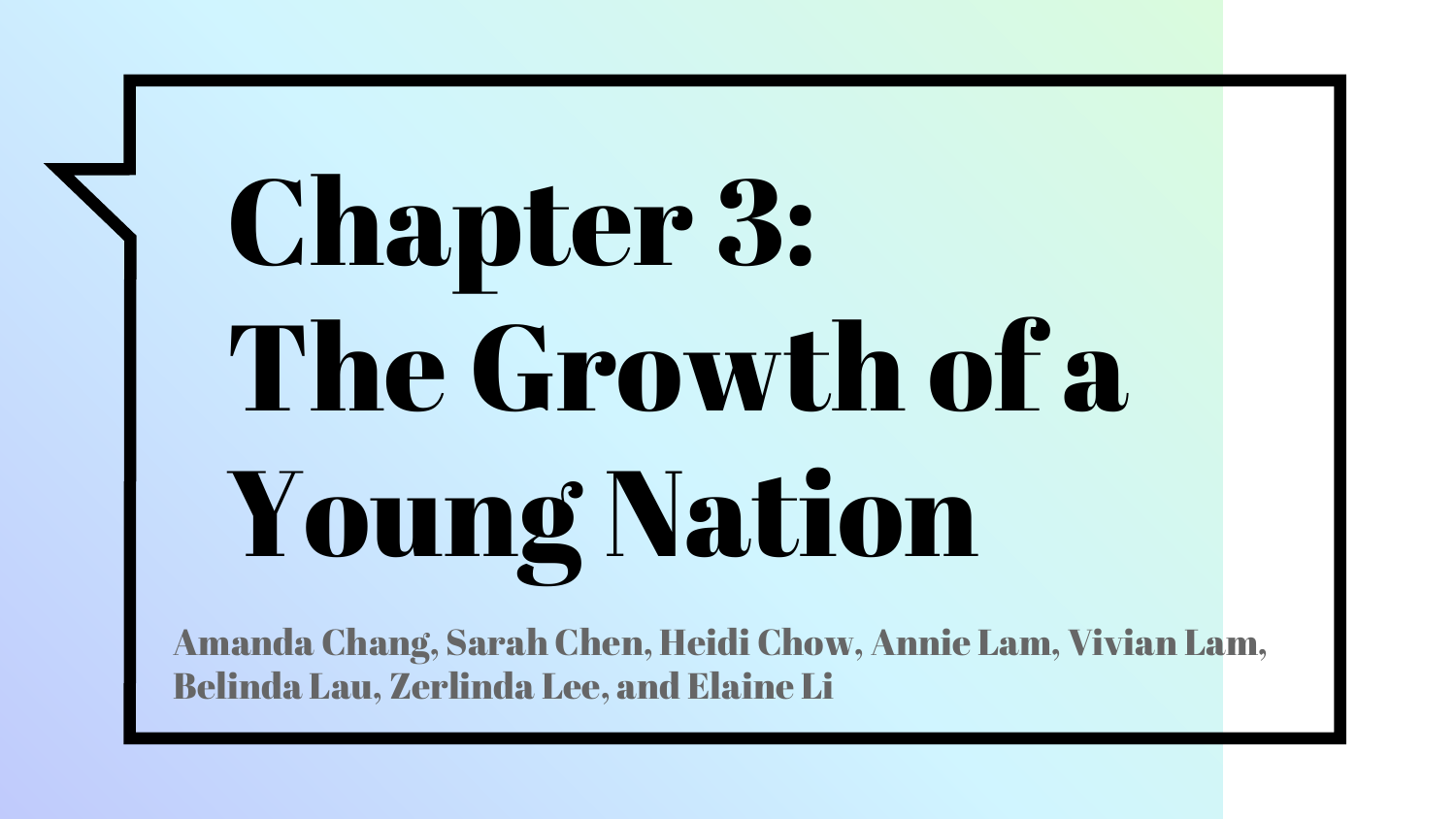 Chapter 3:
The Growth of a
Young Nation
Amanda Chang, Sarah Chen, Heidi Chow, Annie Lam, Vivian Lam,
Belinda Lau, Zerlinda Lee, and Elaine Li
Section 1.
The Jeffersonian
Era
THE ELECTION OF 1800
Jefferson's
Presidency
▫
▫
▫
▫
Thomas Jefferson won
presidential election against
Adams
House of Representatives
voted for 6 days and a total of
35 ballots
Thomas Jefferson won the
election against Aaron Burr by
a majority of 2 votes
Congress passed the Twelfth
Amendment
SIMPLIFYING THE
GOVERNMENT
▫
▫
▫
▫
Jeffersonian republicanismpeople should control the
government & simple
government is the best
Tried to shrink the government
and cut costs
Pushed back Hamilton's
economic program
1803: made the government
bureaucracy more evenly
balanced between Federalists
and Republicans
Continue:
Jefferson's
Presidency
JOHN MARSHALL & SUPREME
COURT
▫
▫
▫
▫
President Adams tried to make
the judicial branch filled with
Federalists
Jefferson argued the
document were invalid
1803: Marbury v. Madison
◦
John Marshall declared
Marbury =
unconstitutional
Judicial review- allow
Supreme Court to say
Congress' action(s) are
unconstitutional
LOUISIANA PURCHASE
▫
▫
▫
▫
Contributed with nation's
growth with Louisiana
Purchase
1803: Napoleon abandoned
hopes for an empire in America
& offered to sell it to US → sold
for $15 million
Form "empire of liberty" →
submitted treaty to finalize →
Senate ratified
Doubled the size of US and did
the opposite of his goal
Lewis and
Clark
Expedition
▫
▫
▫
▫
▫
1803: Jefferson appointed
Lewis to lead an expedition (St.
Louis→Pacific coast)
Goal: carry out scientific studies
& document native cultures
Time: 2 years and 4 months
Gain valuable information
◦ transcontinental travel
◦ Way for settlement of
West
◦ Strengthened American
claims to Oregon Territory
Contribute to success of
Jefferson's first term in office
CAUSES
▫
▫
Madison and
the War of
1812
▫
▫
Impressment (British practice
of seizing Americans at sea
& forced them into British
navy/army at sea)
War Hawks (a group of young
congressman from South &
West) want war and went
against Tecumseh (Shawnee
chief who led confederacy of
Native Americans) who
wanted to defend homeland
War hawks discovered that
Native Americans were given
weapons from British Canada
EFFECTS
▫
▫
▫
British and American
diplomats signed peace treaty
before Battle of New Orleans
Christmas Eve, 1814: The
Treaty of Ghent
Three Important
Consequences:
◦
End of Federalist party
◦
Encourage growth of
American industries
◦
US status: free &
independent nation
▫
▫
▫
▫
▫
▫
▫
▫
OCCURRED
Spring 1812: President
Madison chose to go to war
with Britain & early June:
Congress approved
British: Preoccupied with
Napoleon
1812: Invasion to Canada
failed
1813: Battle of the Thames
Lake Erie- American fleet
defeated a British fleet
End of 1813: American ships
stayed at ports
British victory: August 1814invaded Washington, D.C. &
burned the Capitol, the
Presidential Mansion, and
other public buildings
American victory: Battle of
New Orleans (January 8, 1815)
Nationalism
Shapes
Foreign
Policy
▫
▫
▫
▫
1816: elected James Monroe as
president
Foreign policy: belief that national
interests should be placed ahead of
regional concerns
Adams goals:
◦ Security & Expansion
Monroe- all European powers do not
interfere with affairs in Western
Hemisphere and promised that the US
wouldn't interfere in European affairs
◦ Known as Monroe Doctrine
■ European nations ignore his
speech due to lack of
armed forces to support
this policy
Section 2.
The Age of Jackson
Early
Industry in
the U.S.
North
▫
▫
▫
Specializes in
manufacturing
Creates factories
Needs South for
raw goods to
make into
manufactured
goods
South
▫
▫
▫
Specializes in
agriculture and
producing raw
materials for factories
Agriculture leads to
need for workers aka
slaves
◦ Emergence of
cotton increases
slavery in the
South
Needs North to have
manufactured goods
to use
Clay's
American
System
▫ Henry Clay (House
Speaker in 1815) supported
President Madison's plan
to unify economy of the
U.S.
◦ Called it the American
System
▫ North would manufacture
goods that the South &
West made from farming
◦ South & West would
buy manufactured
goods
BUS
(Bank of the US)
& Internal
Improvements
▫ The creation of the 2nd
Bank of the U.S. allowed
for national currency that
was accepted everywhere
in the U.S.
▫ Transportation systems
were made (aka roads,
canals, highways)
◦ Helped
communication,
transport goods, &
trade
Missouri
Compromise
▫ Caused Maine to be
admitted as a free state
▫ Missouri turned into a slave
state
▫ Slavery was abolished in
the North, but was still
legal in the South
1824 ELECTION
Jackson's
Path to
Presidency
▫
▫
Andrew Jackson vs John Quincy
Adams
◦ Adams wins
B/c differences in preference for
president, the
Democratic-Republican Party
splits into...
◦ The National Republican
Party= Clay
■ Clay was appointed
Secretary of State by
Adams
◦ The Democratic Party=
Jackson
JACKSONIANS
Continue:
Jackson's
Path to
Presidency
Followers of
Andrew Jackson
-
Accused
John Quincy
Adams of
stealing
Jackson's
presidency
in 1824
EXPANDING
DEMOCRACY
States eased their
voting
requirements
-
Enlarged the
voting pop.
With more voters,
Andrew Jackson
won the 1828
election
SPOILS SYSTEM
Jackson tried to
give common
people chances to
participate within
the government
-
So he
enforced a
maximum
4-year term
for federal
jobs
This policy allowed
for Jackson to give
jobs to his friends
and allies
Jackson's Native American Policy
The
Removal of
Native
Americans
-
Indian Removal Act of 1830: forced Native
Americans, including the Cherokee, to
Oklahoma and lands west of the
Mississippi River; was passed by Congress
The Trail of Tears (800-mile journey)
-
In 1838, President Martin Van Buren
ordered the removal of the 20,000
Cherokee that still remained in the East.
- buried more than a quarter of their
people along the Trail of Tears, the
routes they followed from Georgia to
the Indian Territory
The Nullification Crisis
Tariffs,
States'
Rights, and
the National
Bank
-
In 1824 (and again in 1828), Congress
increased the Import Tariff of 1816.
In attempt to free South Carolina from
the tariff, John C. Calhoun developed a
theory of nullification.
Tensions only relieved when Henry Clay
proposed a tariff bill that would
gradually lower duties over a ten-year
period.
Jackson's Bank War
-
Tried to kill the BUS, by withdrawing all
government deposits from bank's
branches and placing them in "pet
banks" because of their loyalty to the
Democratic Party
- Angered by this, National
Republicans formed a new political
party, called the Whig Party.
Martin Van Buren
Successors
Deal with
Jackson's
Legacy
-
Along with the presidency, he inherited the
consequences of Jackson's bank war.
- In the Panic of 1837, bank closings
and the collapse of the credit system
cost many people their savings and
put more than a third of the
population out of work
Harrison and Tyler
-
William Henry Harrison won reelection, in
1840, and tried to enact the Whig program
to revitalize the economy.
- After he died, John Tyler became
president. He opposed many parts of
the program.
Section 3.
Manifest Destiny
Americans
Pursue
Manifest
Destiny
▫
Belief that God wants to expand
the U.S. westward to the Pacific
◦
Abundance of land
◦
Merchants and
manufacturers seeking
new markets for goods
◦
Personal economic
problems in the east
The Santa Fe Trail
Trails West
The Oregon Trail
▫
One of the busiest
routes to the west
▫
▫
780 miles from
Independence,
Missouri to Santa Fe,
New Mexico
From Independence,
Missouri to Portland,
Oregon
▫
Methodist
missionaries, Marcus
and Narcissa
Whitman, proved that
wagons can travel on
the Oregon Trail.
▫
Pioneers use prairie
schooners or
handcarts.
▫
Traders traveled
together on Native
American lands.
The
Mormon
Migration
▫
Religious group founded by Joseph
Smith
▫
Led by Brigham Young to escape
persecution
▫
Anti-Mormon mob murdered Smith
▫
Young urged Mormons to move farther
west
▫
In 1847, Mormon settled in desert near
Great Salt Lake
Texan
Independence
▫
Mission system declined after Mexico
won independence
▫
Mexico offered land and encouraged
Americans to settle in Texas
▫
Stephen F. Austin, an empresarios,
established a colony in Texas
between the Brazil and Colorado
rivers
Stephen F. Austin
The Texas
Revolution
▫
▫
▫
▫
▫
Tension rose between
Anglo Texans and Mexican
government
1830- Mexico sealed
borders and put taxes on ▫
American goods
1833- Austin went to
Mexico City, imprisoned
▫
Sparked several rebellions
Santa Anna marched
▫
toward San Antonio with a
4000-man army
▫
Lt. Colonel William
Travis moved Anglo
troops to the Alamo
Mexican troops scaled
the Alamo's walls
March 2 1836- Texans
declared
independence from
Mexico
March 16- ratified
constitution
Texas Joins Union
▫
"Remember the Alamo"
Texas Wins
Independence
▫
▫
▫
▫
▫
Sam Houston
▫
Santa Anna's troops
executed 445 rebels
Sam Houston and 900
▫
men surprised Mexicans at
San Jacinto River
"Remember the Alamo!"
▫
Captured Santa Anna, who
was freed after signing the
Treaty of Velasco
Ended the Texas
Revolution and gave Texas
its independence
Texans hoped U.S. would
annex them
Northerners feared more
slave territory would tip
balance in the Senate
1844 U.S. presidential
campaign
James K.
Polk
Dec. 29. 1845- Texas
entered the Union
Polk Urges War
The War
With Mexico
▫
▫
▫
▫
Believed war with Mexico
would bring New Mexico
and California into Union
Nov. 1845- $25 million
offered to purchase
▫
California and New Mexico;
Mexican approval of the Rio
Grande as Texas border
▫
Mexican leader refused,
Polk sent men to blockade
the river
Southerners supported war,
Northerners opposed
The War Begins
Mexican troops
crossed Rio Grande
and killed U.S. soldiers
Mexico started war,
shedding "American
blood upon American
soil"
Bear Flag Republic
▫
Ending the
War With
Mexico
▫
▫
▫
Spoils of War
June 1846- American settlers
▫ Feb 2, 1848- Treaty
seized town of Sonoma
of Guadalupe
Hoisted flag with a grizzly bear,
Hidalgo (ending war
rebels declared independence
and ceding
and proclaimed nation of the
California, New
Bear Flag Republic
Mexico territories
Sept. 1846- captured
▫ Pay $15 million for
Monterrey, then Veracruz cities
Mexican cession
General Scott's army captured
Mexico City
California Gold Rush
▫
▫
▫
▫
▫
Gold discovered in California Sierra Nevadas
Gold fever traveled eastward, overland
migration skyrocketed
California gold rush in 1849
Revolutionized California's economy
Ships clogged harbor and linked Californian
markets to rest of the U,S,
Section 4.
The Market
Revolution
▫
U.S
Markets
Expand
-
The completion of the Erie Canal brought
on the market revolution era.
People purchased and sold goods, rather
than making the goods themselves.
Farmers shifted from self-sufficiency to
specialization.
Amount of goods and services multiplied
while incomes rose.
Growth of the U.S economy coincided with
growth of free enterprise.
▫
Inventions
and
Improvements
-
Inventions fueled the economic revolution and
transformed manufacturing, transportation and
communication.
Telegraphs allowed communication from one end
of the continent to the other
Farmers/manufacturers sought better ways to
ship their goods, which led to steamboats and
eventually led to railroads.
▫
New
Markets
Link
Regions
▫
▫
▫
▫
The inner regions of America became
interdependent.
Steamboats connected the North to the South
The Erie canal, railroads and telegraph wires
connected the East to the West
New York became the central link between
American agriculture and European markets.
The rate of manufacturing increased.
Northeast:
South:
-center of American
commerce
-remained
agricultural
-becoming more
industrialized
-looked down on
industrialization
-people moved
midwest for fertile soil
-lacked the capital to
build factories
because they
invested in land and
slaves
-farmers began
growing cash crops
▫
Changing
workplaces
▫
▫
▫
▫
▫
Production moved from homes to
factories
The Lowell textile mills allowed young
women the opportunity to work
New machines allowed unskilled people
to work in factories
There were a lot of rules and regulations
that workers had to follow
Conditions got worse with some
employees working 12 hour shifts and
being regarded as machinery
Workers began going on strike when
wages were lowered, however, little to
none were won by the employees
European:
Immigration
-
Number rose
dramatically
between 1830-1860
3 million immigrated
in from 1845-1854
Most came from
Northern/Western
Europe
Irish:
-
1 million settled
between 1815 and
1844
1.3 million more
came because of the
Great Potato Famine
Faced prejudice
Willing to work low
wage jobs under
terrible conditions
-
National
Trades'
Union
-
Trade unions joined together to expand
their power
Represented variety of trades
Faced fierce opposition from
bankers/owners
Strikes were, at first, declared illegal by
court
However, in one case (Commonwealth
vs. Hunt), the supreme court supported
the workers' rights
New changes in the industrial system
brought on strikes in the workplaces
Section 5.
Reforming
American Society
▫
▫
Second
Great
Awakening
▫
▫
Widespread movement to awaken religious
sentiments
Revivalism
◦ Revival meetings could last for days
where they studied the Bible,
reflected on their lives, and heard
emotional sermons
Unitarians
◦ Member of a religious group that
emphasizes reason and faith in the
individual
◦ They emphasized reason as the path
to perfection
◦ Believed that spiritual awakening was
a gradual process
Transcendentalism
◦ Developed by Ralph Waldo Emerson
when he met artists who advocated
romanticism
◦ Emphasized that truth could be found
in nature, intuition, and imagination
▫
The
AfricanAmerican
Church
▫
▫
▫
▫
Slaves in the South worshipped in the
same churches, heard the same
sermons, and sang the same hymns
as did the slave owners
In the East, free African Americans
worshipped in separate black
churches
Richard Allen purchase his freedom
and establish the Bethel African
Church
By 1816, it became the African
Methodist Episcopal Church
It also became a political, cultural, and
social center for African Americans
▫
Slavery
and
Abolition
▫
In 1817, American Colonization Society
was funded to encourage black
emigration
William Lloyd Garrison: most radical
white abolitionist was a young editor
◦ Began a publishing career in 1828
as the editor of an antislavery
paper
◦ Founded the New England
Anti-Slavery Society and the
national American Anti-Slavery
Society
◦ He enjoyed the widespread of
black support
Frederick
Douglass
▫
▫
▫
▫
▫
▫
▫
Born into slavery in 1817
Taught to read and write by the wife of
one of his owners
He realized that knowledge could be his
pathway from slavery to freedom
By 1838, he held a skilled job as a ship
caulker in Baltimore and earned the
highest wages in the yard but his owner
took his pay each week
Borrowed the identity of a free black
sailor and traveled to New York by train
Garrison sponsored him to speak for the
American Anti-Slavery Society
In 1847, Douglass began his own
antislavery newspaper
▫
Life Under
Slavery
▫
▫
▫
▫
▫
During the 18th century, most slaves
were male and had arrived from
Caribbean or Africa
By 1830, number of male and female
slaves were more equal
Most enslaved African Americans lived
and worked on large plantations and
worked long, hard days in the fields
Many slave owners owned only a few
slaves
Slaves were denied education and civil
rights
Slave owners "hired out" their slaves to
factory owners
▫
Turner's
Rebellion
▫
▫
▫
A slave in Virginia, Nat Turner, organized
a rebellion and in August 1831, he
gathered more than 50 followers as he
moved from plantation to plantation
They attacked four plantations and killed
about 70 whites but by the 5th attack,
the whites captured 16 members of
Turner's band
Turner was later captured and hanged
After the Turner rebellion, the slave
owners argue that slavery was a
beneficial institution
◦ They used the Bible to defend
slavery
Women
and
Reform
Education For Women
▫
▫
Sojourner Truth
In 1821, Emma Willard
opened one of the
first schools for girls in
Troy, New York which
offered different
classes
In 1831, Prudence
Crandall opened a
school for girls in
Connecticut and
admitted an AfricanAmerican girl
Women's Rights Movement
▫
▫
▫
Elizabeth Cady Stanton and
Lucretia Mott, who had been
ardent abolitionists, held a
women's rights convention
after male abolitionists
discriminated against them
Participants at the Seneca
Falls convention approved
all parts of the declaration
Sojourner Truth was born
into slavery but she argued
for abolition and pointed to
the problem of slavery
Game Time
How to Play
Pictionary
▫
▫
▫
▫
▫
▫
Form teams
First drawer comes
up and roll a dice
Highest number
can choose a term
from the deck
5 seconds to
think/plan.
1 minute to draw
First team to guess
wins.
Terms
▫
▫
▫
▫
▫
▫
▫
▫
▫
▫
▫
▫
▫
▫
▫
Thomas Jefferson
John Marshall
Impressment
Trail of Tears
Andrew Jackson
American System
Manifest Destiny
Trails to the West
The Alamo
Market Revolution
Lowell Textile mills
Strike
Sojourner Truth
Nat Turner
Elizabeth Cady
Stanton
Q&A
Have any comments,
questions, or concerns? Tell
us!