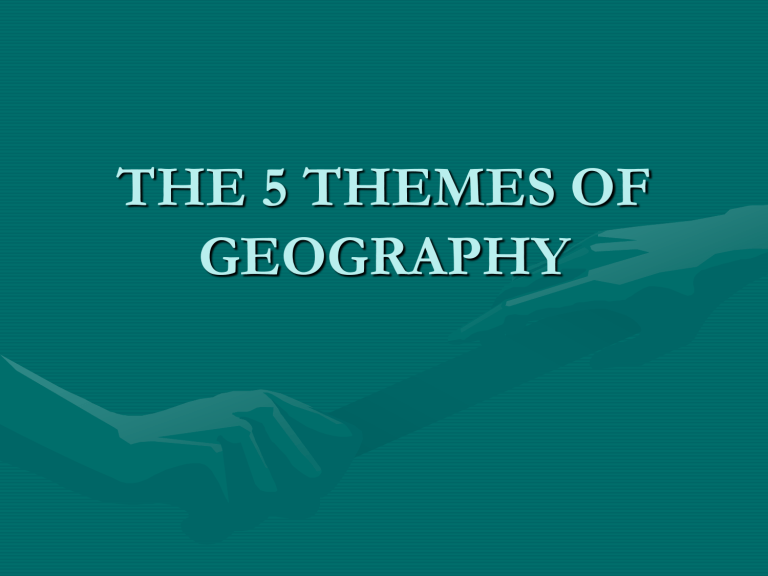 THE 5 THEMES OF
GEOGRAPHY
I can identify and explain
the five themes of geography
THE FIVE THEMES OF
GEOGRAPHY
•
•
•
•
•
Location
Place
Human-Environment Interaction
Movement
Regions
LOCATION
Where we are.
• Absolute Location
– A latitude and longitude
(global location) or a
street address (local
location).
– Washington D.C
39 Degrees N
77 Degrees W
– The White House is
located at 1600
Pennsylvania Ave.
• Relative Location
– Described by landmarks,
time, direction or
distance. From one place
to another.
– Washington D.C. is
located on the east coast
of the US.
PLACE
What is it like there, what kind of place is it? Describes place in terms
of both physical and human characteristics.
• Human
Characteristics
• What are the main
languages, customs, and
beliefs.
• How many people live,
work, and visit a place.
• Physical
Characteristics
• Landforms (mountains,
rivers, etc.), climate,
vegitation, wildlife, soil, etc.
HUMAN-ENVIRONMENT
INTERACTION
• How humans and the environment have
affected each other.
– We depend on it.
• People depend on the Tennessee River for water and
transportation.
– We modify it.
• People modify our environment by
heating and cooling buildings for comfort.
– We adapt to it.
• We adapt to the environment by wearing
clothing suitable for summer (shorts) and
winter (coats), rain and shine.
MOVEMENT
• Movement is how people, goods, and ideas are
moved from place to place.
– Human Movement
• Trucks, Trains, Planes
– Information Movement
• Phones, computer (email), mail
– Idea Movement
• How do fads move from place to place?
TV, Radio, Magazines
REGIONS
• Regions are areas that share some common
characteristics.
– Formal Regions
• Regions defined by governmental or administrative boundaries (States,
Countries, Cities)
• Regions defined by similar characteristics (Corn Belt, Rocky Mountain
region, Chinatown).
– Functional Regions
• Regions defined by a function (newspaper service area, cell phone
coverage area).
Remembering the 5 themes
• If you can't remembering what they
are just ask MR. HELP!!!
• M – Movement
• R – Regions
• HE – Human Environment interaction
• L – Location
• P - Place
Your assignment
• Use pages 35-40 of your Social Studies Book as
a resource and answer questions on page 10 and
11 in your Blue Workbook.