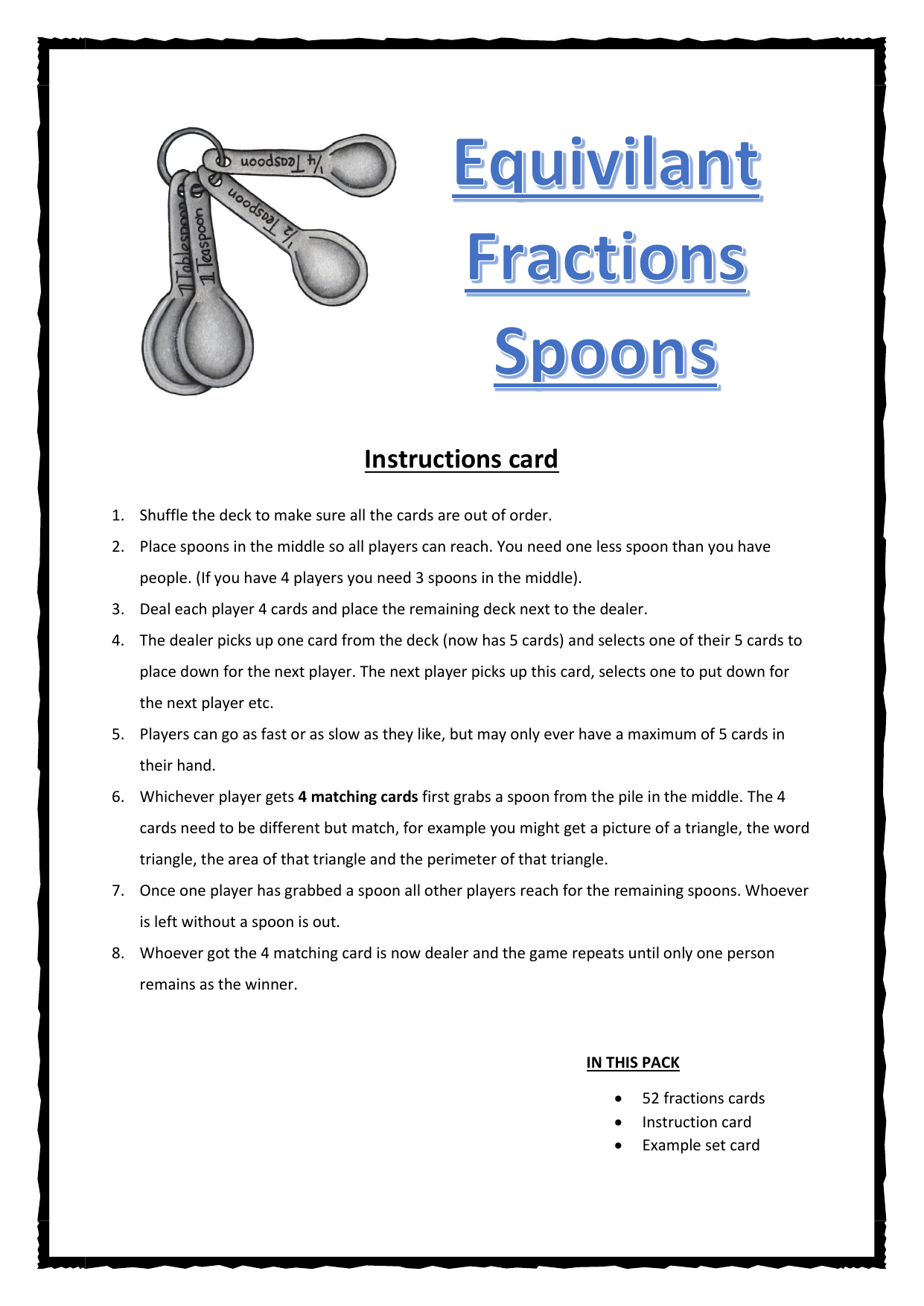 Instructions card
1.
Shuffle the deck to make sure all the cards are out of order.
2.
Place spoons in the middle so all players can reach. You need one less spoon than you have people. (If you have 4 players you need 3 spoons in the middle).
3.
Deal each player 4 cards and place the remaining deck next to the dealer.
4.
The dealer picks up one card from the deck (now has 5 cards) and selects one of their 5 cards to place down for the next player. The next player picks up this card, selects one to put down for the next player etc.
5.
Players can go as fast or as slow as they like, but may only ever have a maximum of 5 cards in their hand.
6.
Whichever player gets
4 matching cards
first grabs a spoon from the pile in the middle. The 4 cards need to be different but match, for example you might get a picture of a triangle, the word triangle, the area of that triangle and the perimeter of that triangle.
7.
Once one player has grabbed a spoon all other players reach for the remaining spoons. Whoever is left without a spoon is out.
8.
Whoever got the 4 matching card is now dealer and the game repeats until only one person remains as the winner.
IN THIS PACK
•
•
•
52 fractions cards
Instruction card
Example set card
1
10
1
2
Example of a set
There are 4 cards in each set. Here are 2 examples of what a SET would look like. Note that all cards are DIFFERENT but they are EQUIVILANT.
2
4
3
6
4
8
2
20
3
30
4
40
1
2
2
4
3
6
4
8
1
3
2
6
3
9
4
12
1
4
2
8
3
12
4
16
1
5
2
10
3
15
4
20
1
10
2
20
3
30
4
40
1
100
2
200
3
300
4
400
1
50
2
100
3
150
4
200
1
20
2
40
3
60
4
80
2
3
4
6
6
9
8
12
3
4
6
8
9
12
12
16
2
5
4
10
6
15
8
20
3
5
6
10
9
15
12
20
1
1
2
2
3
3
4
4