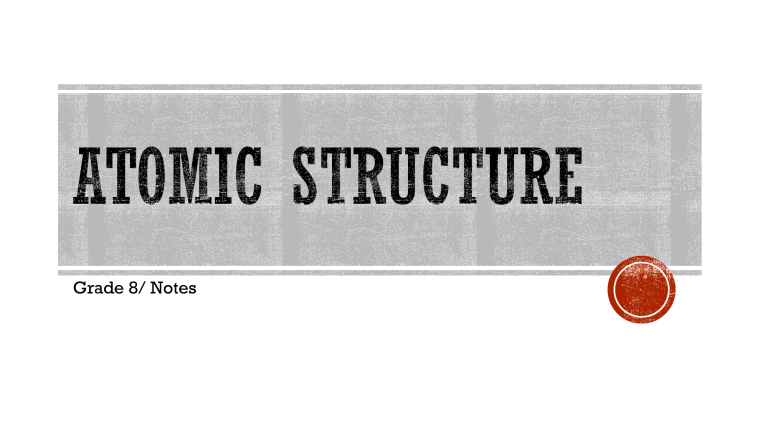 Grade 8/ Notes
 Atoms are the basic building blocks of matter
 The nucleus (centre of the atom) contains two sub-
atomic particles, Protons and Neutrons
 Electrons orbit around the nucleus at different
shells.
 The properties of the particles are summarized in
the table below
Particle
Relative
mass
Relative
charge
Found in
Proton
Neutron
electron
1
1
0.0005
(negligible)
+1
0
-1
Nucleus
Nucleus
Shells (orbitals)
 An atom is electrically neutral, as the number of
electrons (-ve) is equal to the number of protons (+ve).
 Each type of atom has a unique identity number
called atomic number.
 Atomic number or proton number is the number of
protons in the nucleus
 Atomic mass or nucleon number is the total number
of protons and neutrons.
 Number of electrons does not share much to the
atomic mass as it is too light compared to protons and
neutrons.
 Symbol of an element gives information about its
structure.
Atomic symbol
Atomic number
Mass number
Name of element
 Isotopes are atoms of same element having different
mass (nucleon) number or different neutron number.
 Isotopes of same element have similar chemical
properties but different physical properties.
 In Nature, many elements have two or more isotopes
 Some isotopes are radioactive (emits radiation due to
unstable nucleus) e.g. hydrogen-2 and hydrogen-3
 Some isotopes are useful, such as cobalt-60, which is
used for treating cancer.
The table below shows some isotopes;
Element Name of
isotopes
Hydrogen
Carbon
Chlorine
No. of protons Nucleon
number
No. of
neutrons
No. of
electrons
Protium
1
1
0
1
Deuterium
1
2
1
1
Tritium
1
3
2
1
Carbon – 12
6
12
6
6
Carbon – 13
6
13
7
6
Carbon - 14
6
14
8
6
Chlorine - 35
17
35
18
17
Chlorine - 37
17
37
20
17
 Atoms are too small to weigh using regular methods
and to give any unit.
 Therefore an atom is weighed compared to the
weight of an atom of carbon-12.
 Relative Atomic Mass (Ar) is the mass of an atom
compared to the mass of carbon-12.
 The mass number of elements in the periodic table is
the average mass of the isotopes of an element
 What is the difference between the isotopes Carbondifferent no. of neutrons
12 and Carbon-14? ………………………
 75 per cent of chlorine atoms
are 35Cl and 25 per cent of
chlorine atoms are 37Cl.
 This means that in 100
chlorine atoms, 75 will
be 35Cl and 25 will be 37Cl.
 The total Ar for these
chlorine atoms will be (75 ×
35) + (25 × 37) = 2625 + 925 =
3550.
 So the average Ar for chlorine
is 3550 ÷ 100 = 35.5.
 The relative atomic mass of an
element is the average mass of
all the isotopes present
compared to 1/12th of the
mass of a carbon–12 atom
 (12C = 12.00000 amu i.e. the
standard).
 In an atom, electrons are arranged around the
nucleus in shells or orbitals
 The way electrons are arranged in various shells is
called electron configuration.
 Each shell accommodates a maximum number of
electrons.
1st
2nd
3rd
4th
2
8
8
8
 Each energy level or shell, must be filled with
electrons before electrons go to the next level.