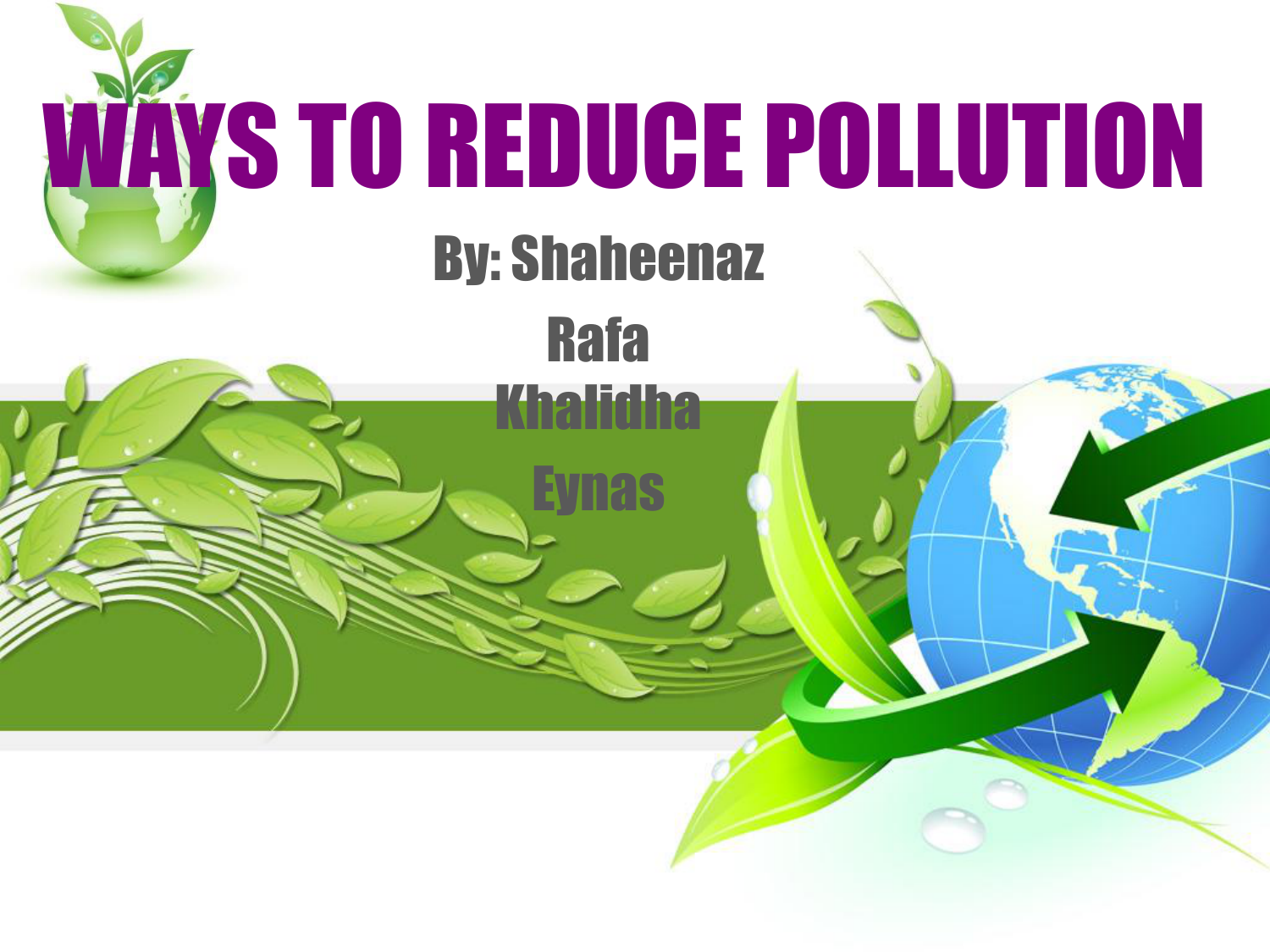 WAYS TO REDUCE POLLUTION
By: Shaheenaz
Rafa
Khalidha
Eynas
Pollution
Is the modification of
the environment by
human activities
Some major pollutants are
CO
CH4
SO2
Oxides of Nitrogen
CFC
Types Of Pollution
Water pollution
Air pollution
Noise pollution
Land pollution
Radio active pollution
Pollution causes
Many harmful effects to
Environment & living
things
So, it is very important
for us to find out what
are the things we can do
to reduce or minimize
pollution
Solutions for Pollution
There are no particular solutions for
Pollution. But, pollution can be
controlled by proper choice of
preventive and remedial measures
Water Pollution – waste water
treatment
To reduce Pollution
Drive less
Walk
Ride a bike
Use public transport (eg:bus)
To reduce Pollution
Buy air friendly products (with no
aerosols)
Save energy
Turn-off lights when not in use
Use fan instead of AC
To reduce Pollution
Lead compounds are the most
toxic heavy metals
Use unleaded petrol
To reduce Pollution
Flue-gas desulfurization
Fitting flue-gas desulfurizer to power
stations and factory chimneys removes
(SO2) sulfur dioxide given off
 Sulfur dioxide is one of the elements
forming acid rain
This will help to reduce acid rain.
Flue gas desulfuriser
To reduce Pollution
Catalytic converter
Fitting catalytic converter in car
engines.
 catalytic converter converts CO,
NO2, & hydrocarbon formed in
car fumes to less harmful gases
such as CO2, H2O & N2
Catalytic converter
To reduce Pollution
Replace CFC with ozone friendly
products
To reduce Pollution
Calcium carbonate can be used to
reduce the effect of acid rain
It can be added to lakes and
surrounding land to decrease
acidity
Helicopter spreading lime over a lake
Pollution Prevention Hierarchy
Prevention & Reduction
Recycling & Reuse
Treatment
Disposal
"It is better to prevent waste
than to treat or clean
up waste after it is formed"
Thank you
Any Question???