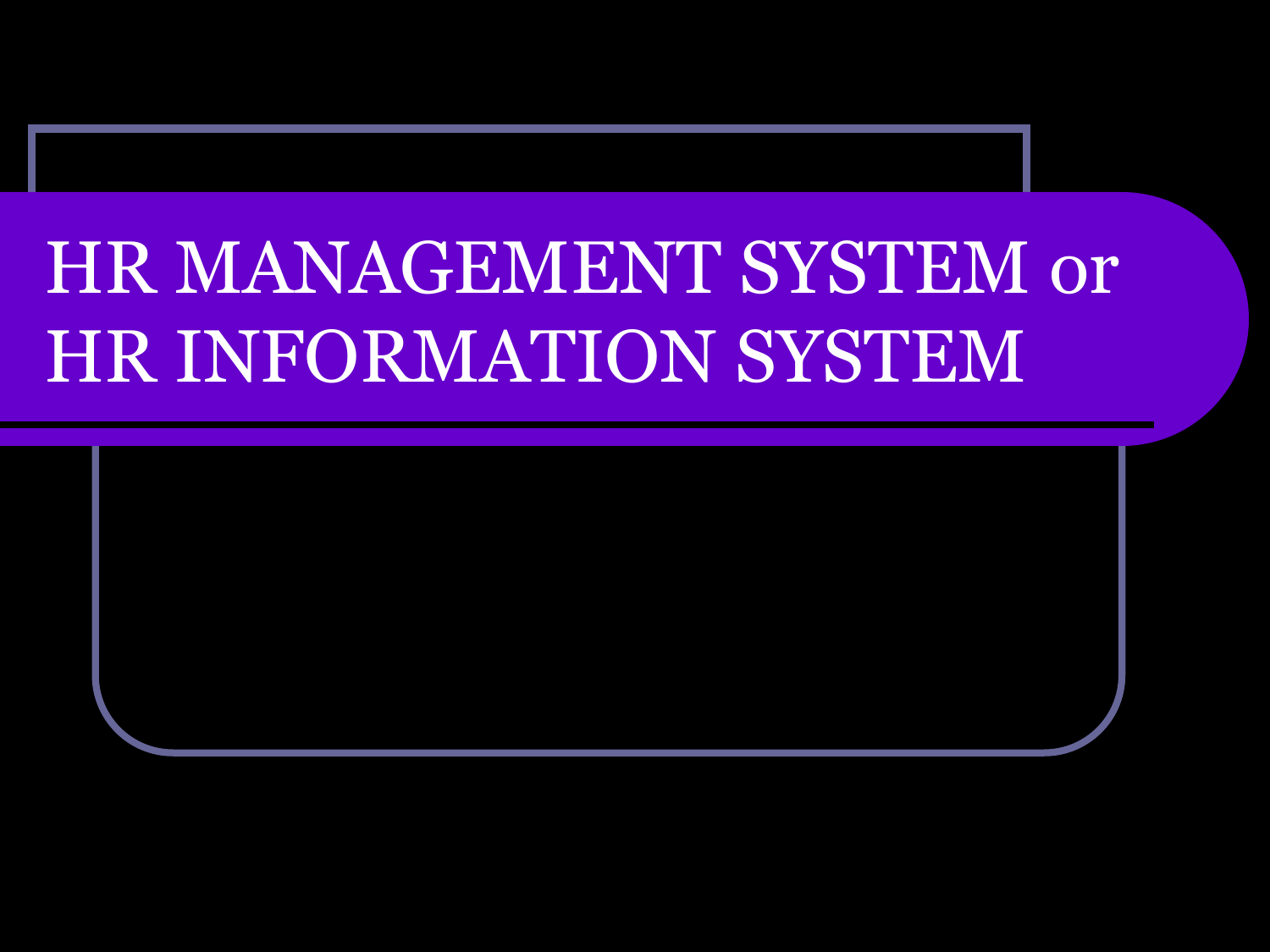 HR MANAGEMENT SYSTEM or
HR INFORMATION SYSTEM
What is HRMS / HRIS?
What is HRMS/ HRIS?

It is the integrated database system that
is essential to permit high-quality,
informed HRP decisions to made. –
Monica & Kenneth

It is the system used to acquire, store,
manipulate, analyze, retrieve &
distribute pertinent info regarding org's
HR…." – Alan & Robert
Purposes of HRMS / HRIS?
Purpose of HRMS/ HRIS?

Is to facilitate, support strategic, tactical
& operational decision making.

To avoid litigation.

To evaluate programs, policies or
practices

To support daily operations.
Contents of HRMS / HRIS?
Contents of HRMS/ HRIS?

HRIS contains info of:

Employees

Jobs & Work Conditions

Positions

HR Events (Recruitment, training & Development,
performance appraisal, termination)
**** But not all system fulfill all the requirements, nor
a complete solution is suitable for all org.
3 Stages of HRMS / HRIS
Development
3 Stages of HRMS Development
Stage 1: Basic Personnel System

Incorporate databases that may mix written records
on the file with other data elements stored on a
computer database.

The data maintained by this system focuses on the
areas like: Y records, Payroll, Staffing, Basic data
required for compliance with pertinent labor
legislation.

This info is used by almost all HR staff .

Its purpose is – correct record-keeping. So it is past
oriented.
3 Stages of HRMS Development CONT….
Stage 2: Augmented HR System

Occurs when the org decides to commit the
resources to become more proactive with respect to
HR policy decisions.

It requires HRMS to move beyond basic record
keeping function.

It is entirely computer-based system.

This enable HR Planners to identify more readily
developing problem areas or trends – thus help
them to be proactive in developing personnel
policies.
3 Stages of HRMS Development CONT….
Stage 3: Comprehensive & Interactive HRMS

Relatively few co have evolved to this stage.

It enables the HRP to run "What If" scenario – to determine the
best future from possible alternatives.

RELATIONAL database – helps to investigate, thus offers a wide
variety of searches & analyses to be conducted.

Possible areas of usage: Selecting candidates, performance
appraisal.
But Remember…………

Although a comprehensive & interactive HRMS is he
goal of every firm, but it is not that all firms adopt it.

There are firms which can afford it but do not
incorporate because they want something simple,
environment friendly system.

So, the HRMS must be selected on the basis of the
need of particular organization.

Because, one size doesn't fit all.
Selection & Design
Criteria For HRMS
1. System Security & Access Control

This is important because - HRMS contains
sensitive personal info.

Mgt must have proper control on access to this
system.

Access should be granted on a 'need to know' basis
with passwords, PINs –serving as entry barrier.

Access requirement should be reviewed on a regular
basis.
2. User friendliness of the HRMS

HRMS varies with respect to training time &
ease of use for HR staff.

System that build on common HR
terminology & are designed to run in
conjunction with widespread computer
operating system will require less
preparatory training.

2nd, Customization ability should be there.
3. Flexibility & Interface with Other
Organizational Systems

Consider –



the linkage between existing computer h/w & the
proposed s/w system.
Staff computer literacy
Ensure – smooth interface between h/w &
s/w – to minimize errors.
4. Appropriateness for Meeting
Organizational Needs

Some org do the mistake of purchasing HRMS because of only
one area.

But you should take time to identify & rank the org's HR goal
for HRMS.

Identify the "must have".

Do not go for "nice to have".

Along with price consider the issues like:



number of year s/w has been incorporated
Whether vendor specializes in HRMS or not, and his/her
reputation
After sales service
5. System Costs & Service Support

Implementation cost is not the only cost.
Count other costs too. Likee training costs.

Management Information System, Decision
Support System staff must be involved in
the HRMS criteria.
Successful HRIS

The most effective HRIS are those which:

Contain highly accurate employee & job data

Are sufficiently flexible to adapt to both
present & future requirements.

Are dynamic & Comprehensive

Allow clear control of HR & HRIS costs.