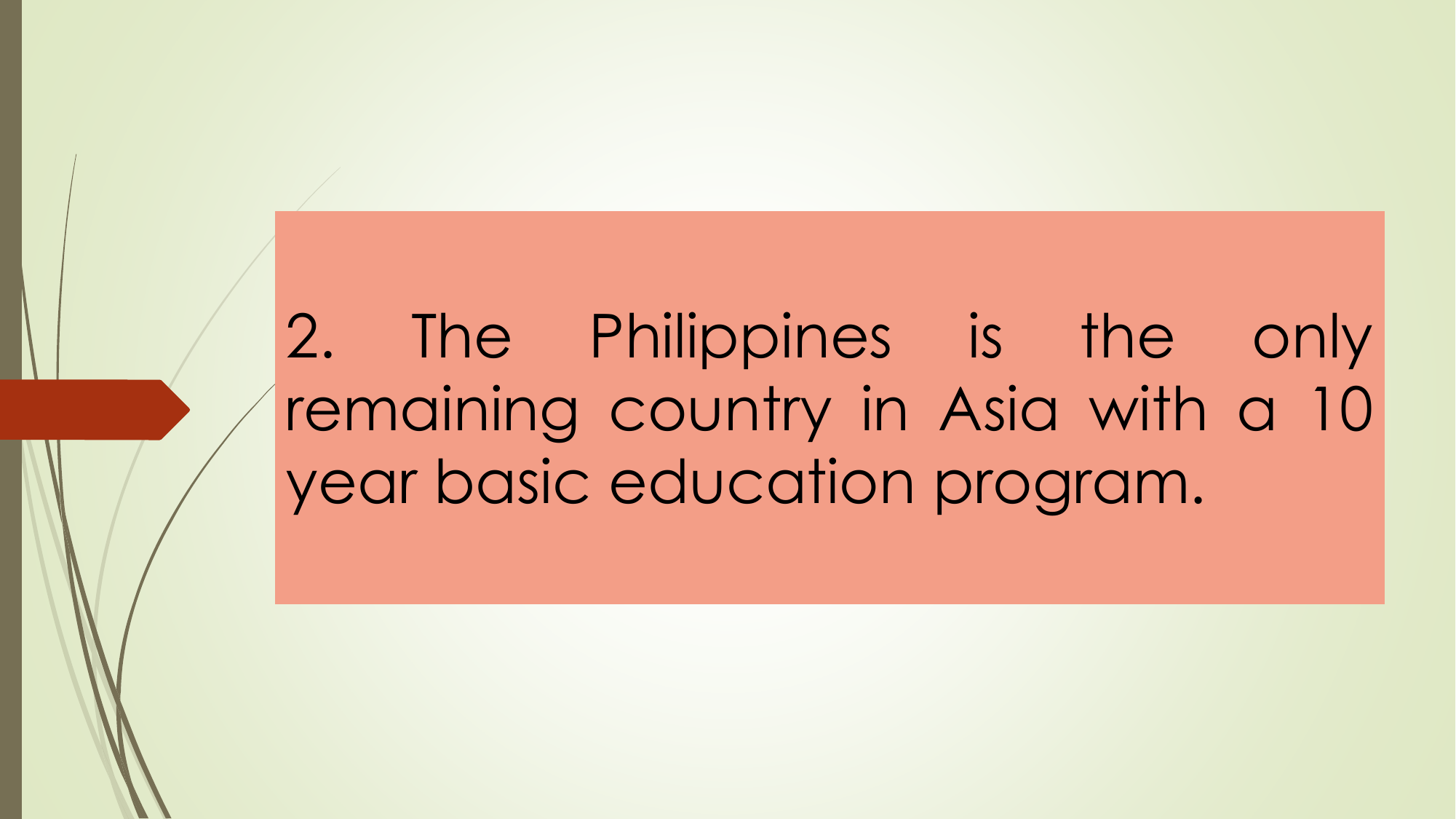 2. The Philippines is the only
remaining country in Asia with a 10
year basic education program.
Table 5. Researches on Philippine Basic Education Curriculum and
their Recommendations
Year
Source
1925 Monroe Survey
Recommendation
Training of graduate student in agriculture,
commerce and industry because secondary
education did not prepare students for life
1949 UNESCO Mission Survey Restoration of Grade VII in primary education
1950 Swanson Survey
1953 Education Act
Revising the primary school system by adding
one year (Grade VII)
1960 Swanson Survey
Restoring Grade 7 in Primary education
1970 PCSPE
Extending secondary education by one year
to better prepare students who have no plans
to take up university education
1991
EDCOM
Report
Retaining the 10-year basic education phase while
institutionalizing career counseling in Primary and
secondary schools in preparation for higher education
Prioritizing student learning through curricular reforms
the provision of textbooks the use of the vemacular in
lower Primary and secondary schools in preparation
education
Implementing
a
compulsory
one-year
prebaccalaureate stage as prerequisite for students
interested in enrolling in higher education degree
programs.
Lengthening the educational cycle by adding two
years to formal basic education ( one search for
Primary and high school)
1998
Philippines
Education Sector
Study (World Bank
and ADB)
2000
PCER
2006
Philippine EFA
2015 National
Action Plan
2008
Presidential
Extending pre-university education to a total of 12
Task Force on years benchmarking the content of the eleventh and
Education
twelve years with international programs.
Employability of Filipino
high school graduates
The k to 12 Curriculum prepares
the students for the world of work,
middle level skills development,
entrepreneurship
and
college
education.
The K to 12 curriculum
Developmentally Appropriate
Responsive & Relevant
Contextualized and Global
Mother-tongue based multilingual education
Reflective Teaching
Collaborate
The curriculum shall be flexible
enough
to enable and allow
schools to localize, indigenize and
enhance the same based on their
respective educational and social
contexts.
Curriculum Tracks
Academic, Technical-VocationalLivelihood, sports track, Arts & Design
Arts.
The Academic track includes four
strands:
i. Business,
Accountancy,
Management, (BAM);
ii.
Humanities
and
Social
Sciences (HUMSS);
iii. Science,
Technology,
Engineering,
Mathematics
(STEM); and
iv. General
Academic
Strand(GAS)
NOMENCLATURE/
LEARNING AREA
Integrated
Language Arts
Mother Tongue
Filipino
English
Core curriculum
Description
Grade 1-6
It focuses on the
development
of
literacy
and
numeracy
skill
&
learning of concepts
first in the Mother
tongue from grades
1-3 & later transfer to
second language.
Grade 7-10
Ang
Filipino
ay
naglalayong
malinang ang (1)
kakayahang
komunikatibo at (2)
kahusayan sa paguunawa
at
pagpapahalagang
pampanitikan
ng
mga mag aaral.