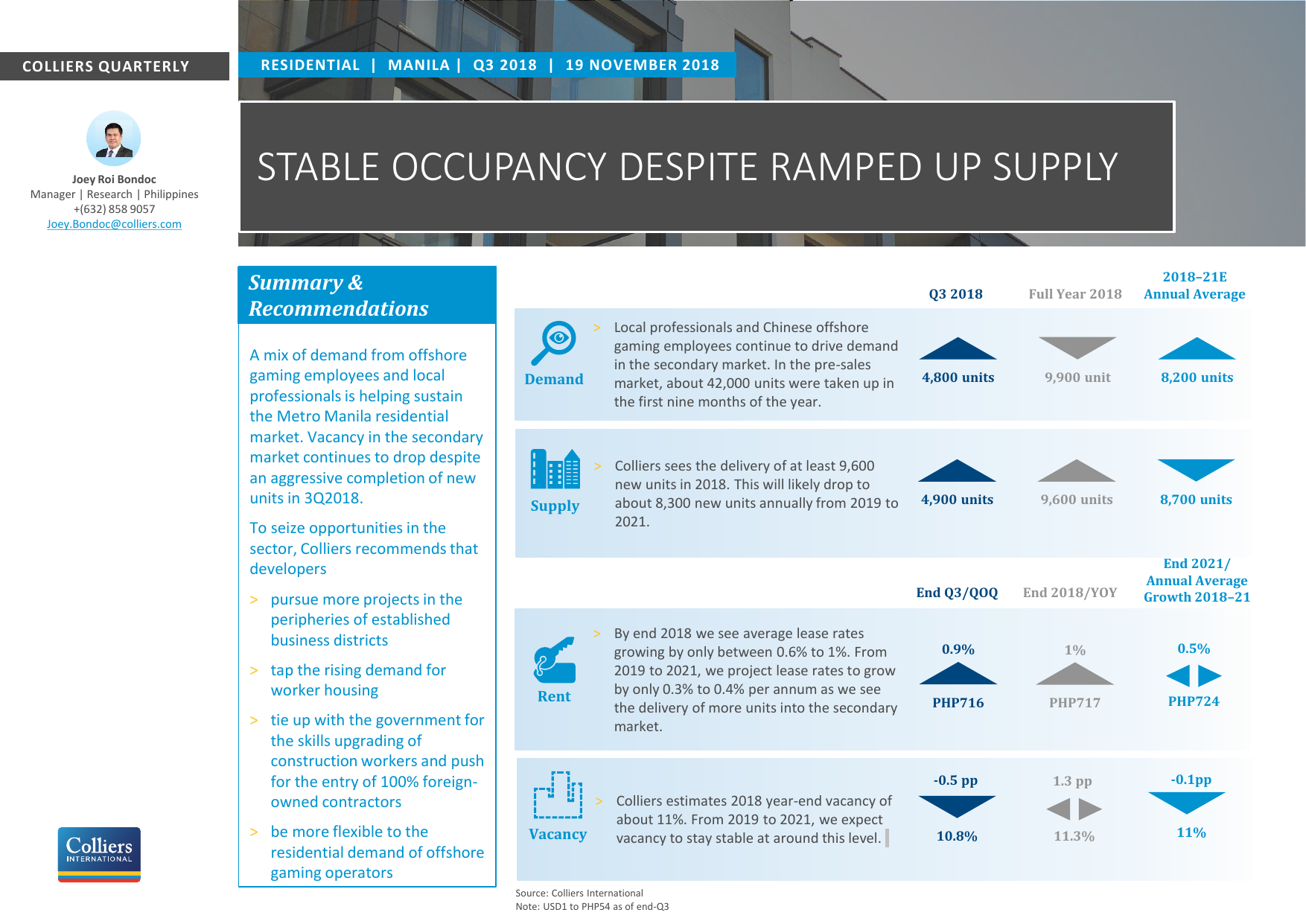 COLLIERS QUARTERLY
Joey Roi Bondoc
Manager | Research | Philippines
+(632) 858 9057
[email protected]
RESIDENTIAL | MANILA | Q3 2018 | 19 NOVEMBER 2018
STABLE OCCUPANCY DESPITE RAMPED UP SUPPLY
Summary &
Recommendations
A mix of demand from offshore
gaming employees and local
professionals is helping sustain
the Metro Manila residential
market. Vacancy in the secondary
market continues to drop despite
an aggressive completion of new
units in 3Q2018.
To seize opportunities in the
sector, Colliers recommends that
developers
> Local professionals and Chinese offshore
gaming employees continue to drive demand
in the secondary market. In the pre-sales
Demand
market, about 42,000 units were taken up in
the first nine months of the year.
> Colliers sees the delivery of at least 9,600
new units in 2018. This will likely drop to
about 8,300 new units annually from 2019 to
Supply
2021.
> tie up with the government for
the skills upgrading of
construction workers and push
for the entry of 100% foreignowned contractors
> be more flexible to the
residential demand of offshore
gaming operators
Full Year 2018
2018–21E
Annual Average
4,800 units
9,900 unit
8,200 units
4,900 units
9,600 units
8,700 units
End Q3/QOQ
> pursue more projects in the
peripheries of established
business districts
> tap the rising demand for
worker housing
Q3 2018
Rent
> By end 2018 we see average lease rates
growing by only between 0.6% to 1%. From
2019 to 2021, we project lease rates to grow
by only 0.3% to 0.4% per annum as we see
the delivery of more units into the secondary
market.
> Colliers estimates 2018 year-end vacancy of
about 11%. From 2019 to 2021, we expect
Vacancy
vacancy to stay stable at around this level.
Source: Colliers International
Note: USD1 to PHP54 as of end-Q3
End 2018/YOY
End 2021/
Annual Average
Growth 2018–21
0.9%
1%
0.5%
PHP716
PHP717
PHP724
-0.5 pp
1.3 pp
-0.1pp
10.8%
11.3%
11%
COLLIERS QUARTERLY
RESIDENTIAL | MANILA| Q3 2018 | 19 NOVEMBER 2018
RECOMMENDATIONS
Residential demand in Metro Manila remain stable.
To seize opportunities in the sector, Colliers
encourages developers to implement the following
measures:
Tap demand for dormitories
We believe that the demand for worker dormitories remains underserved.
Thus, we encourage developers to scout for properties in the peripheries of
CBDs where worker dormitories could be established. Colliers believes that
the fringes of Fort Bonifacio, Makati and Ortigas are viable locations for
these projects.
Aside from easing the foreign ownership restriction in the entry of 100%
foreign owned contractors, private developers should consider partnering
with government-run training centres to support training for their
construction workers. Colliers believes that this option is particularly
important for firms that do not have the capacity to put up their own
training centres or establish their own manpower units.
UNIT COMPLETION ACCELERATES
Flexibility in developments
The completion of new condominium projects picked up in 3Q2018,
following the delivery of more than 4,900 units. This is more than double the
1,700 units completed in the first six months of the year. Year-to-date (YTD)
completion now stands at 6,600. Colliers is optimistic that the projected
9,600 new units for 2018 is likely to be met given the status of residential
towers due to be completed in 4Q2018.
The expansion of offshore gaming operators in Metro Manila is resulting in
greater residential demand. Colliers recommends that developers be quick in
tweaking development plans to capture immediately the needs of offshore
gaming companies that continue to influence Manila's property
developments. Projects initially intended for hotels or malls, for instance,
could be redeveloped into residential projects that could support offshore
gaming operations in adjacent office towers.
Fort Bonifacio accounted for 65% of office space completion in 3Q18,
leading other submarkets. This was complemented by the pace of
condominium unit completion in 3Q2018 as it accounted for 34% of all new
units completed this quarter. Among the residential towers completed were
Avida Towers BGC 34th Street Towers 1 and 2 and Viceroy McKinley Hill East
Tower. These residential buildings added a combined 1,700 units to Fort
Bonifacio's condominium stock.
Push for the entry of 100% foreign owned contractors
Unit completion in the Bay Area remains high with the thriving business hub
accounting for 26% of total delivery during the period. Monarch Parksuites
and Palm Beach Villas added more than 1,200 units to the Bay Area's
residential stock.
Colliers notes that a number of developers are hard-pressed in completing
their projects as scheduled due to manpower constraints. To bridge the
labour supply gap, we recommend that stakeholders aggressively push for
the government to open up the sector to 100%-owned foreign contractors.
Currently, this sector has restricted access for foreigners. According to the
National Economic and Development Authority, 100% foreign-owned
contractors are planned to be allowed to take part in the construction of
public projects under the government's Build, Build, Build programme so this
should help ease pressure on local developers facing construction delays.
2
Public-Private Partnership
Makati CBD has long been overtaken by Fort Bonifacio as the largest
condominium submarket in Metro Manila, but the business district's stock
has recently been buoyed by the completion of The Stratosphere and Kroma
Tower by Primex and Alveo, respectively, adding 1,151 units to Makati CBD
stock.
COLLIERS QUARTERLY
RESIDENTIAL | MANILA| Q3 2018 | 15 NOVEMBER 2018
As of 3Q2018, Colliers recorded a total of 113,700 completed condominium
units across Metro Manila's secondary residential market, which covers
major business districts. At present, Fort Bonifacio accounts for the largest
number of units at 27% of residential stock followed by Makati CBD (23%),
Bay Area (16%), and Ortigas Center (15%). The Bay Area has overtaken
Ortigas Center starting 3Q2018 and we expect this reclaimed CBD to
overtake other established business hubs such as Makati CBD by 2021. By
then, Colliers sees the Bay Area having a total of 29,500 units, higher than
Makati CBD's 28,700.
From 2019 to 2021, we see the completion of 8,300 new condominium units
per year. By 2021, Colliers projects Metro Manila's secondary residential
stock to reach 142,000 units, about 33% higher compared to 2017.
Colliers believes that ramped-up completion of new condominium units is
partly attributable to the relentless demand from Chinese offshore gaming
firms. Since 4Q2016, offshore gaming firms have been expanding their
offices in three major submarkets, Fort Bonifacio, the Bay Area, and Makati
CBD. This strong demand is spilling over to the residential sector as aside
from expanding their offices, a major requirement of these offshore gaming
companies is a residential complement.
VACANCY DECLINES FURTHER
The strong demand is translating into improved occupancy in the secondary
residential market. This means that completed units in major business
districts that are either for lease or sale are recording better absorption.
Overall, Metro Manila vacancy further declined to 10.8% from 11.3% in
2Q2018. This is the fourth consecutive quarter in which Colliers recorded
lower vacancy metro-wide with Makati CBD, Fort Bonifacio, and the Bay
Area recording the fastest declines.
For the end of 2018, Colliers predicts vacancy of about 11% given the strong
demand from both Chinese offshore gaming employees and local
professionals. This is a downward adjustment from our initial projection of
12% to 13% at the start of of 2018. Besides sustained demand, we attribute
the lower vacancy rate to slower delivery of units. Our updated projection of
9,600 units for 2018 is about 30% lower than our initial estimate of 12,400.
3
Aside from the demand from offshore gaming employees, Colliers has
observed more local professionals working in CBDs who pool their monthly
rent and lease out condominium units located in the peripheries of major
business districts such as Makati, Ortigas, and Fort Bonifacio. This is
contributing to lower vacancy especially among Grade B condominium
towers in the fringe areas.
We see more developers investing in worker accommodation projects that
cater to young urban professionals who cannot afford to own their own
apartment yet or rent a condominium unit within the established business
districts. These worker dormitories, are for professionals who want to live
near their offices.
In the past, the demand for worker dormitories has primarily been served by
smaller, mom-and-pop developers. But national developers such as Ayala
Land and SM Investments have started to tap into this sector.
RENTS AT FLATTISH GROWTH
Location
Fort Bonifacio
Q2 2018
617-1,005
Q3 2018
620-1,012
% Change
(QoQ)
0.6%
Q3 2019F
622-1,016
% Change
(YoY)F
0.4%
Makati CBD
540-1,080
548-1,090
1.1%
550-1,094
0.3%
Rockwell Center
728-1,020
738-1,035
1.4%
741-1,039
0.4%
Source: Colliers International Philippines Research
Average rents in prime three-bedroom units in Makati CBD recorded a
1.1% QoQ increase while rents in Fort Bonifacio and Rockwell also rose by
0.6% and 1.4%, respectively.
We do not see a significant rise in rents over the next 12 to 36 months as
we still expect a substantial number of new condominium units being
completed across Metro Manila during the period. From 2019 to 2021,
Colliers is retaining its projection of flat to marginal rise in rents for the
three business districts – Makati CBD, Fort Bonifacio, and Rockwell. We
project rents to increase by only 0.3% to 0.4% per annum during the threeyear period.
COLLIERS QUARTERLY
RESIDENTIAL | MANILA| Q3 2018 | 15 NOVEMBER 2018
PRICES STILL RISING
Capital values continue to increase with average prices of prime threebedroom units in the secondary market ranging between PHP124,000 and
PHP313,000 (USD2,296 and USD5,796) per sq metre as of 3Q2018. Fort
Bonifacio units recorded the fastest increase in 3Q2018 of 5% followed by
Makati CBD at 3.8% and Rockwell Center at about 3%.
Colliers believes that the increase in policy rates is not immediately felt in
the market as the 150-basis point hike is still within the threshold that the
domestic market can absorb. Banks also maintain low rates to remain
competitive. Hence, developers are not wary about consumers' capacity to
pay their monthly mortgage.
Metro Manila Residential Launches and Take-up (in '000 units)
From 2019 to 2021, Colliers sees condominium prices in the three major
business districts rising between 2.8% to 3.2% per year.
60
50
Location
Fort Bonifacio
Makati CBD
Rockwell Center
Q2 2018
118,000252,000
121,000301,000
199,000246,000
Q3 2018
124,000264,000
125,000313,000
208,000250,000
% Change
(QoQ)
5.0%
3.8%
2.9%
Q3 2019F
127,000272,000
129,000322,000
215,000258,000
% Change
(YoY)F
3.0%
2.8%
53
43
37
40
43
40
35
33
35
42
36
31
30
20
10
3.2%
Source: Colliers International Philippines Research
PRE-SELLING TAKE-UP SUSTAINS
SPACE
In the first three quarters of 2018 pre-sales reached about 42,000 units,
higher than the 38,000 units recorded in the same period in 2017. Given the
current trend, the 2018 take up for pre-sales condominium units might even
surpass the 53,000 units sold in Metro Manila in 2017.
For the first nine months of 2018 some 31,000 units were launched
compared to 22,600 units in the same period of 2017.
The central bank's decision to raise benchmark yields in 2018 by 150 basis
points so far has not deterred developers from launching new projects.
4
Units (in '000s)
Comparative Luxury 3BR Residential Capital Values (PHP / sq m)
54
2013
2014
2015
Launch
Source: Colliers International Philippines Research
2016
Take-up
2017
As of 3Q18
Primary Authors:
For further information, please contact:
Joey Roi Bondoc
Manger | Research | Philippines
+(632) 858 9057
[email protected]
David A. Young
Chief Operating Officer | Philippines
+(632) 858 9009
[email protected]
Richard Raymundo
Managing Director | Philippines
+(632) 858 9028
[email protected]lliers.com
Arren Faronilo
Senior Research Analyst | Research | Philippines
+(632) 863 4116
[email protected]
Donica Cuenca
Research Analyst | Research | Philippines
+(632) 858 9068
[email protected]
About Colliers International Group Inc.
Colliers International Group Inc. (NASDAQ: CIGI) (TSX: CIGI) is a top tier global real estate services and investment management company operating in 69 countries with a workforce of more than 13,000 professionals.
Colliers is the fastest-growing publicly listed global real estate services and investment management company, with 2017 corporate revenues of $2.3 billion ($2.7 billion including affiliates). With an enterprising culture
and significant employee ownership and control, Colliers professionals provide a full range of services to real estate occupiers, owners and investors worldwide, and through its investment management services
platform, has more than $25 billion of assets under management from the world's most respected institutional real estate investors.
Colliers professionals think differently, share great ideas and offer thoughtful and innovative advice to accelerate the success of its clients. Colliers has been ranked among the top 100 global outsourcing firms by the
International Association of Outsourcing Professionals for 13 consecutive years, more than any other real estate services firm. Colliers is ranked the number one property manager in the world by Commercial Property
Executive for two years in a row.
Colliers is led by an experienced leadership team with significant equity ownership and a proven record of delivering more than 20% annualized returns for shareholders, over more than 20 years.
For the latest news from Colliers, visit our website or follow us on
Copyright © 2018 Colliers International
The information contained herein has been obtained from sources deemed reliable. While every reasonable effort has been made to ensure its accuracy, we cannot guarantee it. No responsibility is assumed for any
inaccuracies. Readers are encouraged to consult their professional advisors prior to acting on any of the material contained in this report.