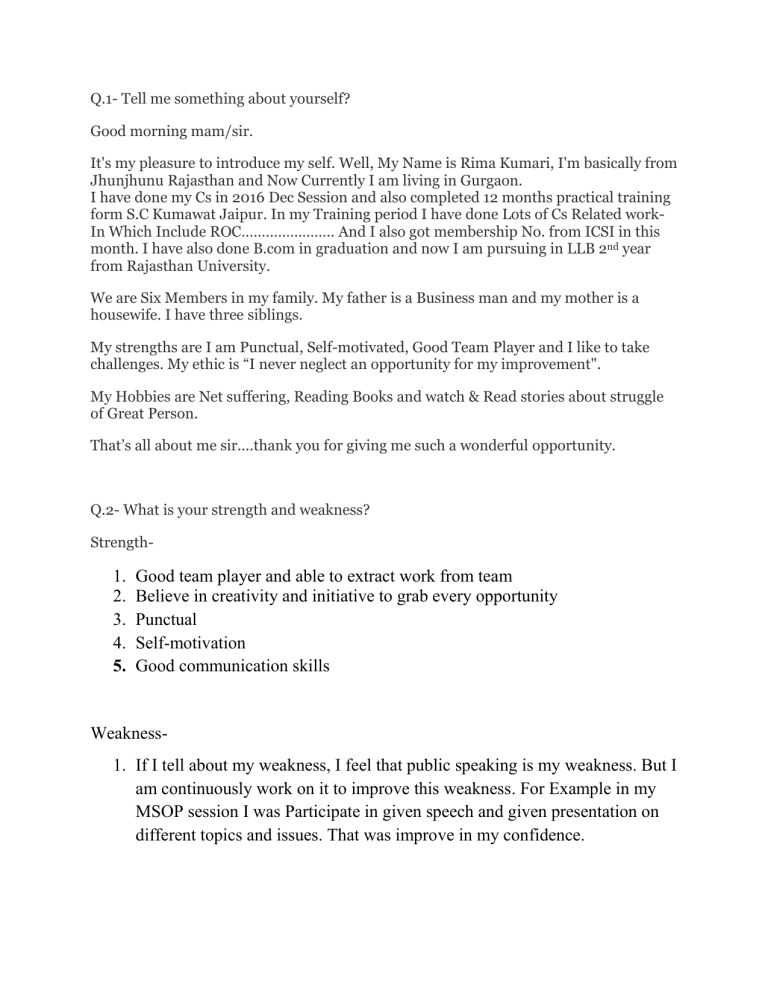 Q.1- Tell me something about yourself?
Good morning mam/sir.
It's my pleasure to introduce my self. Well, My Name is Rima Kumari, I'm basically from
Jhunjhunu Rajasthan and Now Currently I am living in Gurgaon.
I have done my Cs in 2016 Dec Session and also completed 12 months practical training
form S.C Kumawat Jaipur. In my Training period I have done Lots of Cs Related workIn Which Include ROC………………….. And I also got membership No. from ICSI in this
month. I have also done B.com in graduation and now I am pursuing in LLB 2nd year
from Rajasthan University.
We are Six Members in my family. My father is a Business man and my mother is a
housewife. I have three siblings.
My strengths are I am Punctual, Self-motivated, Good Team Player and I like to take
challenges. My ethic is "I never neglect an opportunity for my improvement".
My Hobbies are Net suffering, Reading Books and watch & Read stories about struggle
of Great Person.
That's all about me sir....thank you for giving me such a wonderful opportunity.
Q.2- What is your strength and weakness?
Strength-
1.
2.
3.
4.
5.
Good team player and able to extract work from team
Believe in creativity and initiative to grab every opportunity
Punctual
Self-motivation
Good communication skills
Weakness1. If I tell about my weakness, I feel that public speaking is my weakness. But I
am continuously work on it to improve this weakness. For Example in my
MSOP session I was Participate in given speech and given presentation on
different topics and issues. That was improve in my confidence.
Q.3- Why should we hire you?
First the most important thing is I am fresher Cs and I want to learn and grow with
a growing company Like your Company, and I have good practical knowledge
about Cs related work like…………………… which helps to done your work
more effectively and smoothly.