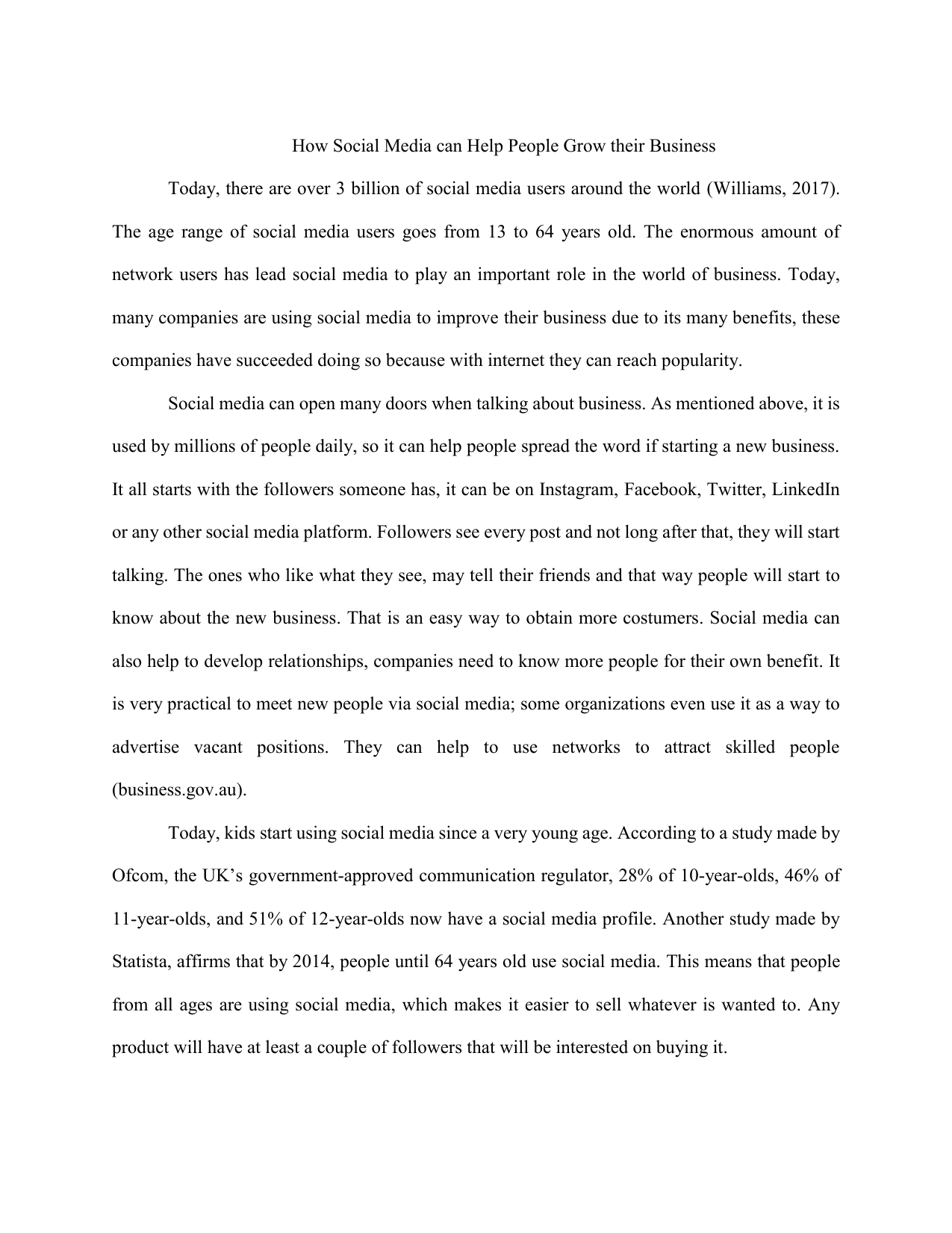 How Social Media can Help People Grow their Business
Today, there are over 3 billion of social media users around the world (Williams, 2017).
The age range of social media users goes from 13 to 64 years old. The enormous amount of
network users has lead social media to play an important role in the world of business. Today,
many companies are using social media to improve their business due to its many benefits, these
companies have succeeded doing so because with internet they can reach popularity.
Social media can open many doors when talking about business. As mentioned above, it is
used by millions of people daily, so it can help people spread the word if starting a new business.
It all starts with the followers someone has, it can be on Instagram, Facebook, Twitter, LinkedIn
or any other social media platform. Followers see every post and not long after that, they will start
talking. The ones who like what they see, may tell their friends and that way people will start to
know about the new business. That is an easy way to obtain more costumers. Social media can
also help to develop relationships, companies need to know more people for their own benefit. It
is very practical to meet new people via social media; some organizations even use it as a way to
advertise vacant positions. They can help to use networks to attract skilled people
(business.gov.au).
Today, kids start using social media since a very young age. According to a study made by
Ofcom, the UK's government-approved communication regulator, 28% of 10-year-olds, 46% of
11-year-olds, and 51% of 12-year-olds now have a social media profile. Another study made by
Statista, affirms that by 2014, people until 64 years old use social media. This means that people
from all ages are using social media, which makes it easier to sell whatever is wanted to. Any
product will have at least a couple of followers that will be interested on buying it.
One of the many advantages of social media is that it is free. When starting a new business,
it is better not to spend so much money until you have some earnings, and social media can replace
the huge budgets on advertisements, that any business needs, by just posting them. Ads are
important because they attract new people, so it is important that every image and video that is
promoting something is unique. Hosting Facebook lives events and sending emails to each
subscriber also helps to get your business to be known (Caspell, 2018). These are some of the
examples of how social media can help reach people freely.
Social media is also dynamic, most of the time businesses that use social media, keep their
profiles updated so people can see where they are actually standing. Depending on the size of the
business, running and managing social media profiles can consume imaginable number of hours.
An interview made by the Social Media Examiners, concluded that 45 percent of the people that
are in charge of managing the social media profile of a company spend more than 10 hours a week
on the network (Caspell, 2018). This time-cost associated with running and monitoring media
feeds is because it is important to have profiles up to date, this way people will be aware of what
a company can offer.
Today, there are many social media forums that are consider helpful to grow up a business.
But, the most effective ones are Facebook, Instagram, Twitter, Pinterest and YouTube. Actually,
Facebook is considered the most profitable network for a new and small business. It can be used
to share from photos to any company update, it helps people to have access to powerful advertising
tools, and also have the option to highlight important information such as the contact information,
hours of operation, and the products and services offered by the business (Driver, 2018). Pinterest
and Instagram are visual platforms, they are both based on photo posts and Instagram on videos
also. Is important that the person who is running the business account on these platforms has good
skills on photography because the posts should be high-quality. On twitter, short tweets, videos,
images and links can be shared. It is also a good source to interact with twitter users by mentioning
them on any post or liking and retweeting tweets. YouTube is video-sharing forum where people
can watch, upload, rate, share and comment on any content. There is a large net of YouTube
influencers who frequently publish and often maintain large audiences. On many cases, businesses
partner with these YouTubers so they can advertise their business or products (Driver, 2018).
Katerina swimwear was a small business created in Panama by a woman named Katerina
Evans. Her business started in 2015, and at the beginning she just sold bikinis via Instagram. She
posted her products, and people sent her a chat to inform her what bikini the buyer wanted. The
years has passed and her small business has become bigger. Now, apart from bikinis, she also sells
beach bags, glasses, and bikini´s cover ups. Katerina still manages her business on Instagram, she
posts her new designs every day. But, now, she sells her swimwear in two different stores.
Nowadays, she even has models who promote her bikinis. Katerina´s business has grown so much
thanks to social media, at the beginning she started her business as a hobby but now it has become
her job.
Not only new and small businesses use social media to help themselves grow. There are
many big and well-known companies that have successfully improve thanks to the benefits that
social media can offer. For instance, Peel, this is a company that is based on selling cell phone
cases. The cell phone industry is very competitive because anyone can buy cell phone cases in any
corner of the mall, so when a business working in this business range is able to stand out, everyone
notices it. Peel uses Facebook video advertisements to tell the people how their products differ
from everyone. This company also have a very visually appealing Instagram account else (Jackson,
2018). Peel have successfully stand out and have improved their revenues thanks to Facebook and
Instagram.
The most effective benefit that social media has is that it is very easy to post advertisements
on any social network platform. Posting ads is a way to improve the brand recognition of your
company. It helps interact with the clientele which creates credibility for the business and it makes
easier to listen to what the costumers have to say. It is also an efficient alternative to reduce
companies' viable costs. With internet connection and electronic devices, any company can make
many creative ads without spending money. Another reason why ads on social media are
Beneficial is because they can reach a lot of people. Like mentioned before, everyone uses social
media, so any propaganda posted there will be surely seen by many people.
Another benefit that social media has for business is that it helps companies to know about
their competition. Almost all companies utilize at least two social media platforms, that helps know
about any update a company has. For example, Adidas, is able to know what are the new products
that Nike are about to launched because they can see it on their Instagram, Facebook or any other
social media account. This is a very good strategy for the companies for making new products,
because that way they know what they are facing against their competition. They can also compare
their brand and their customers using social media.
Currently social media is being successfully use to make business. There are many social
media platforms like Facebook, Instagram, Pinterest, Twitter and YouTube, that can help people
develop their company with the many benefits they offer, and the best part is that it is free. Social
media helps make new relationships and reach popularity. It requires creativity and uniqueness for
the posts, so the people is attracted by them. It is also an easy way to post advertisements without
having to spend money and reaching millions of people. By using social media for a business, it is
very simple to know about the competition, like their new products and costumers. To conclude,
it can be said that social media is used by everyone, from 12 to 64 years old people uses it. So, if
you are not using social media as a beneficial tool for your business, you are missing a lot, start
now!
Works Cited
"Average Age of Social Media Users." Statista. N.p., 2018. Web. 01 Nov. 2018.
Caspell, Matt. "The Top 8 Benefits of Social Media for Business." Sendible: Social Media
Management Software. N.p., 03 July 2018. Web. 25 Oct. 2018.
Driver, Saige. "Social Media for Business: A Marketer's Guide." Business News Daily. N.p., 15
Oct. 2018. Web. 09 Nov. 2018.
Howard, Jacqueline. "What's the Age When Kids Start Social Media?" CNN. Cable News
Network, 22 June 2018. Web. 24 Oct. 2018.
Jackson, Dominique. "8 Standout Social Media Marketing Examples From 2018." Sprout Social.
Sprout Social, 07 June 2018. Web. 09 Nov. 2018.
Smith, Aaron, and Monica Anderson. "Social Media Use 2018: Demographics and Statistics."
Pew Research Center: Internet, Science & Tech. Pew Research Center: Internet, Science
& Tech, 19 Sept. 2018. Web. 01 Nov. 2018.
Williams, Brett. "There Are Now over 3 Billion Social Media Users in the World - about 40
Percent of the Global Population." Mashable. Mashable, 07 Aug. 2017. Web. 01 Nov.
2018.
Young Entrepreneur Council. "Starting a Business? Don't Forget These Seven Important
Things." Inc.com. Inc., 02 Nov. 2017. Web. 01 Nov. 2018.