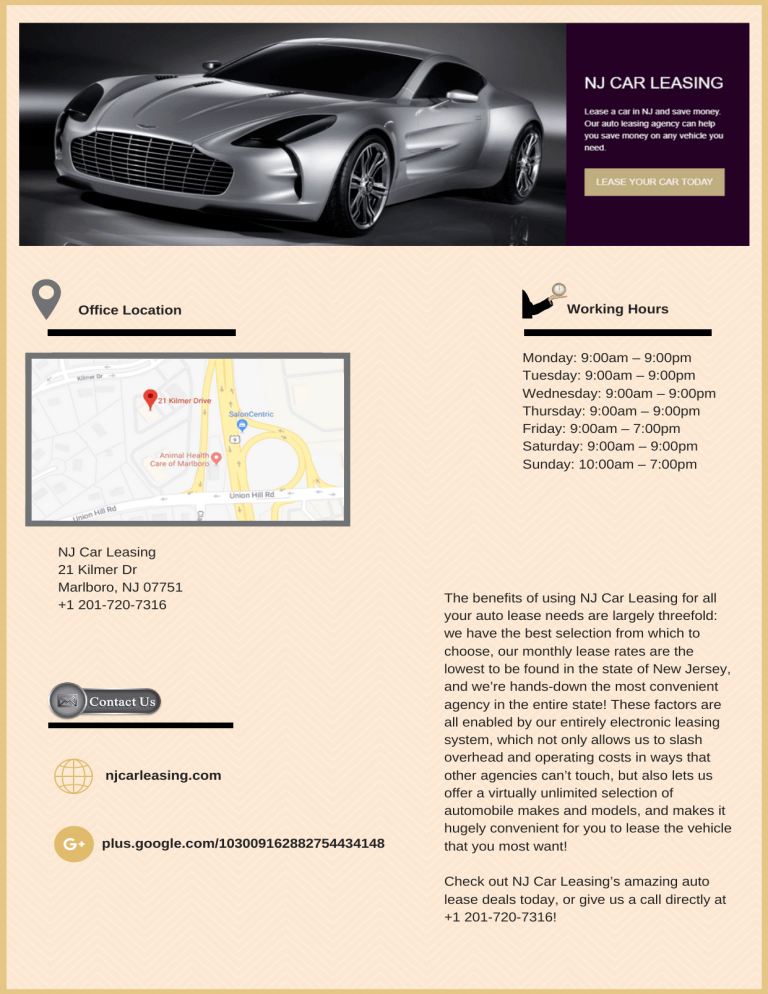 Office Location
Working Hours
Monday: 9:00am – 9:00pm
Tuesday: 9:00am – 9:00pm
Wednesday: 9:00am – 9:00pm
Thursday: 9:00am – 9:00pm
Friday: 9:00am – 7:00pm
Saturday: 9:00am – 9:00pm
Sunday: 10:00am – 7:00pm
NJ Car Leasing
21 Kilmer Dr
Marlboro, NJ 07751
+1 201-720-7316
njcarleasing.com
plus.google.com/103009162882754434148
The benefits of using NJ Car Leasing for all
your auto lease needs are largely threefold:
we have the best selection from which to
choose, our monthly lease rates are the
lowest to be found in the state of New Jersey,
and we're hands-down the most convenient
agency in the entire state! These factors are
all enabled by our entirely electronic leasing
system, which not only allows us to slash
overhead and operating costs in ways that
other agencies can't touch, but also lets us
offer a virtually unlimited selection of
automobile makes and models, and makes it
hugely convenient for you to lease the vehicle
that you most want!
Check out NJ Car Leasing's amazing auto
lease deals today, or give us a call directly at
+1 201-720-7316!