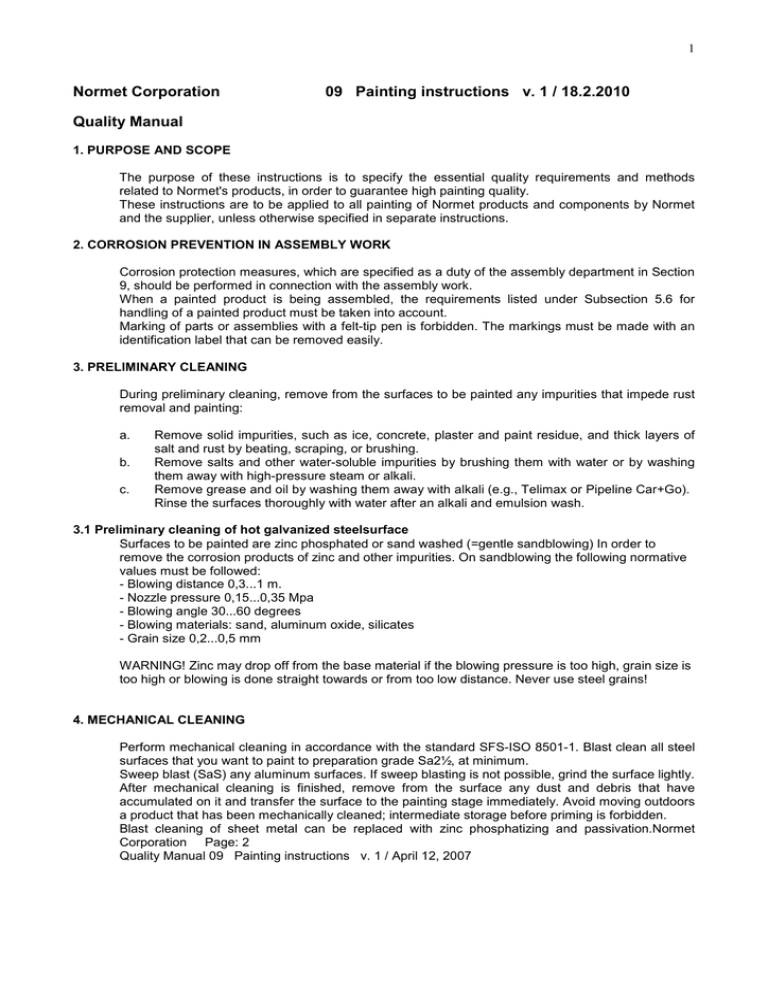 1
Normet Corporation
09 Painting instructions v. 1 / 18.2.2010
Quality Manual
1. PURPOSE AND SCOPE
The purpose of these instructions is to specify the essential quality requirements and methods
related to Normet's products, in order to guarantee high painting quality.
These instructions are to be applied to all painting of Normet products and components by Normet
and the supplier, unless otherwise specified in separate instructions.
2. CORROSION PREVENTION IN ASSEMBLY WORK
Corrosion protection measures, which are specified as a duty of the assembly department in Section
9, should be performed in connection with the assembly work.
When a painted product is being assembled, the requirements listed under Subsection 5.6 for
handling of a painted product must be taken into account.
Marking of parts or assemblies with a felt-tip pen is forbidden. The markings must be made with an
identification label that can be removed easily.
3. PRELIMINARY CLEANING
During preliminary cleaning, remove from the surfaces to be painted any impurities that impede rust
removal and painting:
a.
b.
c.
Remove solid impurities, such as ice, concrete, plaster and paint residue, and thick layers of
salt and rust by beating, scraping, or brushing.
Remove salts and other water-soluble impurities by brushing them with water or by washing
them away with high-pressure steam or alkali.
Remove grease and oil by washing them away with alkali (e.g., Telimax or Pipeline Car+Go).
Rinse the surfaces thoroughly with water after an alkali and emulsion wash.
3.1 Preliminary cleaning of hot galvanized steelsurface
Surfaces to be painted are zinc phosphated or sand washed (=gentle sandblowing) In order to
remove the corrosion products of zinc and other impurities. On sandblowing the following normative
values must be followed:
- Blowing distance 0,3...1 m.
- Nozzle pressure 0,15...0,35 Mpa
- Blowing angle 30...60 degrees
- Blowing materials: sand, aluminum oxide, silicates
- Grain size 0,2...0,5 mm
WARNING! Zinc may drop off from the base material if the blowing pressure is too high, grain size is
too high or blowing is done straight towards or from too low distance. Never use steel grains!
4. MECHANICAL CLEANING
Perform mechanical cleaning in accordance with the standard SFS-ISO 8501-1. Blast clean all steel
surfaces that you want to paint to preparation grade Sa2½, at minimum.
Sweep blast (SaS) any aluminum surfaces. If sweep blasting is not possible, grind the surface lightly.
After mechanical cleaning is finished, remove from the surface any dust and debris that have
accumulated on it and transfer the surface to the painting stage immediately. Avoid moving outdoors
a product that has been mechanically cleaned; intermediate storage before priming is forbidden.
Blast cleaning of sheet metal can be replaced with zinc phosphatizing and passivation.Normet
Corporation Page: 2
Quality Manual 09 Painting instructions v. 1 / April 12, 2007
2
5. PAINTING
5.1 Painting system
The painting systems used by Normet Corporation and the approved products are presented in
Table 1. When painting metal structures, the suppliers use the painting system, as presented in the
order or work order, that is marked, including the top coat shade as in the example below:
Surface treatment: [INSTRUCTION NO.] / PUR - 100/1 Fe Sa2½, RAL-1014
Standard (ISO 12944-5, BSK99) description and explanation of the painting system:
PUR 100/1 - Fe Sa 2½, RAL-1014
Shade of the top coat
Blast cleaning grade
ISO 8501-1
Base material
Number of coats
Nominal dry film thickness [µm]
Code for the paint type:
EP = Epoxy
PUR = Polyurethane
PE = Polyester
ISO 12944-5,
BSK99
Table 1: Painting systems and film thicknesses
CODE
PRIMER
BINDING
PRIMER
TOP COAT
CORROSIVENESS
CATEGORY
GLOSS OF
TOP COAT
ISO 2813
(1994)
80 ±5 /60°
NOTES
PRIMER
EP-160/2 Fe
Sa2½
Epoxy
Teknoplast
Primer 7
(Teknos Oy)
Teknoplast 90
(Teknos Oy)
C4-M
Epoxy
Temacoat SPA
Primer (Tikkurila
Oy)
Temacoat GPL
(Tikkurila Oy)
C4-M
Epoxy
Epocoat 21 HB
(Nor-MaaliOy)
Epocoat 210
(Normaali Oy)
C4-M
Monocoat MC
(PPG)
C4-M
Teknodur 3560
(Teknos Oy)
C4-M
Temasolid SC
90 (Tikkurila Oy)
C4-M
Intercure 99
(International)
C4-M
Teknodur 50/90
(Teknos Oy)/
similar
C4-M
PUR-120/1
Fe Sa2½
EPPUR-120/2
SaS
Epoxy
Teknoplast
Primer 3 / similar
ISO 2813
(1994)
80 ±5 /60°
ISO 2813
(1994)
80 ±5 /60°
ISO 2813
(1994)
80 ±5 /60°
ISO 2813
(1994)
80 ±5 /60°
ISO 2813
(1994)
80 ±5 /60°
ISO 2813
(1994)
80 ±5 /60°
ISO 2813
(1994)
80 ±5 /60°
Alternative
Alternative
Alternative
Alternative
Alternative
Hot galvanized
surfaces
5.2 Measures immediately before priming, adding the top coat, and finishing
Before you start painting, always make sure that the surface of the product is sufficiently dry for the
painting in question. If necessary, remove moisture from overlapping joints and casing structures via
blowing of air. Before you apply a new coat of paint, make sure that the surface you want to paint is
3
clean and sufficiently dry for repainting. Clean any dirty or damaged paint surfaces, and repair-paint
the area of the damage to the same film thickness as the other painting before repainting.
If there is a long time between coats, improve the adhesion of the new coat of paint by washing the
old paint surface with the appropriate solvent and by grinding it lightly, if necessary.
Do not paint the following items (unless otherwise specified):
• hoses and hose guards
• cables
• fixing rails of electrical wires
• electrical cabinets
• electric motors
• diesel motors
• type plates
• stickers
• plastic parts
• galvanized parts
• cylinder piston arms
• threads
Cover any surfaces that are not painted (e.g., threads, sliding surfaces, and other dimensioned
surfaces). Do not limit covering precisely to the separating surfaces of the materials. In piston arms
of hydraulic cylinders, for example, extend the paint slightly on top of the chromed surface, but make
sure that the paint does not extend all the way to the sealing face when the piston is retracted inside
the cylinder. See also Section 9.
5.2.1 Puttying
Putty open spots in areas of intermittent welding and overlapping and other open joints with a
sealing compound (see Section 8). Spread the sealing compound to the outer side of the joint (the
outwardly visible side). Always extend the putty slightly over the fixed weld seam, so that the puttying
is extensive and the seam is tight. Spread the sealing compound to the open spots of the intermittent
welds, so that it forms an even and unbroken seam together with the weld seam. Apply the putty
immediately after the primer has dried. If no separate primer is used, apply the putty to the pre-treated
metal surface.
5.2.2 Preliminary painting
Paint any sharp edges, corners, uneven weld seams, screw heads, and other corrosion-sensitive
points in the structure with a primer by means of a brush before painting. If there are other spots that
are difficult to paint with a spray gun, apply a preliminary paint or finish them with a brush. Pay
special attention to painting of surfaces that have come from the assembly department and are not
readily accessible.
4
5.3 Priming
Apply a primer if this is required for the painting system specified. Single-coat systems do not require
separate priming.
If possible, apply the primer as soon as the priming coat is sufficiently dry for repainting.
The required film thicknesses are presented in the table above. Other surface quality requirements
are presented in Section 6.
5.4 The top coat
Before you apply the top coat, take into consideration the matters mentioned in Subsection 5.2.
The required film thicknesses are presented in Table 1. Other surface quality requirements are
presented in Section 6.
5.5 Finishing
Finishing refers to repainting of a product that has been painted with a top coat, using a top coat.
Apply a finishing coat only if necessary. Surface quality requirements are presented in Section 6.
5.6 Painting of hot galvanized steel surface
Painting of the surface has to be started immediately after the sand blowing and painting work must
be finished during 4 hours starting from the sandblowing.
1.Thin priming with well thinned (30%...40%) epoxy primer is done by draping (air can get out from
the pores). Drying time approximately half an hour.
2.Actual priming with epoxy primer (for example Teknoplast Primer 3 or similar)
3.Surface painting according to 5.4
5.7 Handling of a painted product and measures after painting
Let the painted product dry indoors until the paint has gained sufficient weather-resistance, before
moving it outdoors.
After the paint surface has dried, attach the plates and stickers required by the order and the
instructions to the product. Attach plates with rivets or screws made from a stainless material.
Before the product leaves the paint shop, perform the corrosion protection measures mentioned in
Section 8.
Suppliers, including parts suppliers, should perform the other corrosion protection measures indicated
in Section 8 immediately after the parts are finished, before their delivery or placement in final storage.
After painting, handle the products in such a way that the paint is not damaged and no marks are left
on the paint surface:
•
•
•
•
A painted product must be sufficiently dry before you start to move it after painting.
When lifting products, use slings and lifting lugs. When lifting products with a forklift truck, use a
pallet or protect the paint surface in some other way so that the forklift's forks do not damage it.
Attach the lifting accessories at the lifting spots marked for this purpose.
When placing painted products in storage, place a pallet or sturdy stands underneath them.
Any damage to the paint surface must be touched up before the product is placed in storage.
5
6. INSPECTION OF PAINT WORK AND SURFACE QUALITY REQUIREMENTS
Before you start painting, make sure that you have complied with the requirements concerning steel
work and pre-treatment.
The manufacturer must be able to verify, if necessary, that the requirements set for painting and
surface treatment are fulfilled. Within one week of a demand from the client, the supplier must supply
the client with information on the circumstances affecting the end result, film thicknesses, and the
materials used. Here, you can utilize a surface treatment protocol (no. XXXX), which includes the
most essential factors that influence the end result of the painting.
Table 2: Film thickness requirements, and methods and scope of inspection of paint surfaces
Film thickness requirement
Method and scope of inspection
during painting
Method and scope of
inspection after the
paint surface has dried
The nominal film thickness must be, at
minimum, that presented in the painting
system table (Table 1) or otherwise specified
in the order or other such document.
The thickness of the wet film is
monitored with a wet film gauge in
accordance with the paint
manufacturer's instructions.
Thickness of the paint film
is measured with a
magnetic gauge, an eddycurrent instrument, or an
insulation indicator.
In a statistical inspection, undershooting by no
more than 20% is allowed in the overall film
thickness in a maximum of 10% of the
individual measurements taken.
Inspection is performed every time.
Inspect every time, except
for cast and other such
uneven or porous
surfaces.
6
Table 3: Other quality requirements, and methods and scope of inspection of paint surfaces
Surface quality requirement
Method of inspection
Scope of inspection
The paint film must cover all surfaces
specified. There must be no sagging in façade
surfaces. Façade surfaces are such surfaces
as can be seen from a distance of approx. one
meter upon visual inspection. There may be
only minor, insignificant sagging in hidden
surfaces.
Visual inspection.
Inspect every time.
There can be no shade errors in painted
surfaces. There can be no noticeable amounts
of orange peel, sagging, pores, cracks, or
impurities in the paint surface.
Visual inspection.
Inspect every time.
The gloss of the painted surface must be
smooth.
Visual inspection.
Inspect every time.
There can be no marks left by rust, dust,
blasting sand, or other impurities in the
painted surface.
Visual inspection.
Inspect every time.
The paint film must have adhered properly to
the painted surface.
Destructive methods according to
ISO 2409 or ISO 4624.
Inspect only in
exceptional cases,
when there is reason to
doubt the adhesion of
the paint.
7. ACTIONS DURING ALTERATIONS
When small alterations are made, perform preliminary cleaning and touching up at the alteration site.
Use steel brushing or grinding as a preliminary cleaning method.
Carefully protect the area surrounding the alteration against welding spatter, sparks, and particles
that may come loose in grinding.
Grind away the paint from the points of the alteration structure that are welded.
Finally, touch up the alteration point at the alteration site. Also, touch up the background of the
welded surfaces with products as appropriate for the painting combination.
8. PROTECTION DURING TRANSPORT
Before shipping the product, make sure that all surfaces have sufficient protection in accordance
with these instructions (see the table in Section 9).
Support the product during transportation and tie it down, so that it cannot move and rub against
other products, the transport vehicle, or support or tie-down equipment. When using transport
tarpaulins, make sure that the tarps are attached tightly enough and that they cannot rub against the
product.
7
9. SUMMARY OF ADDITIONAL METHODS, PROTECTIVE AGENTS, AND APPLICATIONS USED IN
CORROSION PREVENTION
ALL PRODUCTS
Application of protection
Protective agent or
method*
Protection site
FINISHED PURCHASE
COMPONENTS THAT ARE NOT
PAINT-SURFACED OR ARE
PAINT-SURFACED
INSUFFICIENTLY
Hydraulic pumps and blocks etc.
THREADS
Wurth Protective Wax
0893-082
Packing/shipping, if the
machine is stored
outdoors
Dinitrol 112
Supplier
HOLES OF THREADS
DBI plug
Supplier
OPEN ENDS OF RAILING PIPES
DBI plug
Supplier
LOOSE-FITTING SLIDING
SURFACES
Hinges, joint pins, spindles, etc.
TIGHT-FITTED SLIDING
SURFACES
Adjustable screws, piston arms of
hydraulic cylinders, etc.
Dinitrol 25B
Supplier
assembly
Neste Avorasva or
Tectyl 5502 W
Supplier
assembly, and
packing/shipping
Dinitrol 112, Tectyl 506
Supplier
packing/shipping
Korro SE, 15 µm
Supplier
assembly
Sikaflex 221 or
3M 8486
Dinitrol PVCD 141 25B
Supplier
MACHINED JOINT SURFACES
Unpainted, machined joint surfaces
of a product that is delivered
unassembled
JOINT SURFACES OF STEEL
STRUCTURES
Non-surfaced structural steel
surfaces that are flush against each
other
INTERMITTENT WELDS,
OVERLAPPING SEAMS, AND
OPEN SEAMS
Puttying of visible intermittent welds
outside the structure, overlapping
seams, and open seams
Supplier, powder
coating
* Or equivalent. If the supplier uses some other protective agent or method than the ones specified
here, it must be reported to the client along with its material safety data sheet and removal
instructions.