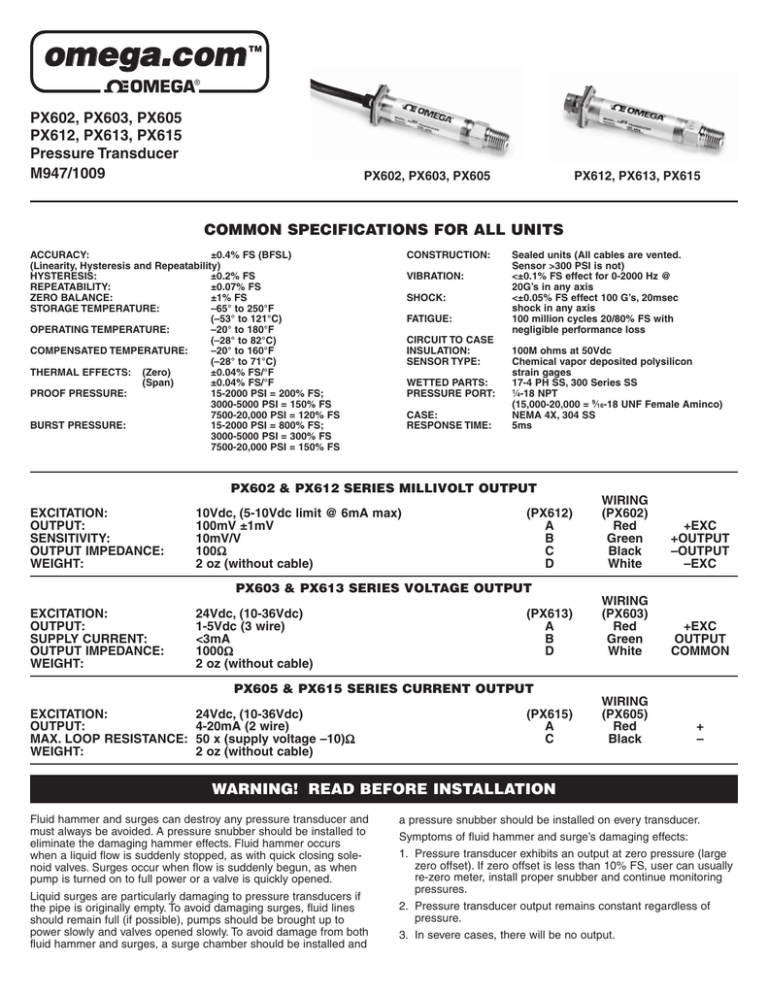 omega.com
TM
®
PX602, PX603, PX605
PX612, PX613, PX615
Pressure Transducer
M947/1009
PX602, PX603, PX605
PX612, PX613, PX615
COMMON SPECIFICATIONS FOR ALL UNITS
CONSTRUCTION:
ACCURACY:
±0.4% FS (BFSL)
(Linearity, Hysteresis and Repeatability)
HYSTERESIS:
±0.2% FS
REPEATABILITY:
±0.07% FS
ZERO BALANCE:
±1% FS
STORAGE TEMPERATURE:
–65° to 250°F
(–53° to 121°C)
OPERATING TEMPERATURE:
–20° to 180°F
(–28° to 82°C)
COMPENSATED TEMPERATURE:
–20° to 160°F
(–28° to 71°C)
THERMAL EFFECTS: (Zero)
±0.04% FS/°F
(Span)
±0.04% FS/°F
PROOF PRESSURE:
15-2000 PSI = 200% FS;
3000-5000 PSI = 150% FS
7500-20,000 PSI = 120% FS
BURST PRESSURE:
15-2000 PSI = 800% FS;
3000-5000 PSI = 300% FS
7500-20,000 PSI = 150% FS
VIBRATION:
SHOCK:
FATIGUE:
CIRCUIT TO CASE
INSULATION:
SENSOR TYPE:
WETTED PARTS:
PRESSURE PORT:
CASE:
RESPONSE TIME:
Sealed units (All cables are vented.
Sensor >300 PSI is not)
<±0.1% FS effect for 0-2000 Hz @
20G's in any axis
<±0.05% FS effect 100 G's, 20msec
shock in any axis
100 million cycles 20/80% FS with
negligible performance loss
100M ohms at 50Vdc
Chemical vapor deposited polysilicon
strain gages
17-4 PH SS, 300 Series SS
1
⁄4-18 NPT
(15,000-20,000 = 9⁄16-18 UNF Female Aminco)
NEMA 4X, 304 SS
5ms
PX602 & PX612 SERIES MILLIVOLT OUTPUT
EXCITATION:
OUTPUT:
SENSITIVITY:
OUTPUT IMPEDANCE:
WEIGHT:
10Vdc, (5-10Vdc limit @ 6mA max)
100mV ±1mV
10mV/V
Ω
100Ω
2 oz (without cable)
(PX612)
A
B
C
D
WIRING
(PX602)
Red
Green
Black
White
+EXC
+OUTPUT
–OUTPUT
–EXC
WIRING
(PX603)
Red
Green
White
+EXC
OUTPUT
COMMON
WIRING
(PX605)
Red
Black
+
–
PX603 & PX613 SERIES VOLTAGE OUTPUT
EXCITATION:
OUTPUT:
SUPPLY CURRENT:
OUTPUT IMPEDANCE:
WEIGHT:
24Vdc, (10-36Vdc)
1-5Vdc (3 wire)
<3mA
Ω
1000Ω
2 oz (without cable)
(PX613)
A
B
D
PX605 & PX615 SERIES CURRENT OUTPUT
EXCITATION:
OUTPUT:
MAX. LOOP RESISTANCE:
WEIGHT:
24Vdc, (10-36Vdc)
4-20mA (2 wire)
Ω
50 x (supply voltage –10)Ω
2 oz (without cable)
(PX615)
A
C
WARNING! READ BEFORE INSTALLATION
Fluid hammer and surges can destroy any pressure transducer and
must always be avoided. A pressure snubber should be installed to
eliminate the damaging hammer effects. Fluid hammer occurs
when a liquid flow is suddenly stopped, as with quick closing solenoid valves. Surges occur when flow is suddenly begun, as when
pump is turned on to full power or a valve is quickly opened.
Liquid surges are particularly damaging to pressure transducers if
the pipe is originally empty. To avoid damaging surges, fluid lines
should remain full (if possible), pumps should be brought up to
power slowly and valves opened slowly. To avoid damage from both
fluid hammer and surges, a surge chamber should be installed and
a pressure snubber should be installed on every transducer.
Symptoms of fluid hammer and surge's damaging effects:
1. Pressure transducer exhibits an output at zero pressure (large
zero offset). If zero offset is less than 10% FS, user can usually
re-zero meter, install proper snubber and continue monitoring
pressures.
2. Pressure transducer output remains constant regardless of
pressure.
3. In severe cases, there will be no output.
— NOTES—
HANDLING
This instrument is susceptible to damage when exposed to static electrical charges. To avoid damage to the sensor observe the following:
• Ground the transducer body before making any electrical
connections.
• When disconnecting, remove ground connection last.
Note: If supplied, the braided shield in the cable is not connected to
the transducer's body and is not a suitable ground.
MOUNTING
Although the units can withstand some vibration, it is always good
practice to mount the sensor where there is minimum vibration. Use
Teflon® tape on NPT threads and install the wrench on hex flats. DO
NOT tighten by using a pipe wrench on the housing.
CALIBRATION
All models are tested to meet or exceed the published specifications. The calibration and testing was performed using instrumentation and standards that are traceable to the U.S. National Institute of
Standards and Technology (NIST). We further certify that our calibration systems complies with MIL-STD-45662.
Each sensor comes calibrated and does not require recalibration.
The zero and span pots are accessible through the top of the case.
Loosen the four screws and separate the top carefully. The zero
pot is marked with a white dot. Some models have the span pot
on the side of the pull out board. Be careful of static charges
when touching the board (span pot will be on the opposite side
from the zero pot).
(Teflon is a registered trademark of E. I. Dupont de Nemours)
PX602, PX603, PX605
PX612, PX613, PX615
DIMENSIONS
0.8 SQUARE
DIMENSIONS IN INCHES
DIMENSIONS IN INCHES
0.8 SQUARE
36˝
3.8
3.8
WIRING
PX602, PX612
PX603, PX613
PX605, PX615
POWER
SUPPLY
+
POWER
SUPPLY
RED
WHITE
(+EXC)
(–EXC)
–
–
BLACK
(–SIG)
GREEN (+SIG)
METER
+
+
A
D
POWER
SUPPLY
TRANSDUCER
(PX602, PX612)
RED
–
(+ EXC)
WHITE (COMMON)
–
D
–
B
GREEN (+ OUTPUT)
C
+
METER
+
A
B
RED
(+)
BLACK
(–)
A
TRANSDUCER
(PX603, PX613)
TRANSDUCER
(PX605, PX615)
+
–
C
METER
WARRANTY
OMEGA warrants this unit to be free of defects in materials and workmanship and to give satisfactory
service for a period of 13 months from date of purchase. OMEGA's Warranty adds an additional one (1)
month grace period to the normal one (1) year product warranty to cover handling and shipping
time. This ensures that our customers receive maximum coverage on each product. If the unit
malfunctions, it must be returned to the factory for evaluation. Our Customer Service Department will
issue an Authorized Return (AR) number immediately upon phone or written request. Upon examination
by OMEGA, if the unit is found to be defective, it will be repaired or replaced at no charge. However, this
WARRANTY is VOID if the unit shows evidence of having been tampered with or shows evidence of being
damaged as a result of excessive corrosion; or current, heat, moisture or vibration; improper specification;
misapplication; misuse or other operating conditions outside of OMEGA's control. Components which
wear or are damaged by misuse are not warranted. These include contact points, fuses, and triacs.
We are glad to offer suggestions on the use of our various products. Nevertheless, OMEGA
warrants only that the parts manufactured by it will be as specified and free of defects.
OMEGA MAKES NO OTHER WARRANTIES OR REPRESENTATIONS OF ANY KIND WHATSOEVER,
EXPRESS OR IMPLIED, EXCEPT THAT OF TITLE, AND ALL IMPLIED WARRANTIES INCLUDING ANY
WARRANTY OF MERCHANTABILITY AND FITNESS FOR A PARTICULAR PURPOSE ARE HEREBY
DISCLAIMED.
LIMITATION OF LIABILITY: The remedies of buyer set forth herein are exclusive, and the total liability of OMEGA with respect to this order, whether based on contract, warranty, negligence, indemnification, strict liability or otherwise, shall not exceed the purchase price of the component upon
which liability is based. In no event shall OMEGA be liable for consequential, incidental or special
damages.
Every precaution for accuracy has been taken in the preparation of this manual, however, OMEGA
ENGINEERING, INC. neither assumes responsibility for any omissions or errors that may appear nor
assume liability for any damages that result from the use of the products in accordance with the
information contained in the manual.
OMEGA's policy is to make running changes, not model changes, whenever an improvement is possible.
This affords our customers the latest in technology and engineering.
OMEGA is a registered trademark of OMEGA ENGINEERING, INC.
© Copyright 1992 OMEGA ENGINEERING, INC. All rights reserved including illustrations. Nothing in this
manual may be reproduced in any manner, either wholly or in part for any purpose whatsoever without
written permission from OMEGA ENGINEERING, INC. 2M807
Servicing USA and Canada: Call OMEGA Toll Free
OMEGA Engineering, Inc.
One Omega Drive, Box 4047
Stamford, CT 06907-0047 U.S.A.
Headquarters: (203) 359-1660
Sales: 1-800-826-6342 / 1800-TC-OMEGA
Customer Service: 1-800-622-2378 / 1-800-622-BEST
Engineering: 1-800-872-9436 / 1-800-USA-WHEN
FAX: (203) 359-7700 TELEX: 996404 EASYLINK: 62968934 CABLE: OMEGA
Servicing Europe: United Kingdom Sales and Distribution center
OMEGA Technologies Ltd.
P.O. Box 1, Broughton Astley, Leicestershire LE9 6XR, England
Telephone: (0455) 285520 FAX: (0455) 283912
RETURN REQUESTS / INQUIRIES
Direct all warranty and repair requests/inquiries to OMEGA's Customer Service
Department. Call toll free in the U.S. and Canada: 1-800-622-2378, Fax: 203-359-7811;
International: 203-359-1660; Fax: 203-359-7807.
BEFORE RETURNING ANY PRODUCT(S) TO OMEGA, YOU MUST OBTAIN AN AUTHORIZED RETURN (AR) NUMBER FROM OUR CUSTOMER SERVICE DEPARTMENT (IN
ORDER TO AVOID PROCESSING DELAYS). The assigned AR number should then be
marked on the outside of the return package and on any correspondence.
Please have the following information available BEFORE contacting OMEGA:
1. P.O. number under which the product was purchased.
2. Model and serial number of the product, and
3. Repair instructions and/or specific problems you are having with the product.