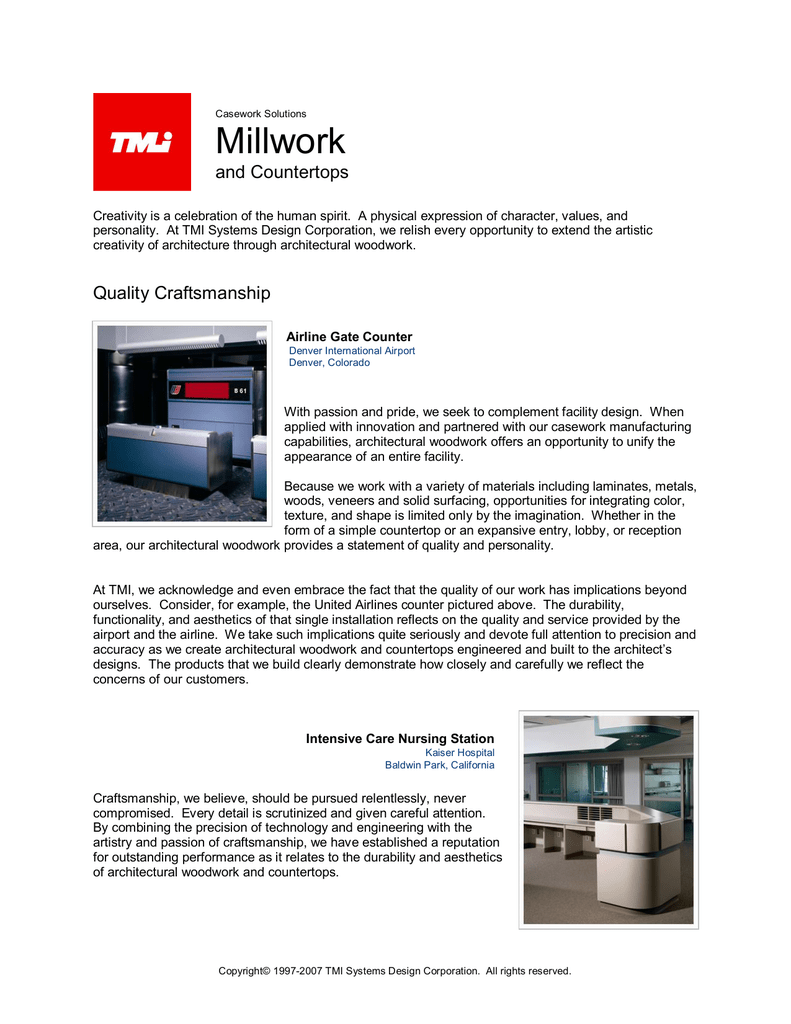 Casework Solutions
Millwork
and Countertops
Creativity is a celebration of the human spirit. A physical expression of character, values, and
personality. At TMI Systems Design Corporation, we relish every opportunity to extend the artistic
creativity of architecture through architectural woodwork.
Quality Craftsmanship
Airline Gate Counter
Denver International Airport
Denver, Colorado
With passion and pride, we seek to complement facility design. When
applied with innovation and partnered with our casework manufacturing
capabilities, architectural woodwork offers an opportunity to unify the
appearance of an entire facility.
Because we work with a variety of materials including laminates, metals,
woods, veneers and solid surfacing, opportunities for integrating color,
texture, and shape is limited only by the imagination. Whether in the
form of a simple countertop or an expansive entry, lobby, or reception
area, our architectural woodwork provides a statement of quality and personality.
At TMI, we acknowledge and even embrace the fact that the quality of our work has implications beyond
ourselves. Consider, for example, the United Airlines counter pictured above. The durability,
functionality, and aesthetics of that single installation reflects on the quality and service provided by the
airport and the airline. We take such implications quite seriously and devote full attention to precision and
accuracy as we create architectural woodwork and countertops engineered and built to the architect's
designs. The products that we build clearly demonstrate how closely and carefully we reflect the
concerns of our customers.
Intensive Care Nursing Station
Kaiser Hospital
Baldwin Park, California
Craftsmanship, we believe, should be pursued relentlessly, never
compromised. Every detail is scrutinized and given careful attention.
By combining the precision of technology and engineering with the
artistry and passion of craftsmanship, we have established a reputation
for outstanding performance as it relates to the durability and aesthetics
of architectural woodwork and countertops.
Copyright© 1997-2007 TMI Systems Design Corporation. All rights reserved.
Reception Desks
Reception areas provide the first impression to people entering a building. We design, engineer, and
build reception areas to be compatible with the overall architectural style of the building, as well as the
overall company personality. Just as each and every company is unique, so should be its reception area.
Within the reception area pictured at the right, plain-sliced cherry was incorporated to warmly welcome
visitors.
Reception Counter
Wright-Hennepin Cooperative
Rockford, Minnesota
TMI is exceptionally effective in merging artistry and design with the
various functional requirements of reception areas. Workspace needs
to accommodate computers and telephones, and all of the
accompanying cables and wires. There also needs to be ample counter
space for the completion of paperwork and other tasks.
Reception Desk
Swedish Covenant
Chicago, Illinois
By combining architectural woodwork with flexible rail-mounted
casework, we can efficiently equip a reception area with relocatable
storage drawers, doors, and files as well as a strategic wire
management system. Thus the reception area can efficiently serve all
task functions and still faithfully adhere to the aesthetic principles of
building design and architecture.
Reception Desk
University of Colorado
Boulder, Colorado
The modular reception desk at the University of Colorado (shown at the
right) was designed to support a library within a research lab. Since the
lab environments are constantly changing, it was engineered for
flexibility. In addition to featuring flexible shelving, this entire unit can be
moved and reconfigured.
Copyright© 1997-2007 TMI Systems Design Corporation. All rights reserved.
Architectural Woodwork
Drinking Fountains
Denver International Airport
Denver, Colorado
Opportunities to enhance facilities through architectural woodwork are
diverse and plentiful. What starts as a practical application, such as the
use of laminates surrounding the drinking fountains at Denver
International Airport in the photo at the left, can blossom into an
extension of the facility's overall architecture.
Denver International Airport
Denver, Colorado
TMI has achieved premium grade certification from the Architectural
Woodwork Institute (AWI), scoring 994 out of 1000 certification points.
We have earned the right to label all of our products as AWI Certified by
adhering to rigid, uncompromising standards of excellence and quality
craftsmanship.
Lobby Area
Luton Mental Health Institute
Nashville, Tennessee
When applying architectural woodwork within a larger space, such as in
the lobby area pictured at the left, we take great care to execute the
designer's vision of integrating all components into the design of
building space. All elements should serve their defined purposes and
compliment facility architecture without drawing undue attention to
themselves. This can often be accomplished by borrowing or repeating
colors, patterns, and shapes throughout the space.
Copyright© 1997-2007 TMI Systems Design Corporation. All rights reserved.
Conference Center
Conference Table
Theodore Roosevelt Foundation
Medora, North Dakota
TMI architectural woodwork is a way to continue and celebrate building
architecture in a very visible way. Decorative possibilities are endless.
A wide array of colors and materials can be combined with unique
textures and surfacing options. Elements may take on customized
shapes and sizes. You are limited only by your imagination
In the conference room shown here, a red oak bullnose was combined
with a designer laminate color to create a striking and handsome
conference table. The feel was carried throughout the room by
matching red oak running trim and crown molding.
Financial Institutions
Reception Area
Western Cooperative Credit Union
Dickinson, North Dakota
Architectural woodwork should reflect and portray the personality of the
building and the activities that occur within the defined space. By
integrating colored or textured laminates with other materials such as
oak, we are able to combine influences for a unique and fresh
presentation of traditional and comfortable designs. Such was the case
in the Western Cooperative Credit Union lobby shown at the left.
Bank Teller Station
Dakota Community Bank
Dickinson, North Dakota
The Dakota Community Bank shown at the right combines laminates,
rotary cut oak and solid surfacing on the transaction counters in
harmony to create an overall effect.
Copyright© 1997-2007 TMI Systems Design Corporation. All rights reserved.
Countertops
Nursing Station
Kaiser Permanente
Beachwood, Ohio
Perhaps more so than casework and architectural woodwork elements,
countertops must cohesively merge form and function. Work surfaces
must be very durable and capable of supporting rigorous work activities.
At the same time, however, horizontal surfaces inherently attract
attention.
When integrated with architectural woodwork, as in the photo at the left,
countertops can make aesthetic statements faithful to the interior décor
of a facility as well as the overall building architecture. Notice the combined use of high pressure
laminate for the back counter with solid surfacing for the front.
PVC Edgebanding
Massillon Doctor's Hospital
Massillon, Ohio
Edging options range from highly decorative (pictured above) to simple
and practical. While self-edge countertops are sometimes still used, the
durability of polyvinyl chloride (PVC) edging is usually the pragmatic
choice.
In specific environments such as laboratories and around sink areas,
the use of chemicals or water creates concern for damage to the
countertops. TMI and its dealers provide chemical resistant laminate
and epoxy resin countertops for excellent chemical, heat, abrasion, and
moisture resistance. When necessary, these countertops can be supported by epoxy powder coated
metal brackets to provide stability. TMI countertops resist warping and deflection.
Details
Conference Room
Consolidated TelCom
Dickinson, North Dakota
Small details make a big difference in the overall appearance of a
building's interior. With TMI's millwork, architects are able to enhance
the building interior through the details. TMI allows the designer
unlimited creativity. The wide array of colors, textures, and surfacing
options can be combined in unique shapes and sizes.
The decision to use TMI millwork is a decision to invest in quality and durability. It withstands the test of
time and lasts for years.
Copyright© 1997-2007 TMI Systems Design Corporation. All rights reserved.