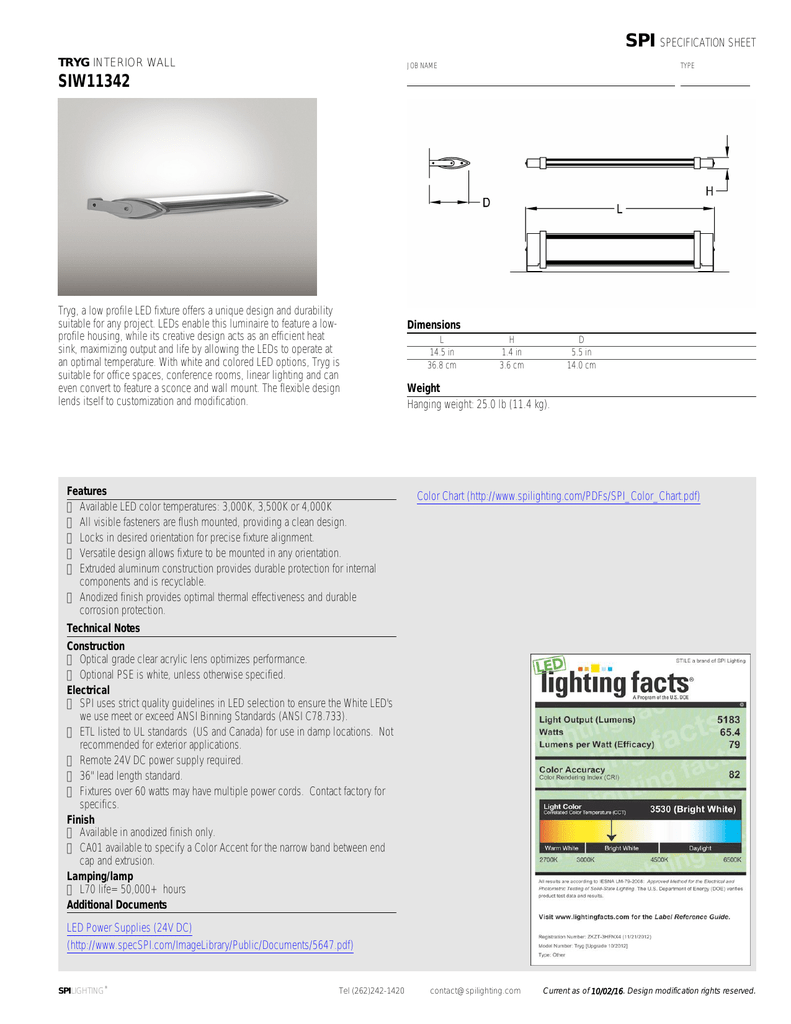 SPI SPECIFICATION SHEET
TRYG INTERIOR WALL
JOB NAME
TYPE
SIW11342
Tryg, a low profile LED fixture offers a unique design and durability
suitable for any project. LEDs enable this luminaire to feature a lowprofile housing, while its creative design acts as an efficient heat
sink, maximizing output and life by allowing the LEDs to operate at
an optimal temperature. With white and colored LED options, Tryg is
suitable for office spaces, conference rooms, linear lighting and can
even convert to feature a sconce and wall mount. The flexible design
lends itself to customization and modification.
Features
• Available LED color temperatures: 3,000K, 3,500K or 4,000K
• All visible fasteners are flush mounted, providing a clean design.
• Locks in desired orientation for precise fixture alignment.
• Versatile design allows fixture to be mounted in any orientation.
• Extruded aluminum construction provides durable protection for internal
components and is recyclable.
• Anodized finish provides optimal thermal effectiveness and durable
corrosion protection.
Dimensions
L
14.5 in
36.8 cm
H
1.4 in
3.6 cm
D
5.5 in
14.0 cm
Weight
Hanging weight: 25.0 lb (11.4 kg).
Color Chart (http://www.spilighting.com/PDFs/SPI_Color_Chart.pdf)
Technical Notes
Construction
• Optical grade clear acrylic lens optimizes performance.
• Optional PSE is white, unless otherwise specified.
Electrical
• SPI uses strict quality guidelines in LED selection to ensure the White LED's
we use meet or exceed ANSI Binning Standards (ANSI C78.733).
• ETL listed to UL standards (US and Canada) for use in damp locations. Not
recommended for exterior applications.
• Remote 24V DC power supply required.
• 36" lead length standard.
• Fixtures over 60 watts may have multiple power cords. Contact factory for
specifics.
Finish
• Available in anodized finish only.
• CA01 available to specify a Color Accent for the narrow band between end
cap and extrusion.
Lamping/lamp
• L70 life=50,000+ hours
Additional Documents
LED Power Supplies (24V DC)
(http://www.specSPI.com/ImageLibrary/Public/Documents/5647.pdf)
SPILIGHTING
®
Tel (262)242-1420
[email protected]
Current as of 10/02/16. Design modification rights reserved.
SPI SPECIFICATION SHEET
MODEL NUMBER
LIGHT SOURCE
FINISH
VOLTAGE
LAMP OPTIONS
OPTIONS
COLOR ACCENTS
FINSH
COLOR ACCENTS
SIW11342
Not all options are available in all configurations, consult factory for details.
Light Source
Photometry
L3.8WC-24V
White 3.8W HD LED Light Engine
Delivered Lumens:
L7.2WC-24V
White 7.2W HD LED Light Engine
Delivered Lumens:
L28.7WC-24V
Voltage
Options
120-277V Universal Voltage
Lamp Options
PSE
LED Power Supply Enclosure
PS
Remote Power Supply
PSN
Power Supply Not Included
3000K
3000K CCT
White 28.7W HD LED Light Engine
Delivered Lumens:
3500K
3500K CCT
Color Accents
4000K
4000K CCT
CA01
L14.3WC-24V
White 14.3W HD LED Light Engine
Delivered Lumens:
F
Fusing
A14.3W-24V
Amber 14.3W LED Light Engine 590nm
B14.3W-24V
Blue 14.3W LED Light Engine 470nm
G14.3W-24V
Green 14.3W LED Light Engine 525nm
R14.3W-24V
Red 14.3W LED Light Engine 625nm
Color Accent (see technical
notes)
Painted Finishes
PT01
Super White
PT07
Light Taupe
PT13
Warm Gray
PT19
Blue
PT29
Red Brass
PT42
Sky Blue
PT48
Brass
PT02
White
PT08
Medium Taupe
PT14
Light Gray
PT20
Dark Green
PT31
Medium Bronze
PT43
Teal
PT49
Bronze
PT03
Morning Light
PT09
Medium Gray
PT15
Sage
PT21
Pearl White
PT32
Dark Bronze
PT44
Green
PT51
Matte White
PT04
Warm White
PT10
Dark Gray
PT16
Spruce
PT22
Platinum
PT33
Dark Blue
PT45
Purple
PT05
Putty
PT11
Black
PT17
Red
PT27
Deep Copper
PT40
Yellow
PT46
Aluminum
PT06
Warm Beige
PT12
Dark Chocolate
PT18
Deep Red
PT28
Dark Stainless
PT41
Orange
PT47
Deep Red Brass
Metal and Plated Finishes
AN04 Anodized Satin Aluminum (Clear)
SPILIGHTING
®
AN08 Black Anodized
Tel (262)242-1420
[email protected]
Current as of 10/02/16. Design modification rights reserved.