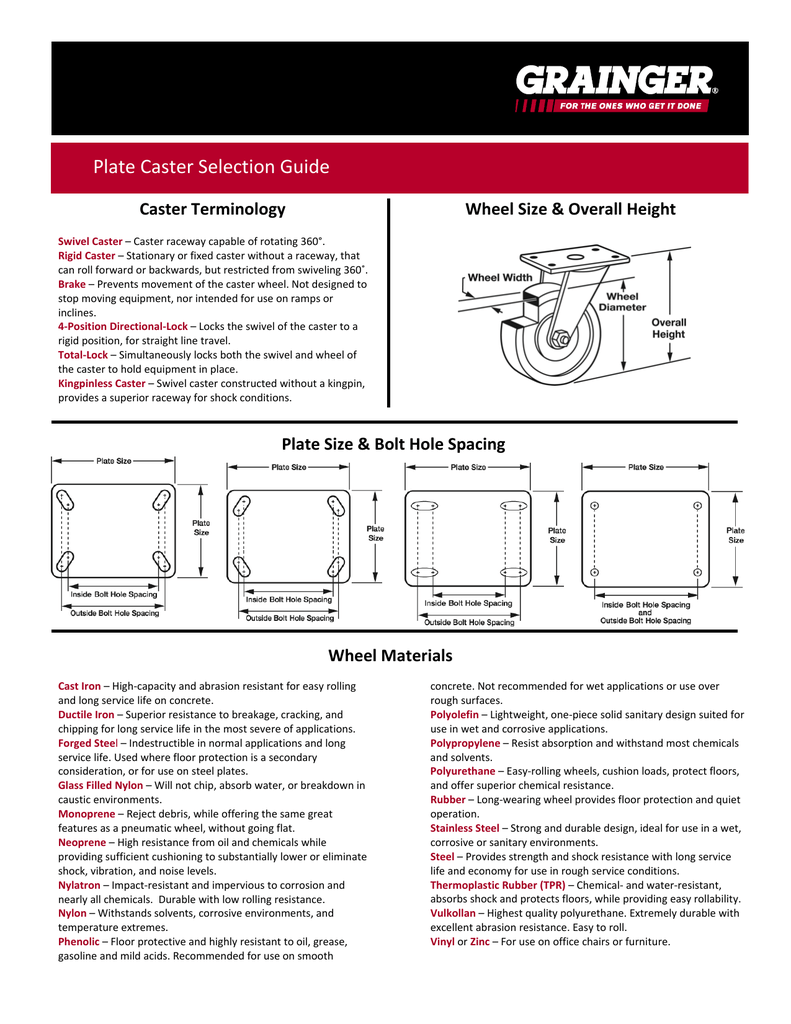 . Plate Caster Selection Guide Caster Terminology Wheel Size & Overall Height Swivel Caster – Caster raceway capable of rotating 360°. Rigid Caster – Stationary or fixed caster without a raceway, that can roll forward or backwards, but restricted from swiveling 360˚. Brake – Prevents movement of the caster wheel. Not designed to stop moving equipment, nor intended for use on ramps or inclines. 4‐Position Directional‐Lock – Locks the swivel of the caster to a rigid position, for straight line travel. Total‐Lock – Simultaneously locks both the swivel and wheel of the caster to hold equipment in place. Kingpinless Caster – Swivel caster constructed without a kingpin, provides a superior raceway for shock conditions. Plate Size & Bolt Hole Spacing Wheel Materials Cast Iron – High‐capacity and abrasion resistant for easy rolling and long service life on concrete. Ductile Iron – Superior resistance to breakage, cracking, and chipping for long service life in the most severe of applications. Forged Steel – Indestructible in normal applications and long service life. Used where floor protection is a secondary consideration, or for use on steel plates. Glass Filled Nylon – Will not chip, absorb water, or breakdown in caustic environments. Monoprene – Reject debris, while offering the same great features as a pneumatic wheel, without going flat. Neoprene – High resistance from oil and chemicals while providing sufficient cushioning to substantially lower or eliminate shock, vibration, and noise levels.
Nylatron – Impact‐resistant and impervious to corrosion and nearly all chemicals. Durable with low rolling resistance. Nylon – Withstands solvents, corrosive environments, and temperature extremes.
Phenolic – Floor protective and highly resistant to oil, grease, gasoline and mild acids. Recommended for use on smooth concrete. Not recommended for wet applications or use over rough surfaces. Polyolefin – Lightweight, one‐piece solid sanitary design suited for use in wet and corrosive applications. Polypropylene – Resist absorption and withstand most chemicals and solvents. Polyurethane – Easy‐rolling wheels, cushion loads, protect floors, and offer superior chemical resistance. Rubber – Long‐wearing wheel provides floor protection and quiet operation. Stainless Steel – Strong and durable design, ideal for use in a wet, corrosive or sanitary environments. Steel – Provides strength and shock resistance with long service life and economy for use in rough service conditions. Thermoplastic Rubber (TPR) – Chemical‐ and water‐resistant, absorbs shock and protects floors, while providing easy rollability. Vulkollan – Highest quality polyurethane. Extremely durable with excellent abrasion resistance. Easy to roll. Vinyl or Zinc – For use on office chairs or furniture.